This was really where the modern Triumph began. Basically a mix-and-match of triples and fours stuck into a modular, steel spine-framed chassis that allowed the reborn British company maximum versatility to create different bikes on a common platform at a relatively minimal cost. The 900 in the Daytona was a three-cylinder and the same basic engine also powered the Thunderbird, Trident, Sprint, Tiger, Trophy, and Speed Triple.
Unfortunately, this modularity came at the price of increased weight. Handling isn't ideal, and the bikes weren't competitive in terms of ultimate performance when compared to the Japanese machines of the time. But they exuded character, were reasonably reliable, and allowed Anglophiles to "fly the flag" with pride.
While the bike as a whole may have been a bit heavy and slow-steering, the engine was, as the Brits say, "a corker." Powerful, smooth, and relaxed, it would pull from low and wind out to redline, whichever struck your fancy. Too heavy for track work, it's an excellent GT. A road-destroying tool for fast street riding, with a protective fairing and reasonable comfort, stable handling, combined with strong brakes and that peach of an engine.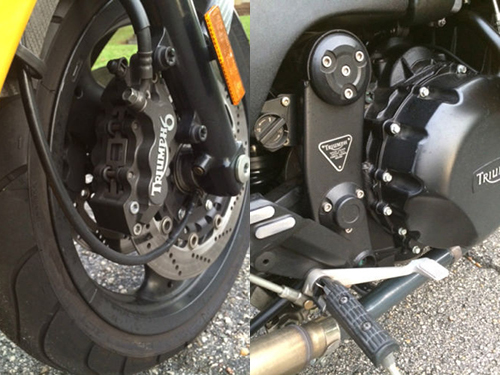 From the original eBay listing: 1995 Triumph Daytona Limited Edition Super III

Bike is always garaged. It is a solid 9.5 out of 10. There is 1 tiny blemish a half an inch long on the tank but barely noticeable. The bike is one of 150 world wide. Special features include carbon fiber fender and sub-fender,flat side mikuni carbs, 6 pot calipers, and seat cowling. The motor is a 900cc triple, tuned by Cosworth (of rally car fame). The bike was fully serviced 30 days ago. It is started periodically but not driven to ensure the battery and motor stay in good working order. Tires are fairly new with 95% tread remaining. Though the bike retains all stock pieces (exhaust cans as well) with sale, some tasteful upgrades were made. Micron carbon pipes, handlebar risers, throttle meister cruise control and a beautiful Corbin seat. This is a rare bike in an important time in Triumph's rebirth. It is sure to appreciate, and I will miss it.
I think the styling on these early Bloor-era Triumphs has aged particularly well. Like the Ducati 900SS, they comfortably straddle eras, with design cues both vintage and modern. I prefer the first-gen Speed Triple, but this bike looks great in yellow and would make an excellent get-out-of-town bike for long weekend rides.
-tad