Here's a first year Daytona 675 that was converted to track use but turned only 1,738 miles.  A past "learning experience" is indicated here and there, but the bodywork is fresh and ready for a new decal set.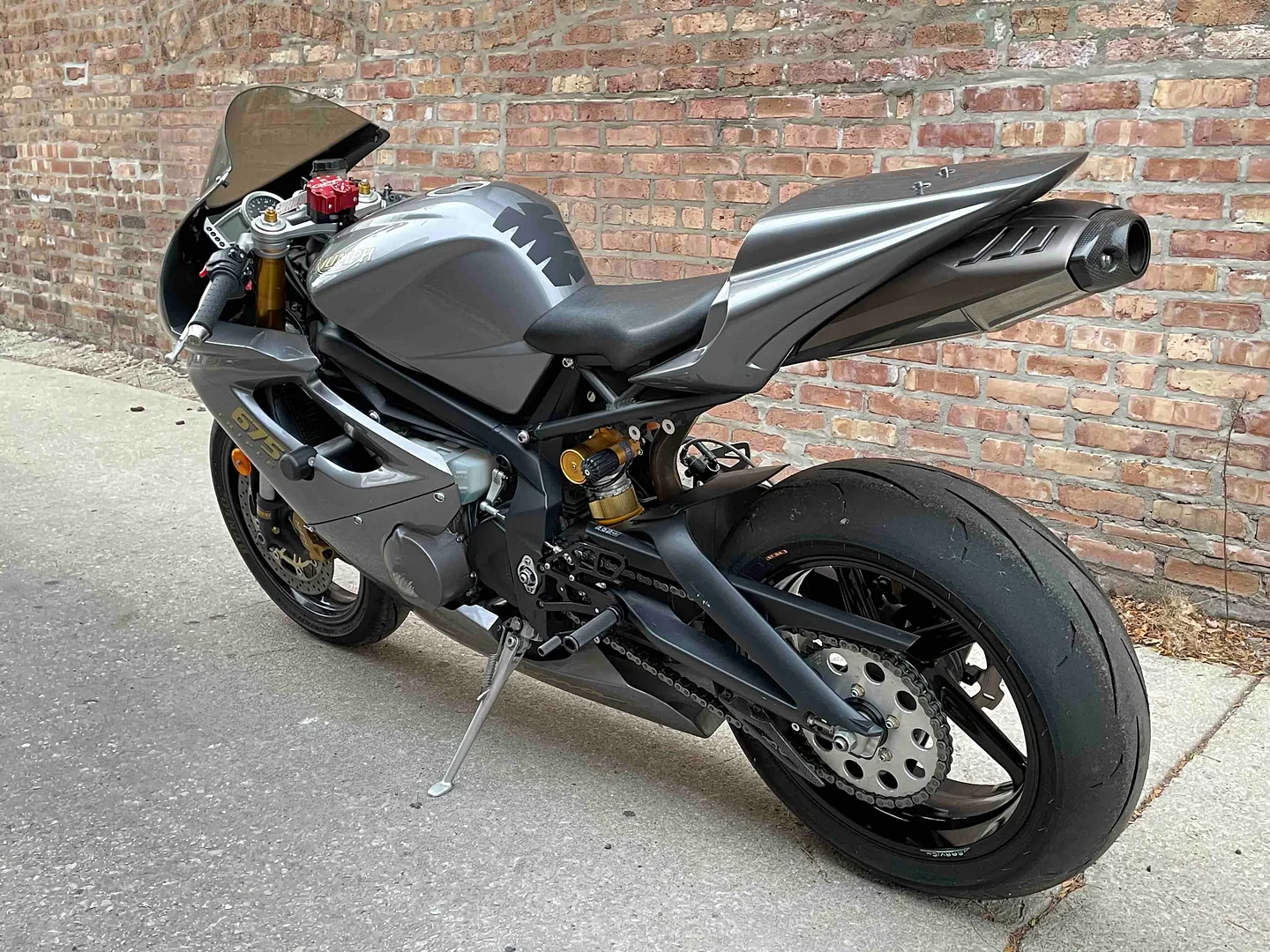 The 675 was Hinckley's third try at the middleweight formula, this time with a torquey three cylinder engine.  The triple provides some unique sounds and 123 hp at a relatively low 12,500 rpm.  Multipoint fuel injection and an all stainless exhaust help make that performance a long term affair.  Triumph's rock solid alloy chassis might not be the lightest, but provide a stable platform for the increased spring and damping rates on the track.  Brakes are thoroughly modern with 308 mm rotors and four puck calipers with radial mountings.  The light-less fairings are a great dub of the factory bodywork and dispense with the pillion.
Presented by the auction side of a Chicago Triumph dealer, this 675 shows nicely, seeming almost unused with a GPR steering damper, Marvic wheels and CF rearsets.  An Öhlins shock and prepared forks are worthwhile upgrades.  A few chips, scratches and scrapes are all part of a track bike's life, but it still looks quite tidy.  Guessing the factory bodywork is long gone ( how many track bike projects get started ).  Comments from the eBay auction:
Daytona 675 track bike, street legal title, very nice, 1,738 miles.  This bike hasn't seen the track for a while so it might need some freshening up but it is nicely set up and has only 1,738 miles on it !  It has an Ohlins rear shock, Marvic cast wheels, GPR steering stabilizer, CFM rearsets, and Woodcraft frame sliders.  It has a clean, street legal title, so it could also be converted back to street use.  It runs and rides well.  It is set up with GP shifting, which is the opposite of the normal shifting pattern.  It is 1 up, 5 down, instead of 1 down, 5 up.  The shifter linkage is a bit stiff so shifting gears requires a little more force than normal, and finding neutral is a bit tricky.
Beside a snatchy gearbox, there weren't many negative comments on the 675, and it was as the best of Triumph's mid-size efforts.  Not exactly a featherweight, Daytona's are at least built tough.  This one might be one of the most under-used track bikes seen here, and though there might be a little work left to bring it back from storage, there's still time.
-donn