The top of Triumph's Daytona line tilted toward the GT segment, but had sporty components and aerodynamics ready for warp speeds.  This example is presented by a N.C. collector, with low miles and excellent finishes.
Based more on the big Trophy than other Daytona's, the 1200SE used Triumph modular engine, with revised cams and cylinder head to make a turbine smooth 147 hp.  The clutch is a little stiffer to handle the up-rated power, and Kayaba suspension is tuned for higher speeds.  The SE got 6-piston calipers for its 310mm disks to make short work of the 100-to-55 brake check.  Roomy fairing and relaxed riding position made long days cake.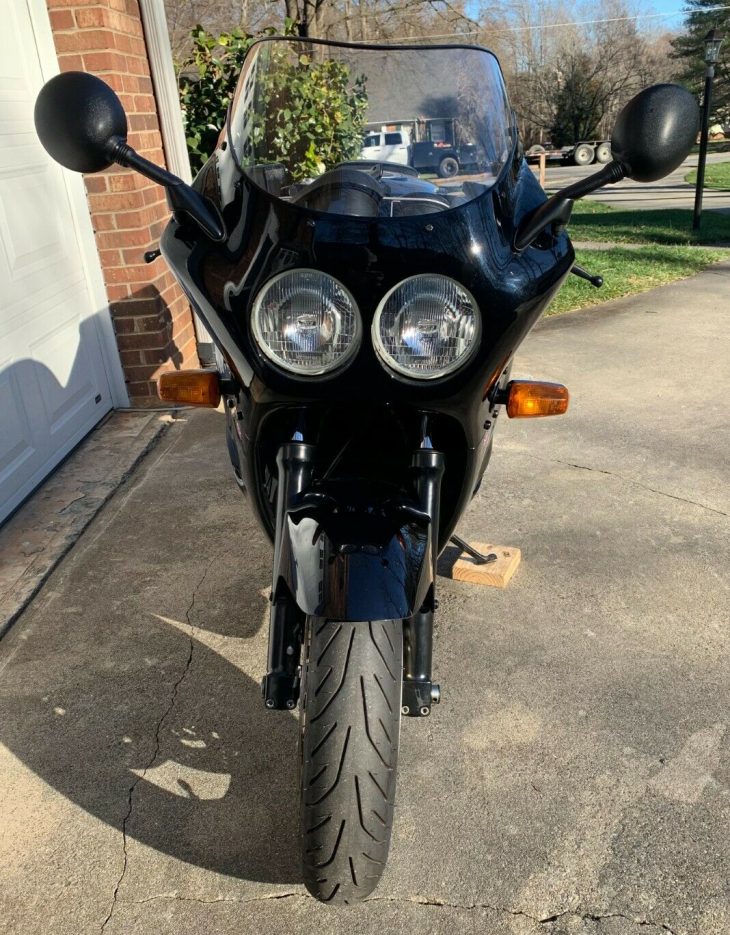 Not sure whether the seller is the collector, but this Daytona was evidently on display for an extended period.  Though tricky to photograph, the black and gold are quite elegant, and the painted forks aren't all chipped up.  From the list of recent work it's a safe bet that it was never de-fueled before parking, but it sounds like that's been taken care of in the eBay auction:
This motorcycle is one of the last versions of the original Hinckley Triumphs launched in the mid-90's. It is number 157 of the Special Edition series. Spent most of its life in a private collection with very few miles. A full service has been performed including new carb kits, new intake boots, new air filter, new throttle cable, new petcock, new spark plugs and new battery. The tank was removed and flushed. In-line storage shut-off valves installed. Recent oil and filter change. Very nice original paint and seat. Fork tubes have no pitting and seals are leak free. Everything else is leak free as well. Runs very well with no smoke.  Please see video – here –

Probably one of the nicest Special Editions out there. Nicer ones may be in museums or other collections. I did not ride this bike much, so I am not sure if there are any more bugs to be ironed out as a daily, high mileage rider. If any, it shouldn't be serious. What I do know is, it is fast! Six pot calipers stop fast too!
Number 157 was on RSBFS back in – 2017 – and it seemed like that seller had done quite a bit of more cosmetic work.  Now with looking excellent and freshly tuned up, maybe the next owner will put some miles down.  Triumph moved quite a bit of their production to Thailand in the early 2000's, and these Hinckley built cycles will see their collectible day come.  Until then the starting bid is low, and the hopefully the reserve will get this 1200 to a new owner in time for spring.
-donn