An old joke about European heaven and hell ( in heaven the French do the cooking, the Italians romance, the British are the police, and Germans run the trains - you know what happens in hell ) came to mind when I read a review of the Laverda RGS1000, owners were so impressed by the build quality they termed it the Italian BMW.  Coming at the beginning of the end for Laverda, the RGS1000 was an inspired sport heavyweight that kept the brand alive and still has a following today.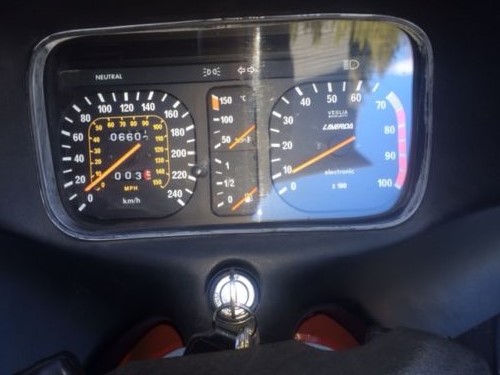 Based on the 981cc triple from the 1970's Jota ( itself an evolution of the 750cc twin ) the RGS engine uses a 120-degree crankshaft, inherently smoother than the Jota but subject to a secondary vibration requiring rubber engine mounts.  The triple Dell'Orto carbs help the engine toward 83 hp and 57 ft.-lbs. torque.  Suspension is all Marzocchi, air assisted, and triple Brembo 280mm disc brakes.  A very low 30-inch seat height allow the upper-only fairing to protect the rider at the 137 mph top speed.  Chockablock with neat details, it has a beautiful mono seat fairing, Vitaloni mirrors and a tank ready for a magnetic bag ( fuel filler is on the fairing ).
Coming out of Toronto, this RGS1000 looks excellent and shows only 6,600 kms.  Pictures aren't hi-res, but once right side up ( how did that happen ? ) they show a clean un-hacked classic.  Nothing about repairs or maintenance, which is acceptable considering the low mileage.  From the eBay auction:
1984 Laverda RGS 1000.  6600 KMS.  Mint condition.  Comes with factory original mint exhaust as well as the three into one Laverda racing exhaust.  Both exhausts are mint as is this particular RGS 1000.  A true all original unmolested survivor. 6600 KMS from new!  A rare opportunity to purchase a true gem. None finer and not a restoration.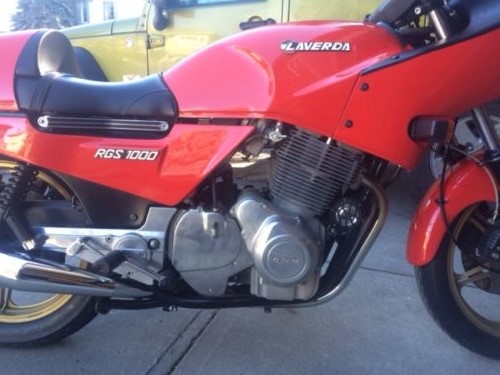 Almost a cult at this point, Laverda owners have several clubs and stay in close touch.  Just as well since despite the hand-built craftsmanship, the RGS requires valve clearance checks every 3000 miles, requiring removal of the fairing and fuel tank.  When carefully maintained, the smooth triple can have a long lifetime.  Though the bike is a portly 550 lbs., the fairing lends excellent fuel economy, and the RGS reviewed as a stable, invigorating ride.  Rare by any definition, only 250 or so of the 2500 total production made it to the states.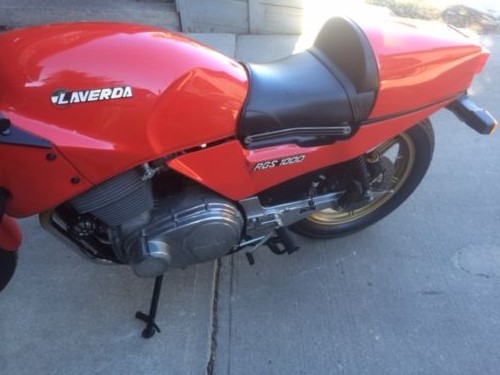 In the end, the gorgeous heavyweight sport tourer made by a small, family-owned Italian firm could only delay the inevitable, and Laverda shortly entered the throws of bankruptcy before being bought and retired by Aprilia in 2000.  But well-made bikes like the RGS1000 live on.  In Laverda's strange alternate universe, maybe Ducati would be making dual-sports and BMW sportbikes...
-donn