Update 4.30.2014: Seller notes this one is now sold. Congratulations to buyer and seller! -dc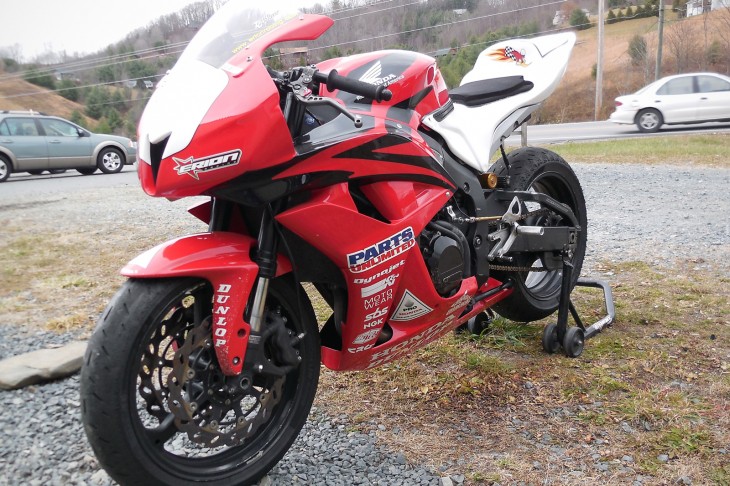 We've had the pleasure of featuring some really well put together track day machines, and this one is very good indeed. Built by none other than legendary AMA team Erion Racing, for the purpose of AMA racing in 2007. To my mind this would be a perfect step up from your first track day bike with lots of room to grow. With racing quality parts the likes of HRC, Arata/Ladybird, Ohlins, and more, you have to say it would very difficult to duplicate for the $6969 asking price. Click each picture for a high resolution version to inspect. Available in North Carolina.
Thanks for helping to support the site Jay!
dc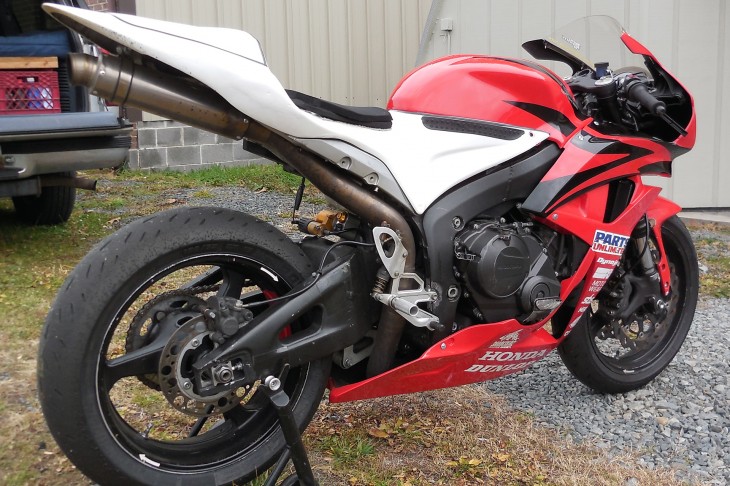 from the seller:
2007 Erion Honda CRB600RR $6969
This is the real deal, a 2007 Erion built/owned AMA Sportbike. This was a "A" bike in 2007 and a "B" bike in 2008. I still have the MSO in Erion's name. This bike has hundreds of Pro hours put into the setup, it wasn't built from a crashed bike in somebody's basement, the longer you look at it the more cool stuff you find. She isn't a spring chicken but still pulls most 600s on the straight with my fat ass. This bike was raced on and off by the past AMA/Expert level rider for a few years and I bought it last year for track days. I used it for 5 weekends, mostly instructing in the "I" group, I rode it but never really pushed it (I'm losing my MoJo). This bike is capable of 1:35s at VIR, I got down to 1:43s. This bike needs nothing to go fast, really fast, or if you are like me it was content to ride at a reasonable pace. Look around, you will see other bikes in this price range without the pedigree and HRC parts… which would you rather have.

Refreshed motor fall of 2012 (has 5 easy weekends on refresh)
Arata headers w/ Ladybird slip-on
PC III
HRC race ecu
HRC wire harness
HRC steering stabilizer
HRC quick turn throttle
Quick shifter (Standard)
Yoyodyne slipper
25mm Ohlins fork internals refreshed spring of 2011
Ohlins shock refreshed spring of 2011
Custom Erion rear sets
Custom rear sub-frame
Custom intake
Galfer brake rotors (race only, the good stuff)
Woodcraft case covers
Sharkskinz Erion bodywork
Carbon Shark fin
Lots of upgraded hardware, some Ti
Cool stuff I'm forgetting
Added in 2013:
Brembo Radial GP master cylinder
Vesrah RJL pads with one weekend
Vortex gas cap
Stomp Grip

1 and 3/4 sets of spare bodywork, I used the black white and red set, the Erion tank, upper and lower look like new.
Spare complete front and rear rims with rotors and cush drive
Spare clip-ons
Spare sprockets and a third cush drive, OEM front M/C, rear brake parts.