Our friend and fellow NSR250 enthusiast, Nathan, has written back to us to let us know that he is letting go of one his bikes. As always we're flattered when readers think of us, especially with such nice hardware as this.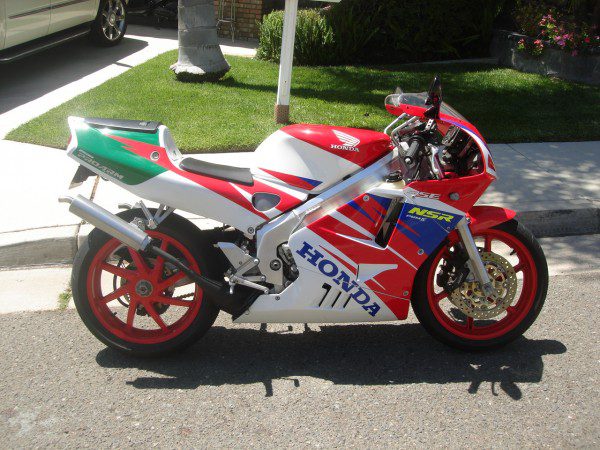 If you've come this far you probably know exactly what an NSR250 SE MC28 is, but if not, here are some quick comments from this website Nathan refers to regarding NSR250 history:
On November 11, 1993 the all new MC28 model NSR went on sale in Japan as a 1994 model. It was completely different than previous models and changed peoples thinking about two stroke technology. The new Proarm NSR's as they became known in Japan were the ultimate 250 bike for the street. They had PGM IV technology which allowed more accurate1994 NSR 250 R – 57K for more control of the carbs, smooth operation and perfect driving manners unlike past two stroke bikes. The all new Memory card replaced the standard key and made de-restricting the bikes very difficult. The 1994 lineup saw three types of NSR's for sale once again. There was the standard 250R type model in fighting red and Ross white. They were sold with a regular wet type clutch and non adjustable suspension. They were priced at 680,000 Yen. 1994 NSR 250 SE – 58K for full imageThe SE model was priced at 720,000 Yen and came with the fully adjustable suspension front and rear made by Showa plus the dry clutch and different colored front disc rotors. SE colors were the same as the standard R type in fighting red and Ross white but were marked SE and the NSR logo was in bright yellow. SE models also were sold in blue and white with orange accents and also were marked SE but the NSR logo was white.
If interested, contact Nathan directly at: 714 833 4993
quote from his eBay listing:
Super RARE 1995 Honda NSR SE 250 or also known as a (MC-28) It has a CA plate and registration which is very hard to get on these so it's ready for the streets. It has very low miles 5418 KM which = 3366 miles only!! These are actual factory farings not repainted after market china knock offs this bike is in amazing condition considering the age of this bike!! The whole bike is still stock except the turn signals in the rear have been taken off and now work with the rear brake lights!! also just put on brand new tires so this thing is 100% ready to go!!
Hi-Res Gallery Exclusive to RSBFS:
With only some 3400 miles, this bike is barely even broken in — not to mention Nathan prefers his bikes only one way: spotless! I expect this bike is worth a look if it's passed his criteria.
Good luck with the sale Nathan!
dc