Our latest Feature Listing is this very clean YB11 Super Leggera. What makes this one rare, aside from the fact that it's 1 of 650 produced, is that it's been ridden too! I like this trend we've been seeing lately with exotics that aren't display only pieces. While readers from advreader.com are probably snickering at the suggestion that 8800 miles means ridden, that's more than most Bimotas will ever see. If you've got a corner of the stable that has been waiting for a seriously fast Italian mount that you can actually ride, this might be what you've been waiting for.
1997 Bimota YB11 For Sale on eBay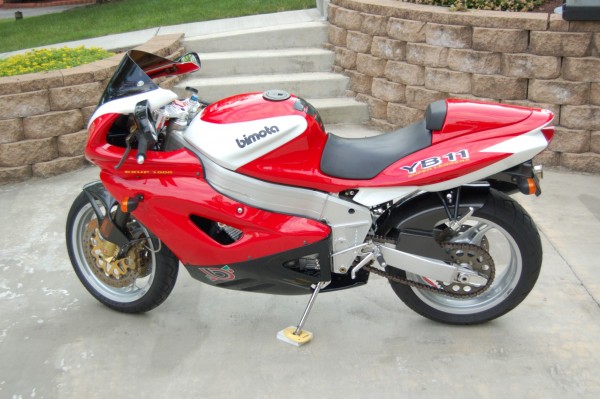 Bimota YB11 Cliff Notes: Utilizing the potent Yamaha 1000cc Thunderace motor, Bimota wraps it's own bike around it with 51mm shocks, adjustable rake via eccentric bushes in the steering headstock, and the entire package weighs 31 pounds less than the Thunderace.
dc
from the seller:
Rare 1997 YB11 Super Leggera Bimota for sale. Only 650 of these bikes ever produced. In great running condition with 8,805 original miles. This Bike is all original with the 1000cc Yamaha Thunderace engine and slip on Arrow canister. Accessories included: passenger seat, owner's manual and tool kit. I am the 3rd owner of this bike and it has been well cared for. Previous owner stored the bike for a couple of years so I had it serviced in the fall of 2011 when I purchased it: carbs cleaned, oil and filter changed, and Pennsylvania inspection. There are 3 blemishes as shown in the photos. I don't get to ride this bike often and need to make some room. Asking $8000. Interested parties can email me.