Bi.Mo.Ta. stands for the initials of the 3 founders:
Bianchi Morri Tamburini…I guess you know the latter…
Bimota always manufactured exclusive (read also expensive) hand made racing motorbikes. In particular Bimota actually realized stiff light weight frames to be coupled with the finest components and the state of the art power plants. The first letter of the bike's code always identified the engine supplier: K for Kawasaki (early ones) D for Ducati, Y for Yamaha and S…you guessed it: for Suzuki.
Here is one of the most sold Bimota models, the SB6-R:
Powered by a tuned (intake and exhaust) Suzuki GSX-R 1100 W, it delivered in 1998 150 horses for roughly 190 kg dry weight. The Aluminum frame connects directly the front fork to the rear swing arm and is realized form a single block of aluminum that is then machined (for extra stiffness, no junctions or welding areas !). Besides the front and rear mudguards, there's plenty of carbon to to keep the weight down (rear subframe just like modern race bikes).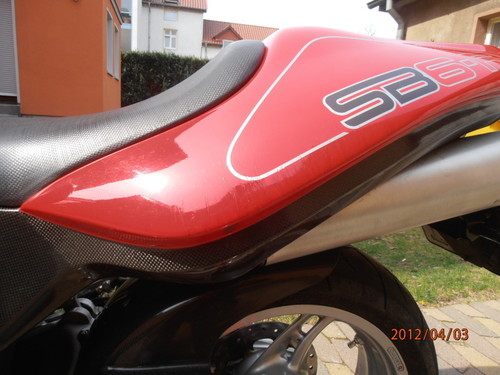 The front forks are Paioli and rear shock is of the finest types: Ohlins. If you wonder how its sounds, here's a clip:
The bike is pretty much original apart from the turn lights. The seller advises the presence of few scratches on the left side of the bike as a result of a slide. This model was first registered in 2002 while it is a MY 1998. With 21600 km it is on sale in Germany at the link here below:
Bimota SB6-R ebay and it would be yours with the equivalent of 6000 bucks…how's that for a "snäppchen" as they would say in Deutschland…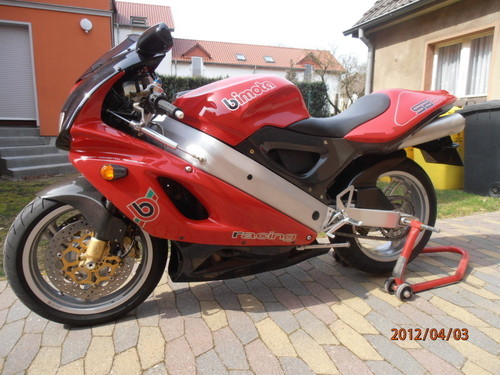 I think I am becoming a Bimota enthusiast !
Claudio