Erik Buell regrouped after Harley retired the brand and began as he had before, with a racebike design followed by a flagship superbike, followed by a more affordable machine.  The 1190RS was their big money racer-with-lights, with direct lineage from the -RR.  Though 2012 was the introductory year, a few were made for 2013 as the company transitioned to the -RX.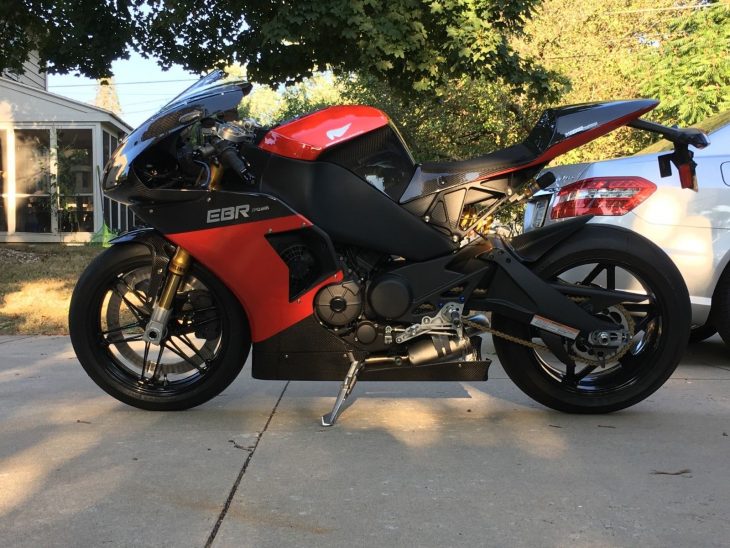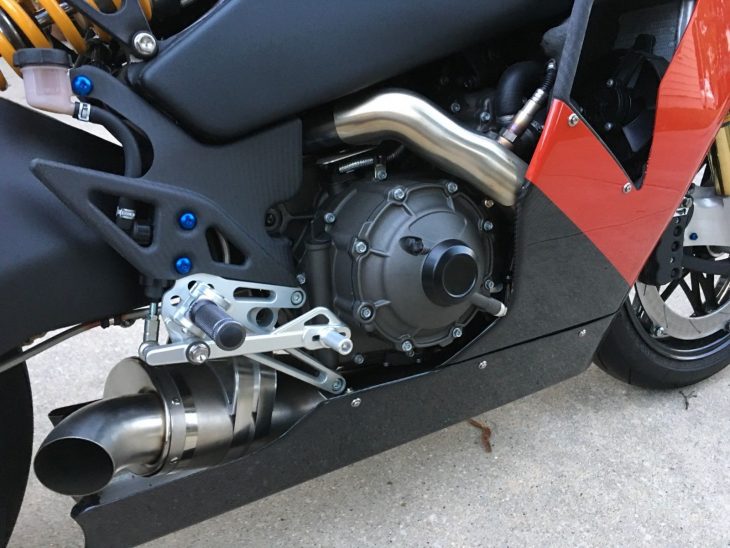 Buell had peeked over the engine horizon in 2007 with the 1125cc Rotax-based engine, and the 1190 was a descendant, a 72-degree V-twin with four chain/gear-driven cams.  Channeling 175hp through two small contact patches requires electronic intervention, with 21-setting traction control and a vacuum-actuated slipper clutch.  Classic Buell concepts such as fuel-in-frame, ZTL front brake, mass-centralized muffler, and oil in the swingarm are all present.  Öhlins turned to their racing department for the 43mm cartridge forks, and twin-tube rear monoshock.  The bodywork for the carbon edition is hand-laid and gorgeous, and helps the 1190RS stay under the 400 lbs. mark.
Evidently kept in its shipping crate until a year ago, this -RS looks new and hasn't reached the break-in oil change yet.  The orangey-red accents look great with the carbon and it's gonna wake the neighbors without the twin secondary mufflers some 1190's came with.  Seems like there'd be a back story for a crate unopened for four years, but here's what the owner would divulge in the eBay auction:
No. 7 of 35 2013's. New MSRP, set-up like this was just over $50,000. Original owner. Factory race exhaust (Euro) with 93 octane race ECU; extra carbon rear fender; lots of Ti and a Lithium Battery Tender. 500 miles +/-. Gentle street break-in miles only. Not quite fully broken-in. I am a retired championship winning racer/mechanic and treat my bikes with respect. Comes with all original parts as well as an uninstalled full Bazzaz system with the quick-shifter and remote. Comes with all the original parts. 

I uncrated it last fall. It has never been in the rain. It has always been garaged or in my living room (all last winter).  The engine is hand-built and full of exotic parts. This is literally a race-bike – with lights and mirrors. It has the most immediate power delivery of any street bike that I've owned (of well over 100).  Original MSRP for replacement engine is $27,000+. The suspension is from Ohlins' race catalog – not the normal street and track line which is less exotic. Excellent condition. One tiny stone chip in the clear coat. 

I will include a 1/2 case of the required AMSOIL full synthetic racing oil and filter for the break-in service. Also all of the stuff that came with it including EBR tie-downs and the EBR crate tarp.
EBR's new machines enticed some enterprise-level investors, but even 999 looks and Panigale performance couldn't hold back the red ink for more than a couple of years.  Though it's a very together machine, and any savvy Aprilia wrench could make repairs, lack of support is factored in to the sensible BIN and low-ball bids.  Probably better for a shop owner or their very good customer than a one bike garage.  While we wait for Erik Buell's next chapter to unfold, this -RS is a pleasant daydream…
-donn