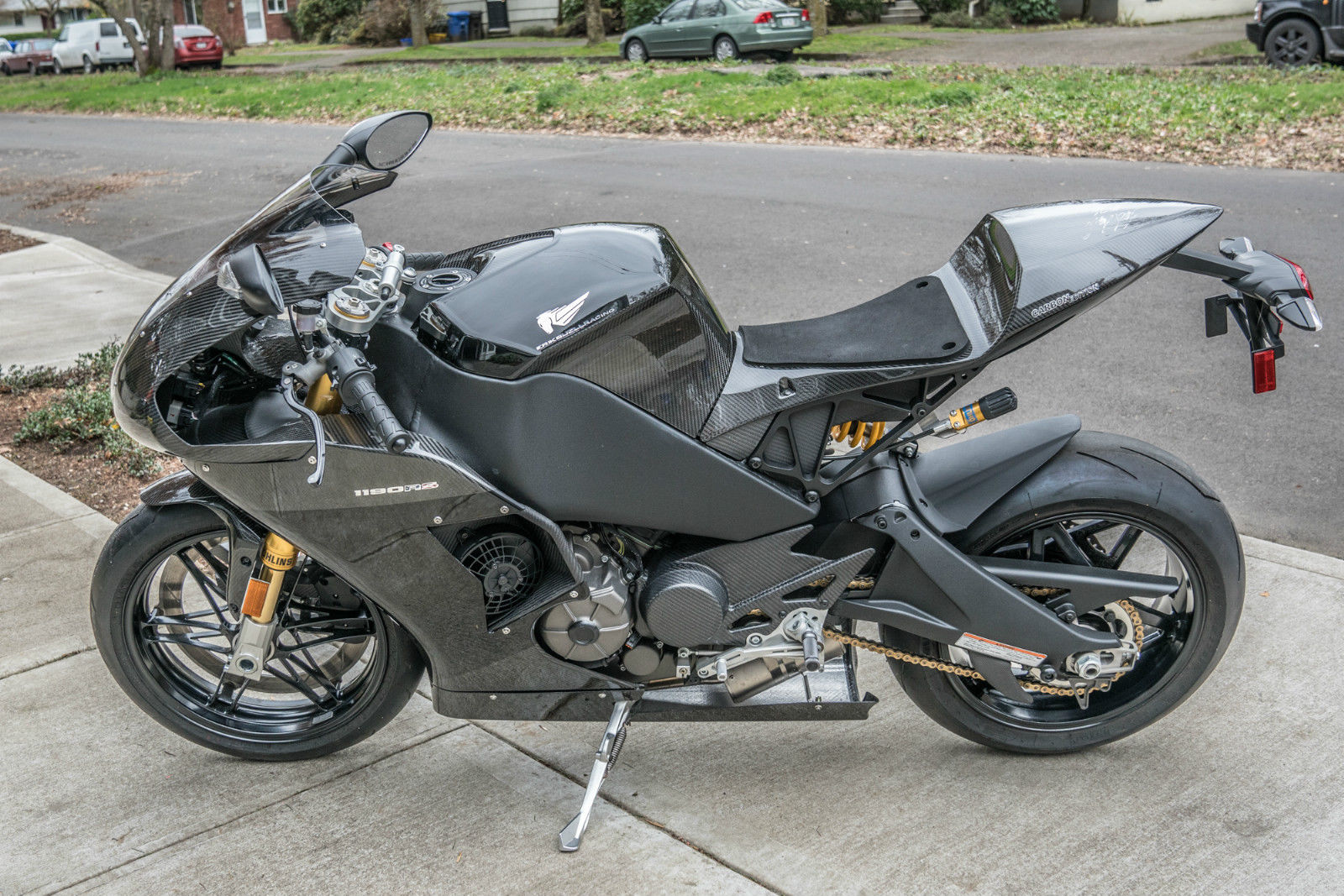 Consider the curious case of one Erik Buell. By all counts a mad genius who was able to make even the archaic push-rod Harley lump semi-attractive to sporting riders, he is also the embodiment of a tragic hero from an Euripides epic, fatally flawed and ultimately falling short of immortality. The shades of gray that paint the portrait of Erik Buell are not negatives of character, perseverance or engineering skill, but rather a "wrong partner, right dance" situation. From the inception of The Buell Motor Company - first banking on imported "Barton" engines for AMA racing usage (upon which rules changes rendered them obsolete), then using connections to H-D as an engine supplier but remaining wholly separate, to the Buell American Motorcycle company (a subsidiary of H-D), to the shuttering of the effort due to H-D finances (they also sold off MV Agusta during this time), Erik continued to rise from the ashes. Kicked to the curb by H-D, Erik formed EBR - or Erik Buell racing - and returned to his love of roadracing. Devoid of having to deal with street bike regulations, EBR focused entirely on support of the 1125R, but there was more to come in this story.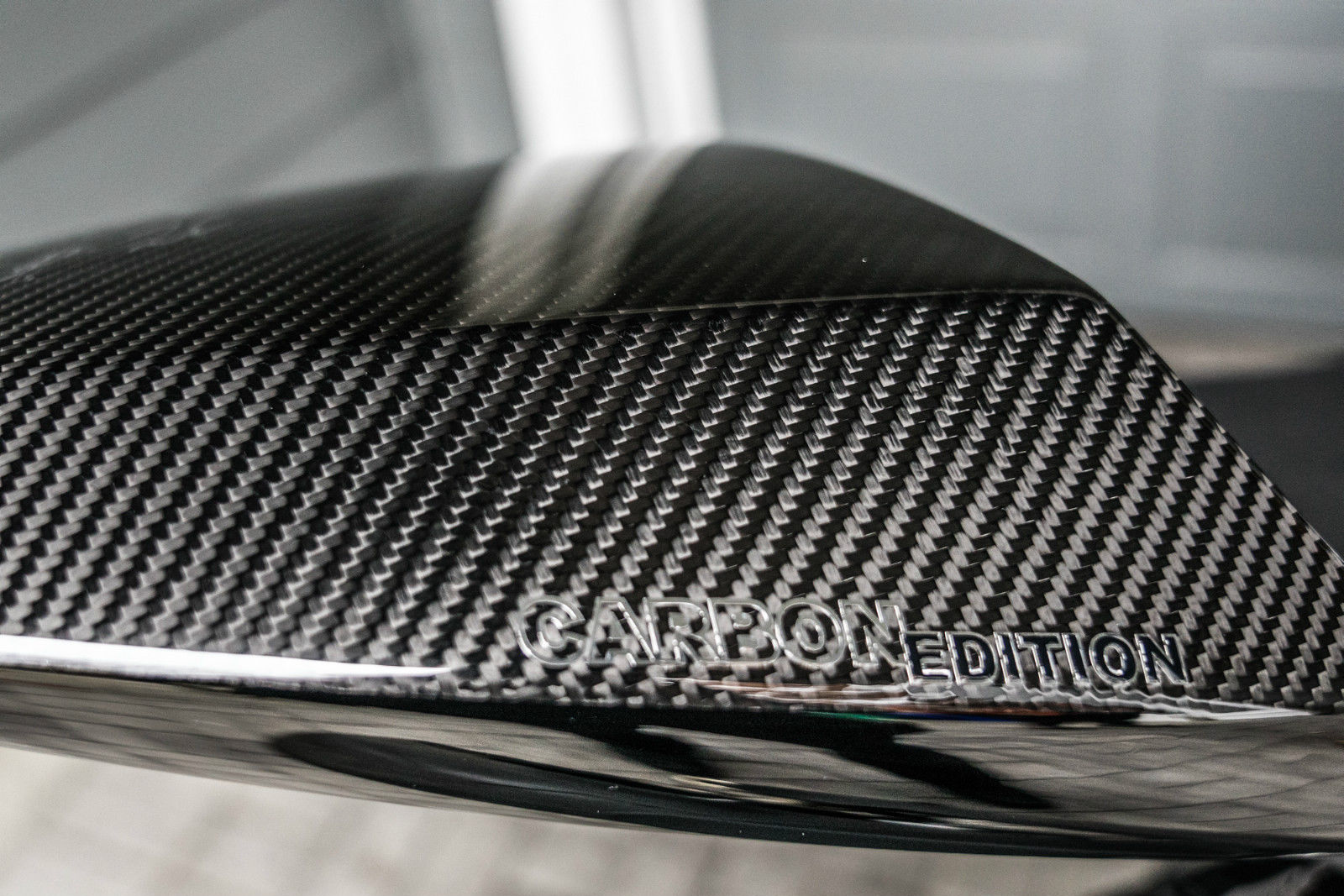 In many ways, Buell parted company with H-D long before they cut the ties. The 1125R, the last of the H-D owned machines, plunked the 45 degree v-twin relic in the trash and adopted the Rotax Helicon 72 degree powerplant. A modern engine with liquid cooling, overhead cams and four valves per cylinder, Rotax was a willing partner and a good motive power choice from a racing perspective. An updated design built specifically for racing, the bored-out 1190RR took the track goodness one further. But not done with the street bike scene just yet, Erik devised an updated 1190 that would take the Buell name back to the showroom. It was from these roots and from this distinctly non-H-D platform that today's bike, a rare 1190RS was born. With a relatively high price tag and a small distribution footprint, only 100 of the base model were to be built. But the highest spec - and the true homage to the racer - was the Carbon Fiber Edition. Littered with (as the name would imply) carbon fiber components, the CF Edition was a rare add-on to a platform that already glittered with farkles from Ohlins front an rear. Buell's ubiquitous Zero Torsion Load single front brake rotor contained a nifty cooling duct. The chassis (containing the fuel load, naturally) was aluminum. All told, this is a 175 HP, sub 400 pound (wet) track scalpel. With lights. And plates. And registration.
From the seller:
Rare opportunity awaits to purchase one of the finest crafted American sportbike ever engineered. Simply put, 1190RS Carbon Edition motorcycle is Erik Buell's masterpiece. Of of 44 Carbon Editions built, this #26 collectors bike stands out amongst the crowd. EBR spared no expensive designing this work of art, which was hand-built with the finest components. While the 1190RS is already one of the finest superbikes ever built, this particular bike is truly one of a kind, crafted with the utmost attention to detail including the lightest magnesium wheels in the world and Track-Day exhaust option, both upgrades on the original design, over $10,000 in upgrades vs. other EBR1190RS bikes on the market. Eric felt such pride in this bike, it adorns his golden signature.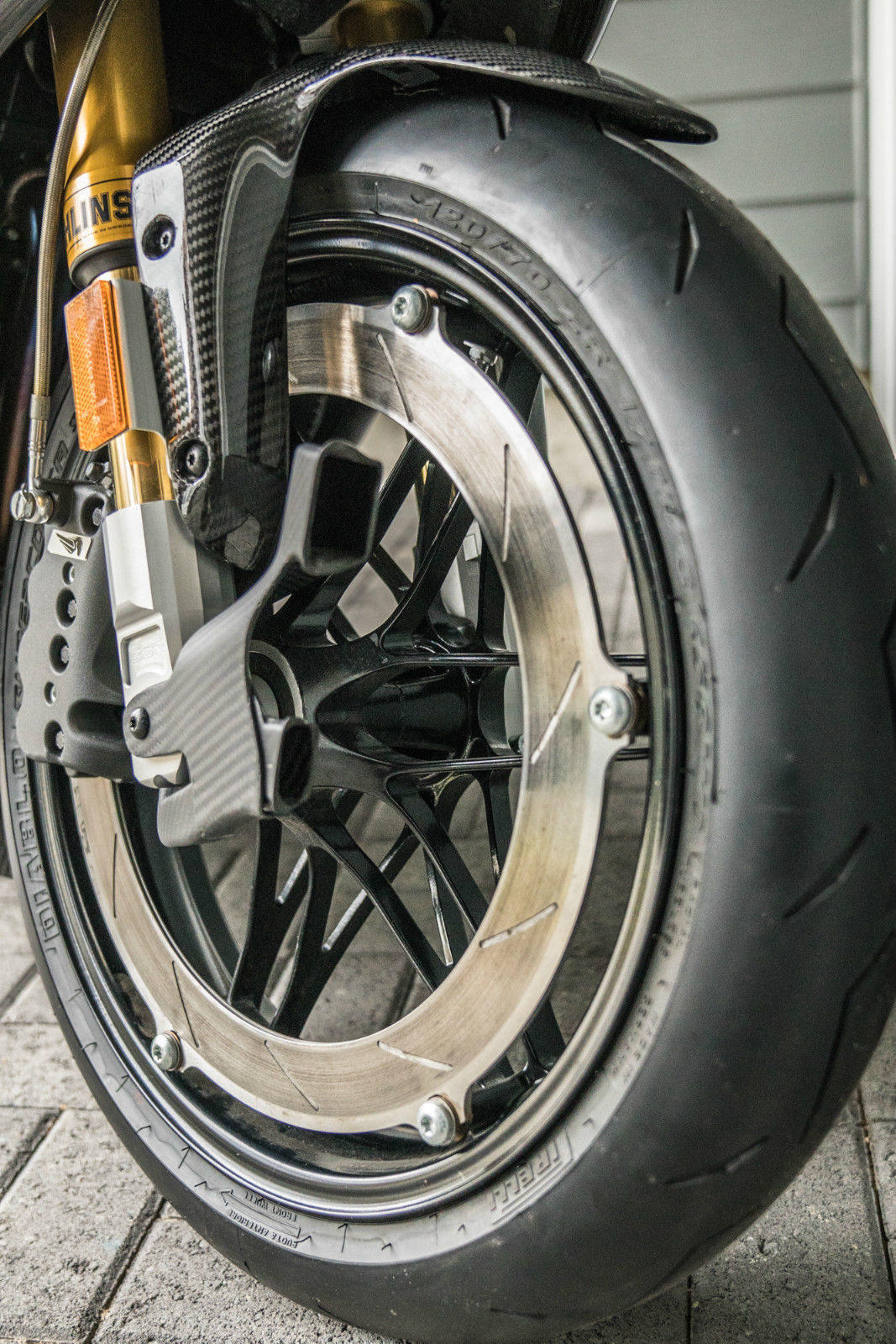 More from the seller:
Not only is the EBR 1190RS Carbon Edition rare, but #26 has a colorful story to tell, one of embezzlement, lies, and a lavish lifestyle of rare motor vehicles. #26 was a show room model at Reno Powersports KC and it still maintains its original shine and luster and sits pretty with only 89 total odometer miles.

-Less than 100 1190RS bikes ever made (even less with the carbon edition (44))
-Only EBR 1190 RS Carbon with a rich history and documents to support it.
-ORIGINAL factory Magnesium wheels (lightest in the world) to minimize unsprung weight.
-ORIGINAL Track-Day exhaust (Buell claims curb weight is 384 lbs. with the street-legal, dual-chamber exhaust. With the optional track-day exhaust shown here, it's said to weigh just 369 lbs. motorcyclistonline.com, By Aaron Frank, June 16, 2011)
-Authentic Signature on the tail of the bike by Eric Buell himself (Only a couple I know have this)

With upgrades, the bike totaled over $50,000 MSRP. Clean title.
EBR was founded in 2009 and lasted until 2015. Not even a partnership with India giant Hero MotoCorp in 2013 could help keep EBR afloat, and the bankruptcy announcement in 2015 was another nail in that coffin. But whoever wants to bury Buell better bring more nails, because that coffin still isn't fully closed. The Buell Motor Company, Buell American Motorcycles and EBR are all gone now, yet Erik is looking to the future as a founding partner in the electric mobility startup VANGUARDSPARK. Meanwhile his wondrous creations continue to pop up time and again in various formats. There is no doubt that the EBR era bikes are the most potent, and this Carbon Fiber Edition model is undoubtedly rare. The seller claims only 89 miles on the cool digital clocks (sadly no pictures of the dash in operation, but a brief view in the video), making this about as close as you can get to a new Erik Buell creation these days.
The embezzlement and intrigue associated with this particular bike as noted by the seller in the text relates to an accountant who cooked client books and spent the ill-gotten gains on cars, motorcycles and jewelry. The subsequent arrest might explain the low miles, but given that we have seen this bike before at auction (and on the pages of RSBFS) a year ago, not much has really changed. It's still a looker, it is still very, very rare, and it is still at the $20k mark regarding price. Check it out here. This is really a fantastic motorcycle - a real American Bimota, if you will - that was lost in the potato-potato noise when Erik Buell was whitewashed with the H-D paintbrush. This EBR stacks up nicely with any Ducati, Aprilia or MV Agusta and would make a wonderful edition to a collection. Good Luck!!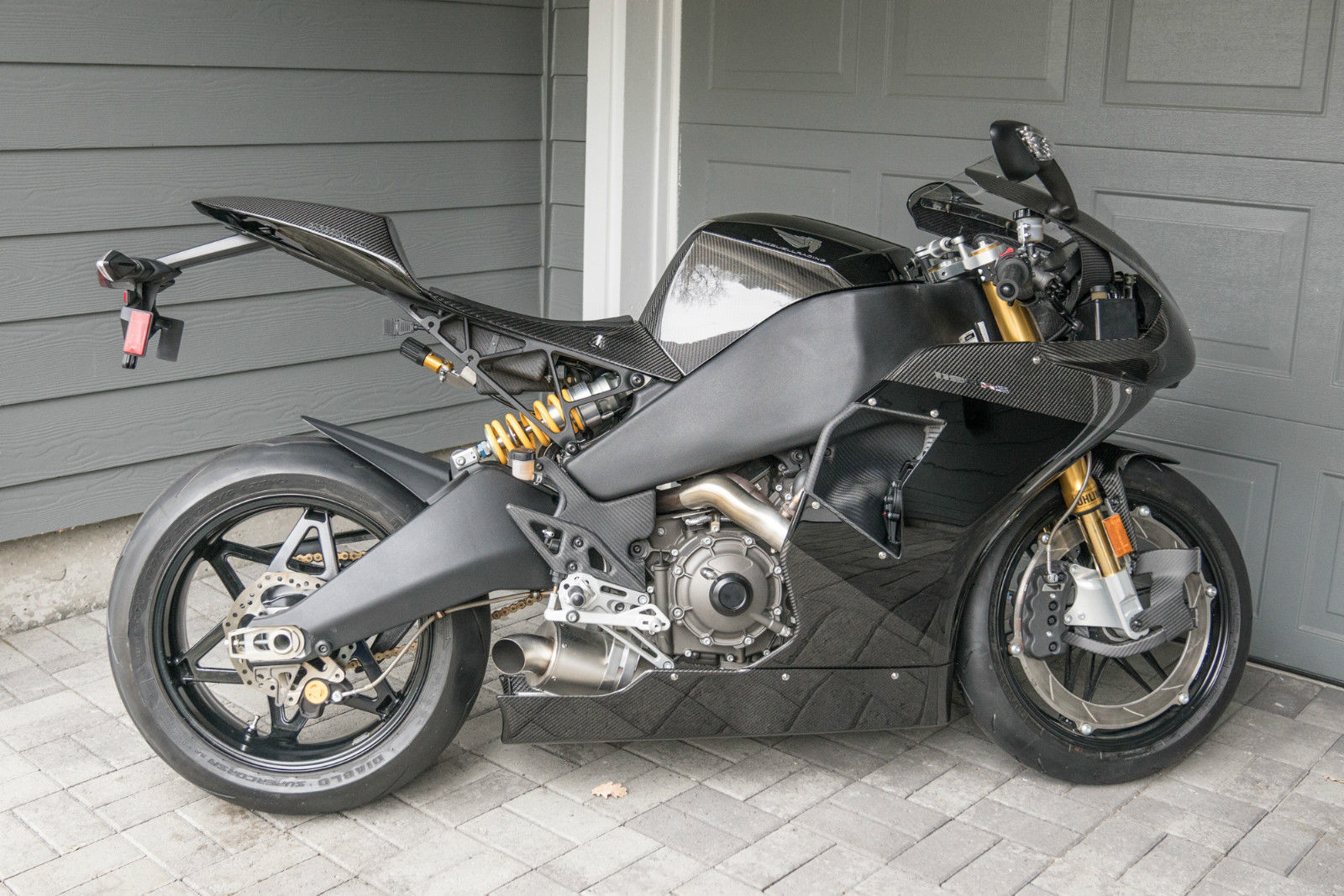 MI