Hard to believe it was just 1968 when engineering director Fabio Taglioni put Ducati's street eggs in the desmo basket, having used the valve actuation technique in race machines for several years.  The Mk.3 line included 250, 350, and 450cc singles, and while this last-year model hasn't run in a while, its low miles and great cosmetics make it look worth some effort.
The original bevel-drive engine uses separate cams to drive each valve, singing to 8,000 rpm on their way to 30 hp.  The Dell-Orto carburetor with a throat just over an inch in diameter handles the fuel mixing, and while there is an electrical system, starting is by a left side kick lever.  The Mk.3 gained a 5-speed transmission, helping keep the single on the boil.   The chassis has a hunch about the future of the engine being a stressed member, but in this case the steel backbone keeps things together.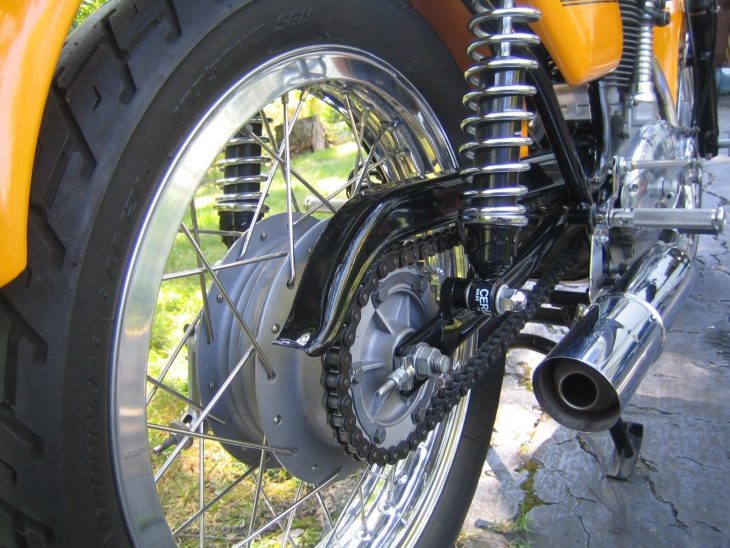 A limited amount of this bike's long history is available, but it looks to be an older restoration and re-paint in a typical Ducati chrome yellow.  The age makes the correctness of details way beyond my knowledge base, but maybe a knowledgeable reader can point out a great original component or glaring faux pas.  The owner says this in the eBay auction:
Up for sale a beautiful 1974 Ducati single Mark 3 450 motorcycle.  10,785 miles show on the odometer.  This used to be a blue Mark 3 originally.  The original seat will be included.  Clear title in hand.   The bike has not been started in years, so it will need to be sorted out if you want to put it on the road, no battery. Sold as is with no returns.  Light scuffs and scratches from years of storage.
Many of the elements on the Mk.3 appear almost comically lightweight, but the magic 100 hp/liter was still just over the horizon.  With the gear driven desmo and cable brakes, not much to refurbish in the return to service.  But a careful inspection and slow start are advised, brake and shifter are not on their usual sides...
-donn