Location: Leicester, North Carolina
Miles: 20k
Price: Currently $8,600 with No Reserve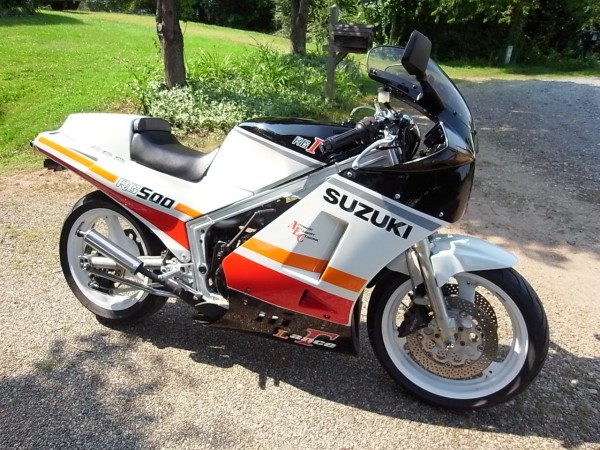 If you prefer bone stock 500cc sport bikes of the two-stroke variety like the Walter Wolf featured last week, then this might not be for you. However, if you like street worthy GP bikes, then look no further than this Lance Gamma built RG500. Those unfamiliar with the Lance Gamma bikes, feel free to checkout lancegamma.com and see the host of parts and performance upgrades they have to offer. The Lance bikes are seriously dialed in and no doubt make considerably more power than stock RG's.
Check out the Crawford swing arm that the seller states only 3 exist, one of which on a personal bike of his, one on this bike, and one that sold on eBay for $1,200.
From the seller:
Is this the Gamma you've been waiting for? I don't recall a finer example on eBay in the last year or so. This bike is of Canadian vintage and is titled and registered here in the States. The motor is freshly rebuilt and performance tuned by the premiere RG specialist, Lance Gamma (hence the eBay handle). This motor is at factory first overbore and assembled with all correct and OEM stock Suzuki parts with ported cylinders, bored carbs and milled heads. You can expect to see my clutch kit, ride height strut, petcocks and Crawford pipes along with my LG TriPod filter kit. What is certainly unexpected is the Crawford swingarm, being only one of 3 that were produced (one is on my personal Pepsi bike, the other sold on eBay last year for over $1200). This arm supports a Fox shock and 4.5″ rear wheel along with a 3″ front to handle Pilot Power sport rubber. Upgraded brakes and Race Tech fork mods complete the chassis for a fine handling experience. The bodywork is all new with Lance Gamma premium fiberglass and new paint/graphics applied. If you are looking for a stock collector piece to keep your other mildly interesting bikes company, move along. There's nothing to see here. If however, you are wanting to discover for yourself what all the hoopla was about at the release of these bikes some 27 years ago (you remember, GP bikes for the street? What were they thinking??), this is one which will bring you up to speed, so to speak. It simply begs to be ridden. If you wish to discuss this bike in further detail or explore the options in my extensive Gamma inventory, please give me a call at 8287774076. I would be happy to put your mind at ease concerning such a frivolous purchase. Test rides happily accommodated to hearty souls willing to take the trek toWestern North Carolinaand visit my shop. And now for your viewing pleasure…..
Here is a video of this bike in action!
There is no doubt that this is a serious machine, truly something that is set apart from other RG500's. "Mileage" is up there on this bike, but clearly it has been gone through extensively and maintained in excellent fashion. We posted Lance Gamma RG500 a while back and it's asking price was $23,000, so this one could be a steal at the current price. Bidding is active at the moment, so I am curious to where it will end up. Jump over to the auction here and make this serious RG500 yours!
-JS