For Sale: 2009 Bimota DB7 (#25)
Ian previously refered to the DB7 as (D)a (B)omb in an earlier post, and I couldn't agree more. This particular model really exemplifies the Rimini firm's expertise in melding engineering with artwork. While Bimota is often compared as the motorcycling equivalent of Lamborghini, I think a comparison to Colin Chapman's Lotus brand is more accurate: smaller, lighter, faster, more expensive. RSBFS readers have seen this particular bike before, written up by Doug last year.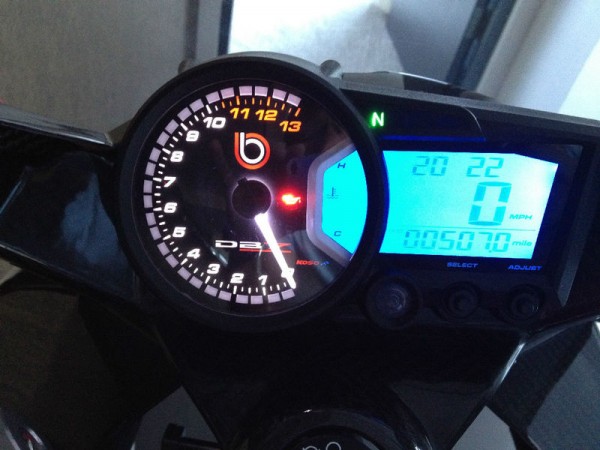 Hey look Ma – it's housebroken! Can I keep it? Perhaps this is why so many wonders from Rimini fail to accumulate any sort of real mileage. As worthy sculptures suitable for indoor use, their appeal is in the look as much as the performance. This particular model has only 507 miles on the clocks – and what beautiful clocks they are! Bimota clearly spared no expense in creating this amazing bike, and every nook and cranny of it drips with gorgeous appointments and top-level gear.
From the seller:
Up for sale is an ultra rare, and highly desirable one-owner Bimota DB7. The bike is in immaculate, as new condition, with no-stories whatsoever. Bike has been continouously maintained on battery tender, started every two weeks and run to normal operating temperature.

Details as follows:

2009 Bimota DB7 #25 (ZESD711S99R000025)
507 total miles (upon delivery)
All books/records/receipts/keys included
Evoluzione clutch master cylinder in Annodized Silver (28.5 degrees- perfect!)
Evoluzione titanium throttle control
Evoluzione fender eliminator kit
Original Bimota dust cover
Original Bimota rear stand

Original MSRP $39,995.00
The DB7 is powered by a Ducati 1098, liquid cooled, fuel injected, Desmoquattro v-twin. What the Rimini boys do with the rest of the bike is nearly as amazing as the engine: Aluminum, chrome-moly, carbon fiber and titanium all meet up to hold Ohlins and Brembo componentry in a package that screams exclusivity.
The seller included some great info regarding Bimota and the DB7, which I've included here:
From the seller:
If you are reading this, you will probably already be familiar with the extraordinary and exotic superbikes produced by Bimota. For those who aren't, here is some information about Bimota and the Bimota DB7:

Bimota is the sort of archetypal family-owned Italian company that puts out exclusive hand-built luxury machines. Think Lamborghini and Maserati in the car world and you'll have an idea. Bimota has been around since the late '70s when design guru Massimo Tamburini (Ducati 916 & MV Agusta F4) was one of the founders. The "Ta" in BimoTA represents Tamburini's contributions. Tamburini himself now heads the Cagiva Research Centre where unbelievably beautiful MV Agusta designs are created. Tamburini did turn up in Rimini to congratulate Bimota and student Sergio Robbiano with the DB5 in 2005, but that's the last anyone at Bimota has seen of him since then.

In 2007, the company headed by President Comini who owns 17% of Bimota, employed the services of Dan Van Epps. Van Epps has a past as Ducati North America's CEO and later Ducati's Global Marketing Director. Van Epps compares Bimota to Ducati in 1993 and have big future plans for the company.

The DB7 looks like no other Superbike, with team colours of red, white and black applied to the carbon fiber body shaped by the pen and hands of designer Enrico Borghesan, the Bimota family DNA is clear to see. This Superbike dares true motorcyclists to get close and indulge in its details. The beauty and drama of the DB7 at a distance is surpassed only by its detail. From billet machined sub-frames, footrests and control levers to the structural carbon fiber tail section and titanium silencer, no compromise was ever considered nor made. The details are simply spectacular.

Bimota is the only factory in the world allowed to place Ducati's gem of a 1099cc V-Twin engine in its own chassis. Just to give you an idea of just how exclusive this motorcycle is, Bimota only built 300 DB7s per year.

Ex-Ducati man Dan Van Epps preaches proudly that each DB7 is built by hand by two Bimota technicians. Those two technicians follow that very bike all the way to actually also building the shipping crate! That's just how exclusive and exotic the Bimota DB7 1098 is.

from Motorcyclist: "The seventh Ducati-powered, all-Italian DB7 is the best yet-and one of the sexiest motorcycles ever. Rivals include money-no-object Italian exotics such as the Benelli Tornado Tre, Ducati 1098R, Mondial Piega and MV Agusta F4 R 312. Still, unless you're going racing, the DB7 has an appeal that is subtly different to the 1098R's, and arguably just as strong."

from CycleWorld: "An exclusive artisan operation are Bimota — where two technicians build one DB7 per day—has an ace up its sleeve, however, because concerns over competitive pricing are chucked out the window. Generous use of carbon-fiber, machined aluminum and titanium is possible when hand-building bikes that cost almost four times what a Japanese literbike goes for….which rounds out Bimota's model range of Supersport (DB5), Sport Naked (DB6) and Sport Special (Tesi 3D) with a no-holds-barred Superbike."

from MCN: "This is a motorcycle manufactured to the highest standard, so it goes without saying that quality is exemplary. The finish is to die for and the attention to detail stunning. None of the cycle parts are going to let you down and neither should the tried and tested Ducati 1098 engine."
DB7s are not inexpensive motorcycles. While most Bimotas sell at a premium, the DB7 is the most modern, top of the Rimini performance range. MSRP pricing would put you in a midsized, German luxury car from the spinning propeller brand – if cars were your thing, that is. Any way you look at it, $40k is rarified air for motorcycles – Ducati "R" models, the D16-RR, some MV Agustas and perhaps a few "boutique" low volume brands might reach this high.
This seller is also parting with a 2004 Ducati 749R as written up by Rem – maybe if you've been a really good boy Santa can do a double-bike deal for Christmas. Santa was never quite that flush with me, but then there is always hope…
This auction is on right now, with a BIN number of $23,250. This is pretty standard money for a used DB7, and it is clear that this is a well-loved and cared for, low mileage example. For your chance to add this to the wish list, or just to check out the numerous pictures, click on the link and check out the auction. Good luck!
MI