Location: Los Angeles, California
Mileage: 12,241
Price: Auction, starting at $11,000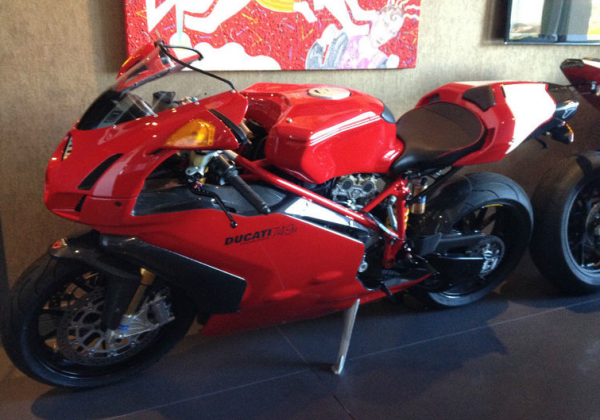 Ducati makes a lot a special bikes. Probably the most prolific manufacturer of limited edition, numbered bikes of various designations, many a Ducati model comes in S and R versions, with obligatory custom paint and performance parts. Depending upon what you like, there's a special Ducati for you. I like most all of them (the Superlight being a favorite) and the 749R is included on that list. If you happen to like carbon fiber, and who doesn't, then this is your Duc.
The  2004 749R brings power (120 hp) and light weight to the game via the previously mentioned use of much carbon fiber along with titanium valves and connecting rods. You'll also get fully adjustable front and rear Ohlins suspension, a slipper clutch and Marchesini rims to help handle the bike's 423 lbs. The seller also mentions other upgrades to this already fairly upgraded bike.
Some pics for your review-
From the seller-
Up for sale is a superb and very rare 2004 Ducati 749R – arguably one of the best motorcycles ever produced by the world's finest manufacturer. The bike is #196, and one of only 50 imported into the US for the 2004 model year, the only year where the 749R came with the FULL carbon faring, nose cone etc from the factory. Details as follows:

12,241 total miles (upon shipment)
All books/records/receipts/keys (red included)
12k service completed (GP Motorcycles – at a cost of $1,850.00)
Very, very rare Termignoni/DP 57mm titanium race exhaust package with ECU/baffles/velocity stacks (believed to be 1 of 10 kits imported, a $4800 option(!) and not to be confused with standard Termi standalone Ti exhaust)
EVR "Evo" Slipper clutch- 200 miles since new (at a cost of $1400)
Sargent seat with Carbon FX option ($450)
STM anodized frame plugs ($125)
Pazzo Annodized clutch/brake levers ($175)
Michelin Pilot Power tires – as new

Also – a Geza dust cover (top of line)

The rarity and collectibility of the 2004 model 749R will be understood by anyone with more than a passing interest in Ducatis, and superbikes in general. This bike is testament to the quality of the 749R. The farings, carbon etc are in immaculate condition – and the bike presents close to "as new", and is mechanically perfect. With several thousand dollars of extreme quality extras, and the full 12k service completed by GP Motorcycles in San Diego, this "no stories", 2-owner bike offers exceptional value. Please contact me via Ebay for any additional information etc. I have clear title in hand – and full honesty/disclosure assured, check my feedback. This bike is a work of art, and has been used as such. Bike has been maintained continously on battery tender, and started every 2 weeks and run to normal operating temperature. I am selling the bike to free up some space in my games room(!) – please also check my auction for a super rare 2009 Bimota DB7. NO RESERVE AUCTION – if you know the value of these bikes, in this condition, with these extras – you will also know that the starting bid is very, very reasonable! Good luck!
This bike looks to be clean and seems to have been listed on RSBFS previously here. Mileage is the same although some upgrades may have been made by the current seller and you may want to get a breakdown on that. Maintenance appears to have been done so the bike should be ready to go. The seller has the auction starting at $11,000 with no reserve in place. So that would put the price pretty close to where other 749R's have been listed.
These are killer machines. Not much more needs to be said. If you want to give this one a new home, check this auction out!
-RN