2009 Bimota DB7
Location: California, MD (20619),
Mileage: a scant 507
Price: $24,500.00
VIN# XXXXXXXXXXR000025
Update 12.16.2010: Sold!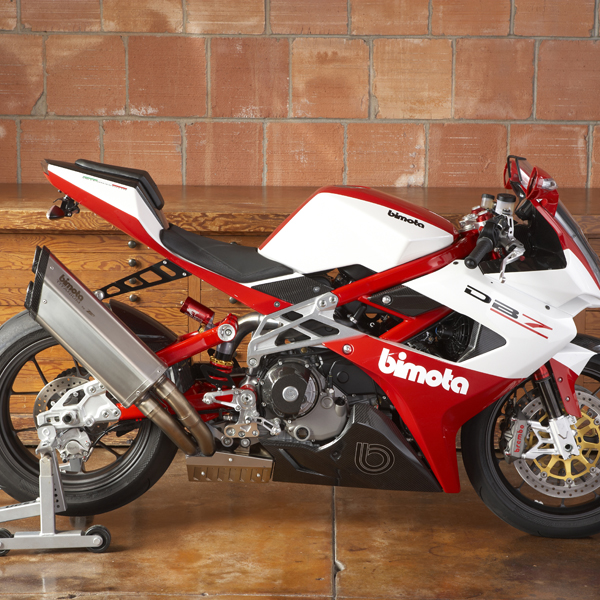 This is an Italian beauty that cannot be argued with from anyone for any reason.
Bimota chose the ever present Ducati Testastretta Evoluzione engine to power the DB7 because simply looking good wasn't enough. Dressed up in Bimota racing colors the DB7 is sure to catch the eyes of all motorcycle enthusiasts whether their preferred bike is of Japanese or Italian decent. The stock Testastretta Evo produces 160hp from the factory and I'm guessing with only 507 miles the engine hasn't reached its full potential yet.
Like all Bimota's the Italian DNA runs deep and can be seen in every carbon fiber body panel, nut, bolt and fastener. As always, there's plenty of machined billet aluminum and high-end components liberally sprinkled all about. The DB7 sports a oval type trellis frame and is said to increase rigidity over the traditional round trellis frame all while helping to reduce the DB7's weight. It shouldn't take much to stop a lightweight Bimota, but just in case they've given the DB7 a set of Brembo Monoblock calipers that should prove more than adequate to handle the task.
Have a look:
The DB7 is truly a work of art and is built with the sole purpose of being ridden, but at the same time I understand why most Bimota owners would rather sit and look at them. Hands down Bimota is the premier art studio in Italy.
From the seller:
Original owner
507 miles
Socal bike
All books/keys/paperwork
Never dropped or damaged
Original Bimota rearstand and dust cover included
Evoluzione Billet Slave Cylinder (28,5mm bore size)
Evoluzione Plate Relocator
Evoluzione Billet Throttle Controller
(All installed by Evoluzione; Temecula, CA)
Suspension dialed in for 205-lb rider by legendary Jeremy Toye (Isle of Man TT "Iceman" Winner)
Owned by Bimota enthusiast
From the looks of it this DB7 won't disappoint even the most discerning Bimota enthusiasts.
For any interested parties please contact Ross at 858*539*5307 for more information or to set up an appointment for viewing.
Cheers!
dd