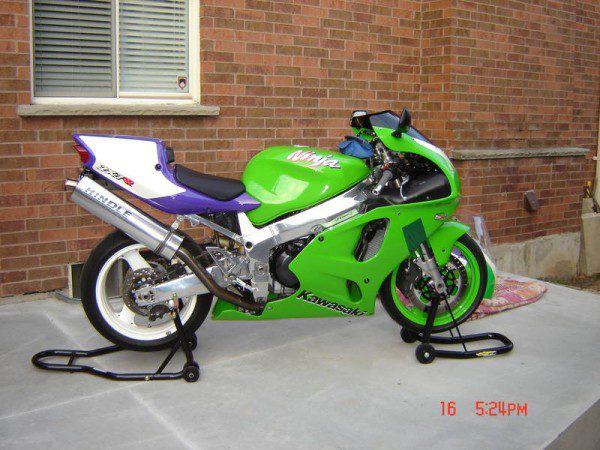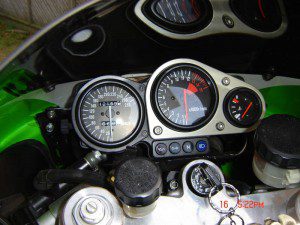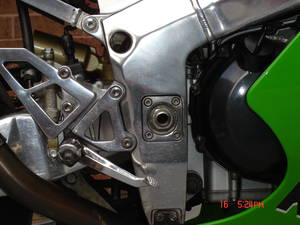 Here we have another Homologation Superbike for sale. This one isn't in perfect, unmolested condition, but it is the real deal and is showing 12,100km or 7,500 miles which is pretty low considering the age.
Quotes from the seller:
OFFERING – In 1996 Kawasaki made a world superbike homologamation of 1500 worldwide & 500 of them to North America. I have #665 of 1500 worldwide. The bike is a race bike in street clothing. You will HEAR the flatside carbs, you will be in 1st gear for awhile so feather it when you take off, its made to run. I am 46 and was planning on racing it, (sold separetly from the bike )I have full race fairings & doublebubble, both brand new only installed to predrill holes.
It's no secret that we love 90's homologation sport bikes on this site. This RR obviously isn't a garage queen and with a polishsed frame and swing arm it would be near impossible to restore to stock. It does offer low mileage and stock plastics, but with what appears to be some damage or tape on the fairing. This could make a great daily driver or weekend road warrior, but the owner seems to really like it with an asking price of $10,000.00 (assuming Canadian $). We've had a few zx7rr's on RSBFS lately and one that was perfect with all the necessary goods to be in a museum that sold for $9,855.00. These still put a smile on my face when I see one for sale and let me remember the days of Scott Russell, Akira Yanagawa and Doug Chandler on board ripping it up on the race tracks.
dd