Today's post is a bit of homolgation era goodness, a 1992 Yamaha YZF750R/SP.  The SP isn't currently as desired by collectors as other 750cc machines, such as a 1st/2nd generation Suzuki GSXR-750R or Kawasaki ZX7RR, nor is it as technologically important as the OW01 or R7.  Yet the YZF750SP was dominant for multiple years in Superbike racing and was recently rated as possibly the best 1990's 750cc homolgation machine by Practical Sportbikes (April 2017).  Combine this with it only being produced from 1993-1996 and with this one showing only 4,017 miles, it certainly seems worthy of a post here on RSBFS.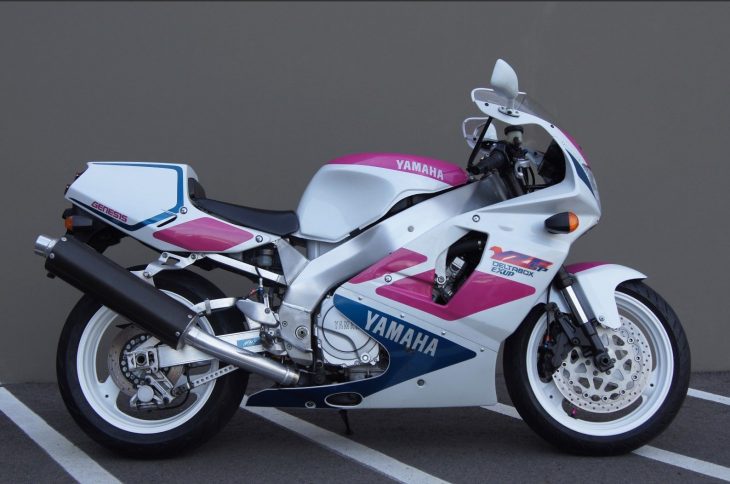 Ask a group of sportbike fans what the "best" 1990's 750cc machine was and you will no doubt get a variety of answers.  Some will say it was the GSX-R750, the bike that really launched the repli-racer craze and the last of the air cooled monsters.  Others might say it was the Yamaha OW01, R7 (Ow02) or perhaps the Kawasaki ZX7RR…you might even get a few votes for the landmark Honda VFR750, a progenitor of the V4 philosophy that now rules MotoGp.   Ask this same group about the Yamaha YZF750R SP and perhaps you get a few comments of "um..yeah..nice bike" or shrugs but very few would probably initially list it as the best 750cc of the 1990's.   But consider this…it won the Suzuka 8 hour in 1996 which made it the the only non-Honda to do that in over 10 years and it dominated in Superbike Racing in the UK from 1996-1998.  Think about that timeframe for a second..notice anything?   It means the SP was dominant on the track for 2 years after the company stopped making it, a truly amazing result.
In case you are wondering how Yamaha achieved this the answer is in typical Yamaha fashion the SP was developed as an evolution, not a revolution.   Like the preceding OW01, the SP came equipped with Yamaha's EXUP system which delivered both high rpm performance and good mid-range.  The 3/4 liter powerplant was wrapped up in a new deltabox frame designed by the same man who would lead Yamaha's R1 effort. And handling was done by adjustable forks and 6 piston calipers, a first on a production machine.  The SP also came with flatside carbs, a close ratio gearbox, adjustable swingarm pivot and lots of other trick goodies designed to help it dominate on the track.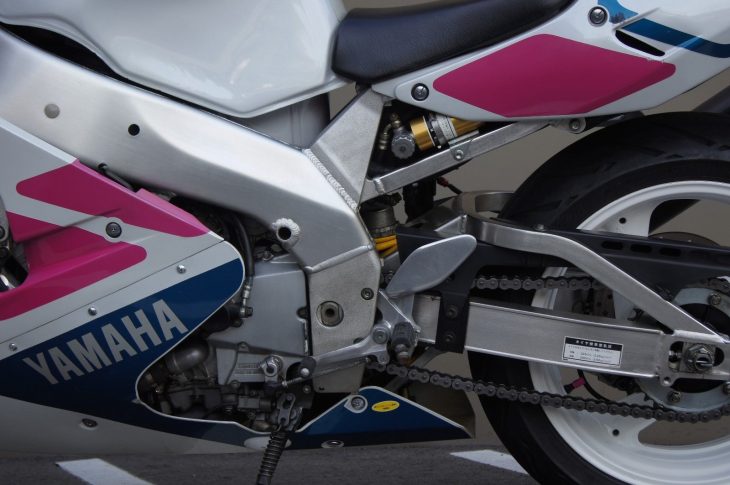 Now let's turn out attention to this particular offering.  Listed as a 1992 model imported from Japan, this one looks to be in excellent condition.  The seller does provide some  recent maintenance history, the summary of which is as follows:
4017 miles (6465 kilometers)
Imported from Japan and now has a legal Washington State clear title
Carburetor was recently ultrasonically cleaned and adjusted, and a full service tune-up was performed which included new, tires, spark plugs, chain, air filter, brake pads, an oil change, and fluids flushed. All of the lighting, switches and electrical components work as they should
No cracks on any of the body panels, but there are some minor nicks and scrapes on a few of the panels. The wheels are perfect with no rock chips or scratches anywhere. The frame and engine have no corrosion and are nice and clean
NOTE:  I did note a fairing scuff on the riders right side lower (zoom in on the pic below on the ebay auction, you can see it in the 'Yamaha' Blue lettering) and I am not sure if the exhaust is OEM or aftermarket but other than that this bikes looks completely OEM.  I do wish the pics were taken in more direct sunlight though.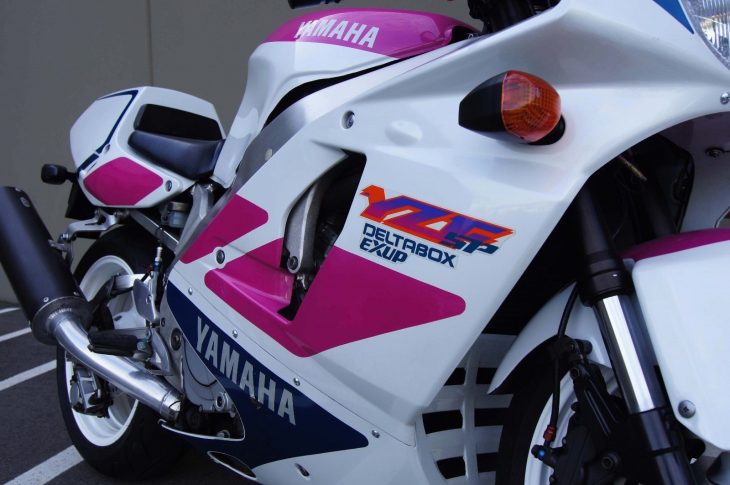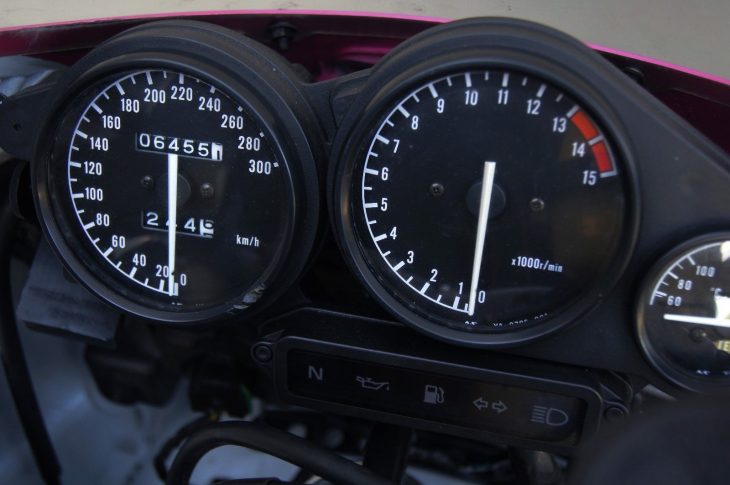 So this brings us to the question, is this bike worth the $13,000 USD asking price?  Well when it was new the YZF asking price was $15,000 so the asking price is actually not outrageous and finding one in this condition and mileage seems unlikely anytime soon so the price seems right on.  Still this is a 26 year old motorcycle so its not going to appeal to a lot of people/the chances of major price appreciation from this point seem small.   Personally I think this one will appeal most to a homologation-era collector. I can envision it parked between a OW01 and R7 or maybe gleaning in the sun next to a ZX7RR.
Marty/dallaslavowner