1994 Honda RVF RC45 Homologation Super Bike For Sale-
Location: Anaheim, CA
Miles: 7,548
Price: $26,900 $25,900 no reserve!
Update 4.19.2011:Due to a non-paying bidder (aka scum of the earth), this RC45 is back. Links and price updated. Hopefully she finds a new home this time. -dc
Que the Angels and release the White Doves-
For me the 45 is the pinnacle of Honda Homologation Super Bikes and I'm well aware of all the debate that might ensue from the 30 guys. I know 30's won more races, I know they have impossible to get hand laid fiberglass bodywork, Ti con rods etc… I still like the 45's better 🙂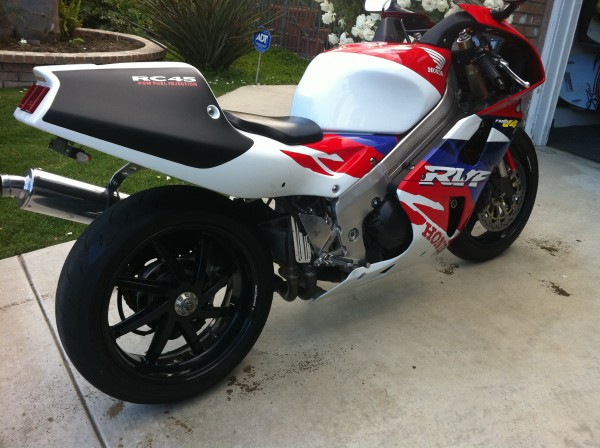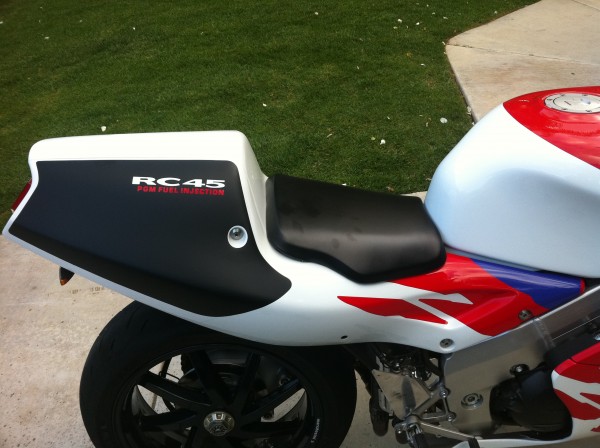 RSBFS.com knows a little history on this bike as it was part of the Seattle Homologation Super Bike Collection at one time. We know the current owner and we know he is sad to see it go. You've seen several of his bikes grace the cover RSBFS.com over the past few years. Those bikes have included a couple NSR's and a sweet ZX-7RR
Like most collectors, pride of ownership was taken seriously with this one and you can certainly tell it by looking at the pictures. These don't come around as often as the 30's (flame suit on) and when they do you can usually expect the price to be in the high 20's to low 30's for the good one's. The best of the best usually hit mid 30's. The cheapest one I know of was a super low mileage salvaged title bike with carbon bodywork and it sold for 18ish(?). I think this one is priced spot on and would look great sitting next to my 94 NSR. I'm about $26,599.00 short can anyone help a brother out?
From the seller:
LOW MILES AT 7,548 AND RUNS PERFECT!!

NO ENGINE MODS HAVE BEEN DONE TO THIS BIKE AND IT HAS NEVER BEEN DOWN.

THE FOLLOWING THINGS HAVE BEEN DONE
-REAR FENDER WAS CUT FOR MORE A SPORT LOOK.
-THE TURN SIGNALS WERE ALSO REPLACED FOR MORE SLEEK LOOKING ONES. FOR THE COLLECTORS OUT THERE I HAVE THE OEM TURN SIGNALS AS WELL AS A OEM FENDER THAT IS BRAND NEW SO THE BIKE COULD BE 100% STOCK

IT HAS A VERY STOCK LOOKING TWO BROTHERS SLIP ON EXHAUST THAT MAKES THE BIKE SOUND GREAT!! I ALSO HAVE THE STOCK EXHAUST I THINK BUT NOT 100% SURE

LASTLY THE BIKE HAS THE STOCK WHEELS ON IT. FOR 1,000 MORE I WILL INCLUDE THE ULTRA LIGHT AND SWEET LOOKING MARCHESINI WHEELS (ON BIKE CURRENTLY) IF NOT I WILL PUT THE STOCK WHEELS BACK ON THE BIKE.

THIS BIKE IS TITLED AND REGISTERED IN CA UNTIL FEB 2012!! SO ITS GOOD TO GO!!
Yesterday was a good day for homologation collectors when it was published that Honda might be producing another LE Super Bike. Other than Ducati's yearly LE offering and the 2006 Yamaha R1 LE it's been a long, long time since we've seen a real Homologation offering from the Big 4. I for one would welcome the new bike and I would have to believe it would only help the value of the previous LE offerings.
If you've been lurking and waiting for one of these to come along now is your chance. As I mentioned before- these don't come around that often and there aren't that many in the first place.
You can
Good luck with the sale-
doug