For Sale: 1986 DUCATI F1 750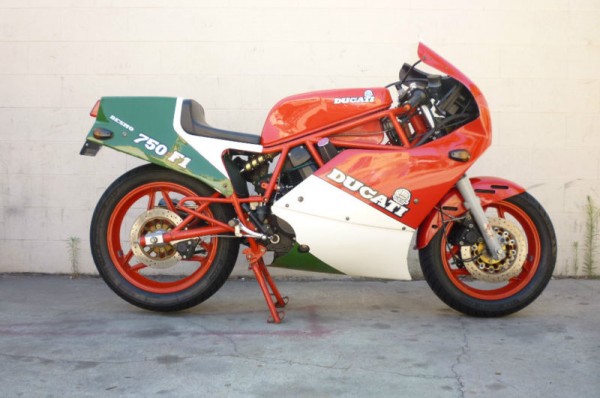 When the Ducati F1 was originally released in 1985, it was a far smaller machine than the current crop of 750cc bikes. It was, in fact, a serious revolution in the ideology behind how sportbikes were conceived. Instead of bigger and bigger, the Ducati concentrated mass as closely to the center of the vehicle as possible. Instead of more cylinders, Ducati engineers opted for the familiar L-twin arrangement – this time with desmo valves actuated via the new rubber-belt "Pantah" design. More than the sum of its parts, the F1 was a TT1 and TT2 inspired race bike, which just so happened to also have lights and turn signals.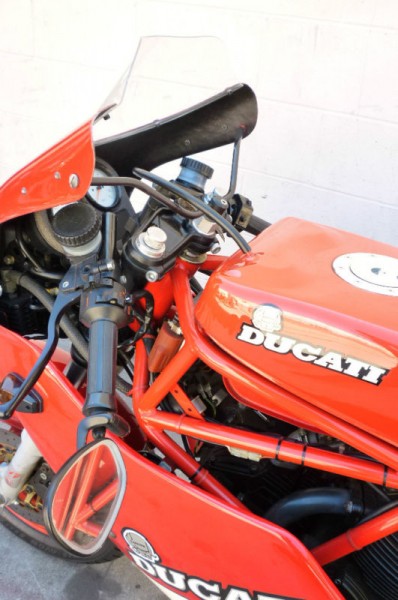 Ducati F1 machines are a pretty rare breed. We have posted only a few here on RSBFS, and you can run a quick search here. The F1 came in the standard flavor as you see here, as well as three higher performance (and even more rare) variants: the Laguna Seca, the Montjuich, and the Santa Monica. And while those three models are worth more than a plain Jane F1, the '86 model year F1 is a hotter performer over the '85 (bigger forks, bigger valves, stronger trans) – so if you are in the market for an F1, this is your lucky day!
From the seller:
UP FOR BID IS A VERY RARE 1986 CAGIVA DUCATI F1 IN EXCELLENT CONDITION. THE BIKE RIDES MAGNIFICENTLY AND EVOKES A RAW RACING EXPERIENCE WHICH IS NON EXISTENT IN MODERN MOTORCYCLES TODAY. THE MOTOR APPEARS TO BE IN EXCELLENT CONDITION AND THE TRANSMISSION SHIFTS SMOOTHLY. NO KNOWN MECHANICAL ISSUES. RECENT TUNE UP AND NEW AVON TIRES COMPLETED BY A REPUTABLE MOTORCYCLE SHOP LESS THAN 700 MILES AGO. THE BODY FAIRINGS APPEAR TO BE ORIGINAL AND LOOK GREAT FOR ITS AGE. MINOR STRESS CRACKS SHOW ON SOME PANELS WHICH ARE NORMAL DUE TO THE NATURE OF FIBERGLASS. I ALSO WOULD LIKE TO POINT OUT THAT THE HORN AND NEUTRAL LIGHT ARE NOT WORKING. I NEVER GOT AROUND TO LOOK INTO IT BUT IT SHOULD BE AN EASY FIX. WHAT AN AMAZING ICONIC MOTORBIKE THAT WILL SURELY APPRECIATE IN VALUE. TREAT YOURSELF TO THE AWESOME FEELING YOU WILL GET RIDING AND OWNING THE LEGENDARY DUCATI F1!
This auction is going on right now, and bidding interest has been relatively lively thus far. The current bid is just below $8k at the time of this writing, with reserve still in place. The last few F1 bikes that we have seen at auction were all targeted around the $12k mark, so there is still a lot to play for here.
For more pictures, more information and your chance to bid on this wonderful Ducati, click the link and jump over to the auction. This is a bike that would make a great addition to any collection!
MI