Update 8.1.2014: Originally posted in late January, this Santa Monica is back on eBay. This time there are a handful of new pictures, though not high resolution. However there is a very lengthy description to accompany and a significant price drop from $36k to $27,500. Links updated, -dc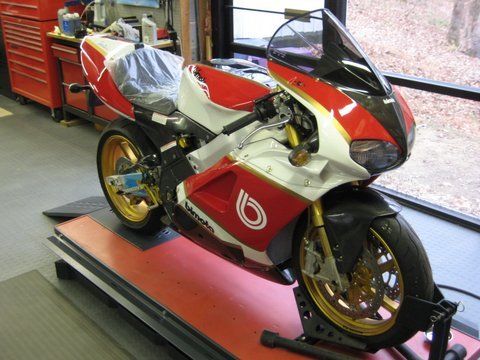 While Bimota is currently only using Ducati engines in their bikes, before their most recent rescue from bankruptcy Bimota was developing bikes powered by Suzuki and Yamaha too. One of the most astonishing bikes produced during the Japanese powered era was the SB8K Santa Monica.
In 2006 the SB8K was delivered with a huge amount of top shelf components. It had carbon fiber for the fairing as well as for the construction of the fuel tank, a custom frame wrapped around a Suzuki TL1000R motor with the upper frame built with lightweight alloy and a lower footrest section consisting of carbon fibre plates in a box structure. It also came with Ohlins 43mm forks and Brembo brakes. Many pieces were machined from aluminum alloy and it was the only street production bike in the world that was delivered using Bimota's very own radial injector fuel injection (Radial EFI).
This example is being listed as new. Unfortunately there is only one picture with the listing but the seller's description with the ad is thorough. MSRP was about $45k so you get a $9k discount for waiting 8 years to purchase!
MG & DC