Warning!
This post is in our archives. Links in this post have been updated to point to similar bikes available to bid on eBay.

This Ducati Supermono is the bike I wish Ducati would try to build these days. Do we really need more bikes so lethal that they will literally crawl in through your window at night with a knife in between their teeth, like the 1199 Panigale that seems to scare even professional moto-journalists? Or a road-going V4 Moto GP bike with 240hp? I mean, Ducati has a rich tradition of 250, 350, and 450cc single-cylinder performance bikes they could tap into.

KTM's RC 390 is headed in the right direction [please come to the US, please come to the US], a small-displacement bike for experienced riders, a high-spec bike that designed to provide real thrills, not overwhelm with power.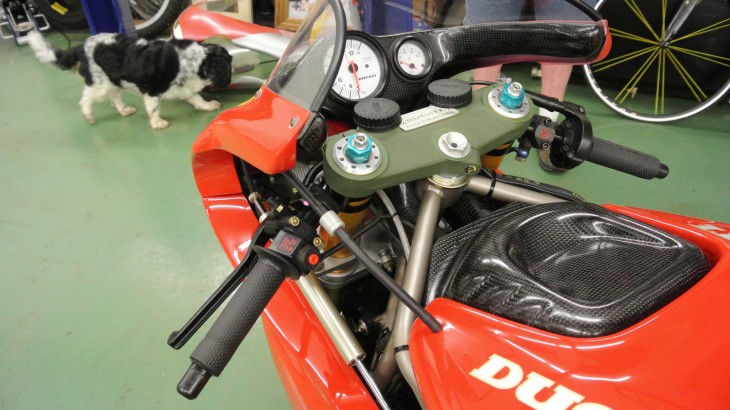 What's interesting is how this trend is relatively recent. The horsepower wars have been raging since they were won and lost by actual horses, but it's only recently that there's been such a dearth of legitimate sporting machines with little engines. If you're a fan of classic sport bikes, you'll be aware that there was a whole raft of machines that handled and stopped and were built with top-shelf components, not designed as some starter-bike for a teenager who plans to buy a Hayabusa as soon as he can figure out what color Mohawk he wants to stick on his helmet.
The Supermono may only have one cylinder, but it is one of the most valuable and collectible Ducatis of the modern era. And while the Supermono may lack in displacement somewhat when compared to what we're used to seeing these days, it's a heart-attack serious machine. With a dry weight of only 267 pounds and suspended with the best kit money could buy, including brakes from the 888, a much heavier machine. And those funny, army-green top triple clamp and the engine cases? They're magnesium of course. And at the heart of it all, a 549cc single that started out making 65bhp at 10,500rpm.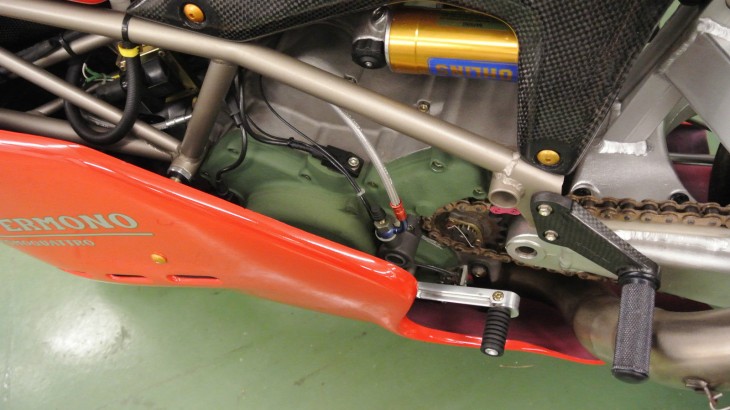 Keep in mind that this was in the era before balance shafts, and a 10,000 rpm single this size was basically unheard-of. Big singles vibrate, and single-cylinder sportbikes like Bimota's BB1 can be a numbing affair. But the Supermono had a trick up its four-valve Desmodromic sleeve: a dummy connecting rod that allowed the bike to rev as smoothly as a v-twin.
This is a seller of few words, but the bike speaks for itself: 1994 Ducati Supermono for Sale
Never used Ducati Supermono motorcycle. New fluids, radiator now dry, #33,1 of 67 built, stored in heated/air conditioned garage, perfect condition, one private owner, flawless, probably the most perfect supermono.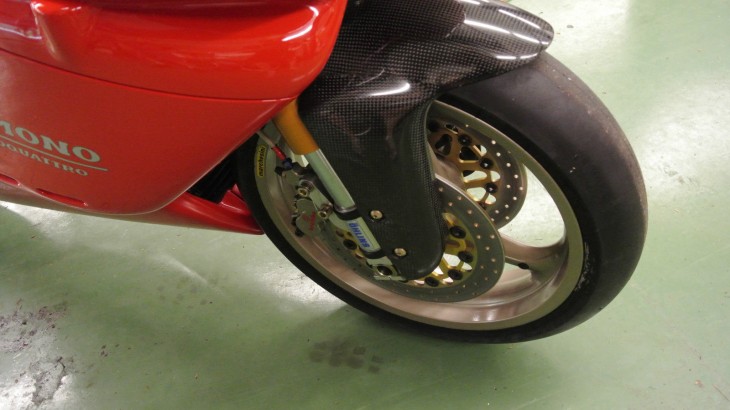 Styled by the controversial Pierre Terblanche, you can see echoes of his later 900SS in the jutting lower fairing. In spite of customer requests for a roadgoing example, the Ducati Supermono was a pure racebike and only 65 were ever made over the course of two years, with production ending in 1995. Designed to compete in the "Sound of Singles" race series, they epitomize what people love best about Ducati. It's light, innovative, simple, and exotic.
And this one has exactly 0 miles.
Maybe there's another out there that hasn't turned a wheel, but I'd bet not as the Supermono was built to race. This would represent the most awful temptation for me. It's a perfect machine. A giant, candy-like red button just begging to be pressed…
Hey, what's that in the background of some of those shots? Besides the dog. Huh, looks like a Bimota DB1. I wonder if it's for sale too…
-tad