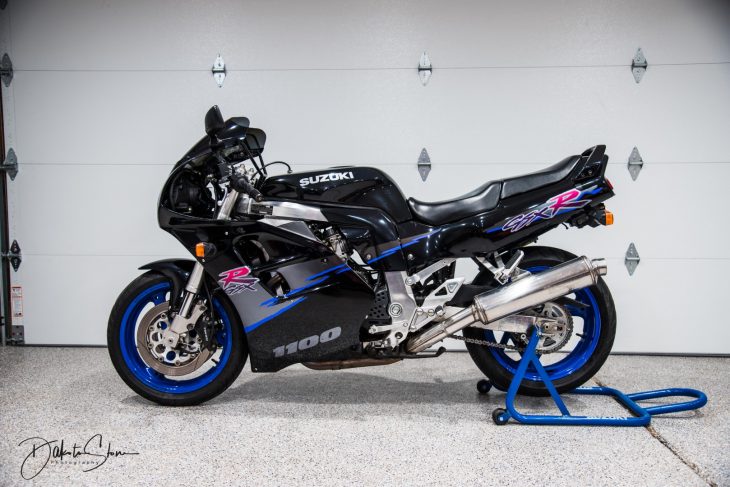 Mid-1990s Gixxers get something of a bad rap for being portly, underpowered and undersprung when compared to their contemporaries, but that really does the iconic nameplate a disservice. Take this 1994 Suzuki GSX-R1100, for example. It's a 500-pound beast stuffed with a 155 horsepower water cooled four banger and a riding position that favors comfort over elbow dragging. It has all the hallmarks of a fantastic sport tourer, and with a long swingarm aiding stability and pegs high enough to stay off the deck in the canyons, it will make a killer mount for any commuter, tourer or weekend warrior.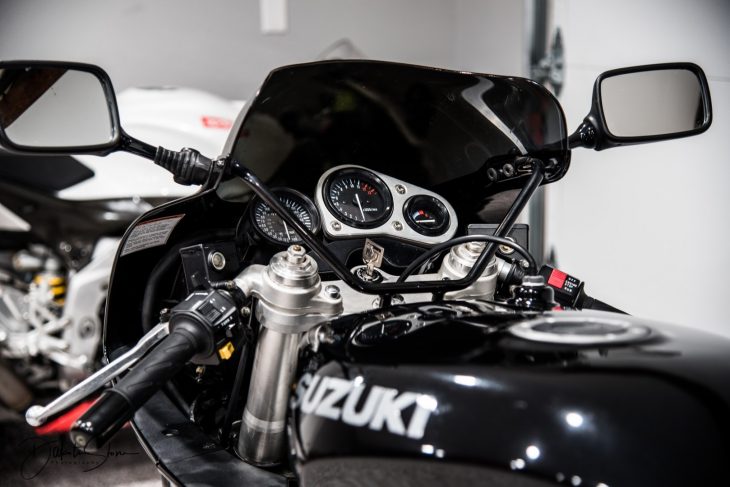 Sure, compared to a 1994 Honda CBR900RR it's a slow-witted porker. But lined up next to a Kawasaki ZX-1100 or a Honda ST1100, it looks like the sporting choice. The mill is known for being a time-bending gem when the road straightens out. With 310mm Tokico clamps up front and an adjustable upside down Kayaba keeping things off the deck, the big Zook is plenty capable when things turn twisty or bumpy.
This example has lived a babied life in Wisconsin, collecting just 12,000 miles under one owner. Sadly, the original buyer passed away this year, and the bike is in the hands of his daughter, who is selling it through our good friends at Iconic Motorbikes. It has a fresh going over, including carb cleaning and syncing, tires, new fork seals and fluid, and new brake fluid, coolant and oil.
Most of the bikes you see on our classified are bikes available at our Dealership directly however, we also host bikes from our long list of collectors, business partners and friends. The difference between the bikes you see on our site and other sites…we will ONLY list bike's that we can 100% confirm are legit and the owners have a direct connection with Iconic Motorbikes. That said…

Here we have a exceptionally clean example of a GSXR1100 with only 12K Miles on the clock. As you can see from the photos, the bike has been babied since new, 100% stock and one of our favorite paint schemes of the time with the black and electric purple/blue streak. You'd be hard pressed to find one in better shape! Even the frame stickers are intact!!
This one is located at our friends location in Oconomowoc, WI but can be brought to CA for only $500 or so with one of our carriers.

Here is the write up from the owner:

The only owner passed away and then current owner acquired the bike last spring from his daughter. Full maintenance updates within 75 miles ago include cleaning & syncing of carbs, front fork seals replaced with OEM parts, fresh Suzuki oil, coolant, & brake fluid. Metzler Road Tec tires have 1700 miles on them. Original Suzuki windscreen included with the bike. Turn key ready to ride & enjoy this original survivor. Bike is located in Oconomowoc, WI. $5450 or reasonable offer. Clean & clear Wisconsin title.
The bike can be transported to Los Angeles or environs for around $500, and is listed at $5,450. Head over to Iconic Motorbikes to contact the sellers if you're as excited about this thing as we are.