Some bikes take time to find their audience, but the Ducati Supermono was always going to be a classic. Created to compete in the Sound of Singles race series that supported World Superbike in the mid 1990s, the Supermono was a bit of a throwback to Ducati's past: a pure racebike with exotic components, quality suspension, some very innovative technology and, as the name suggests, just one cylinder.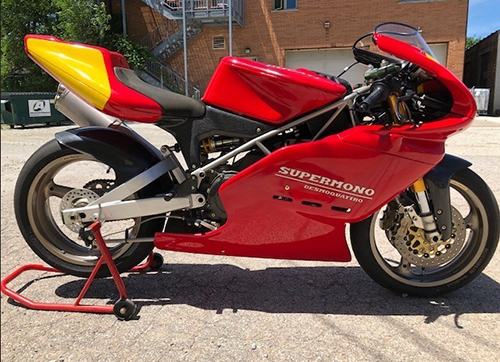 Single-cylinder engines are lightweight, torquey, and mechanically simple, which makes them ideal for offroad applications and economic commuters. But they aren't all that suited for modern sports motorcycles, since vibrations caused by one cylinder limit maximum revs and therefore horsepower, and can be more than a little unpleasant for the rider at sustained high rpm, unless numb hands and blurry vision are your thing.
Ducati had a solution and, as is typical of companies with limited resources, it made use of as much existing hardware as possible but with an interesting twist. The new engine used most of the liquid-cooled, four valve v-twin engine from the 888 and 916, but with the rear cylinder blanked off, which seems simple enough. But here's the twist: a dummy connecting rod was fitted to approximate the force of a second piston and connecting rod of the missing vertical cylinder.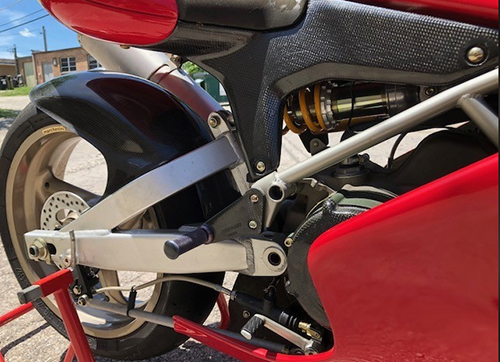 Ducati ended up with a 549cc single that could rev to 11,000rpm happily and made 65hp with a dry weight of 267lbs, although a larger, 572cc version came along in 1995. Brakes were the same as the much heavier 916,  so stopping power could be considered adequate and the bike handled as well as you'd expect. The bike was liberally sprinkled with carbon fiber: the gauge cluster, fuel tank, rearset brackets, and the self-supporting rear subframe were all made from the material. Engine cases, triple clamps, and wheels were all lightweight magnesium.
From the original eBay listing: 1995 Ducati Supermono for Sale
Probably one of the most collectible sport bikes of this generation, enter the Ducati Supermono racer. This 1995 model is one of only 25 produced in 1995. Total production from 1993-1995 was 67, rare. The most unique attribute is the way Ducati did the motor, using an 888 Corsa motor and counterbalancing system consisting of a second attached to a lever pivoting on a pin fixed in the crankcase, hence the name "doppia bielletta" [double con rod].

This is a one-owner bike out of a 60+ bike private collection. Original bill of sale, docs, etc. The bike is in stellar condition.
Approximately 67 were made between 1993 and 1995 and, as you'd expect from the mission statement, most were raced, and quite successfully: it pretty much dominated any class where it was allowed to compete. Styling was by Pierre Terblanche and is pretty much perfect: lean and efficient and spartan. You can clearly see the influence this design had on the revised 900SS, but the style doesn't quite translate: on the Supermono it looks clean and technical and light, but on the Super Sport it looks fussy and contrived. So what price perfection? Well this one has an eye-watering $149,000 starting bid, which shockingly seems a pretty fair place to start, considering what other examples have sold for.
-tad