What you're looking at here is certainly not the nicest 2005 Ducati 999R that I have ever seen, but it is still a 2005 Ducati 999R, and that gives it a couple free passes and a trump card or two. Knicked though parts of it may be, it is still every bit the 135-horsepower carbon-clad repliracer that it was 14 years ago. Built to be the barrel-chested alpha male of superbike racing, the 999 series was quick to prove its mettle. It carried off three World Superbike Titles and a British Superbike title between 2004 and 2006, spawning a raft of special editions in the process. The wins also helped make up for its, uh, controversial visage.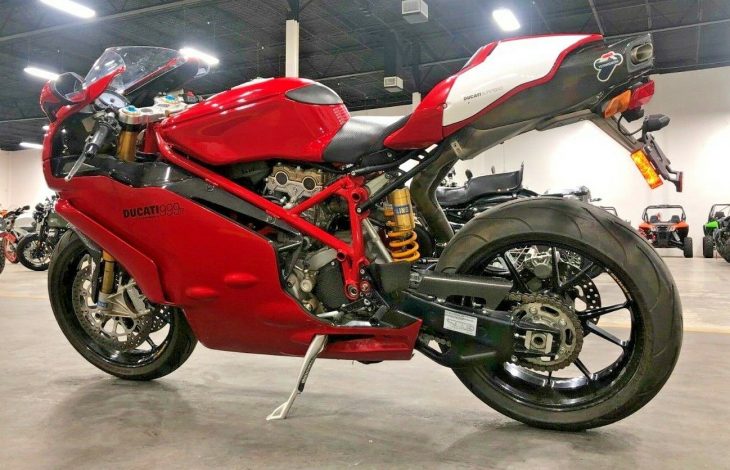 The 999R separated itself from the base bike and the 999S with an engine that not only had sexier internals — titanium connecting rods and a knife-edged crankshaft among them — it had a different bore and stroke in sandcast cases. Wear items and big-ticket repairs on this bike will be a real thing when the time comes, but will be worth it.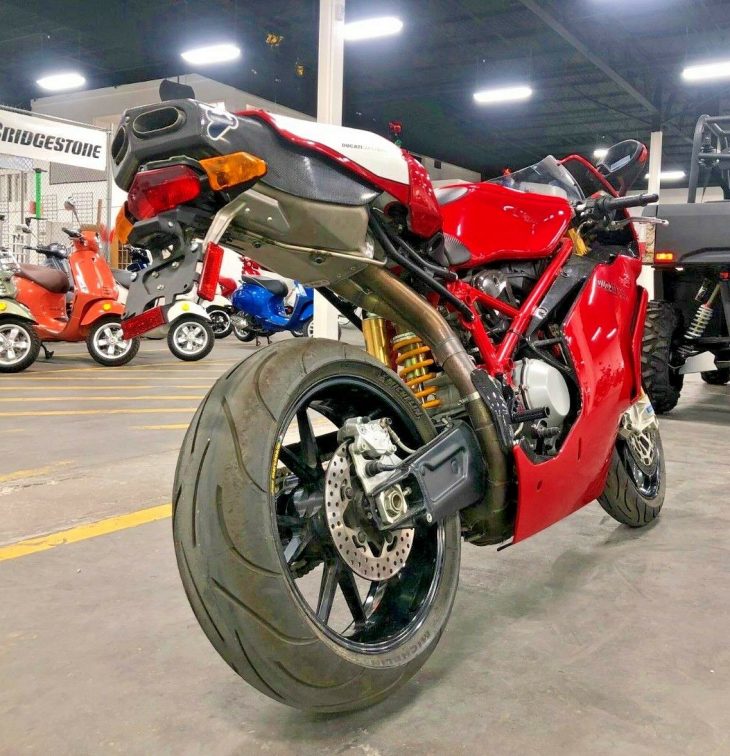 As I said earlier, this one has some blemishes and its fair share of dirt, but does appear to be a real-deal 2005 Ducati 999R. It looks like it has aftermarket footpegs, and there is a weird rub mark on the stamped VIN. Despite the dirt, the seller says it has only covered 1,324 miles, and it appears to be in ready-to-ride shape.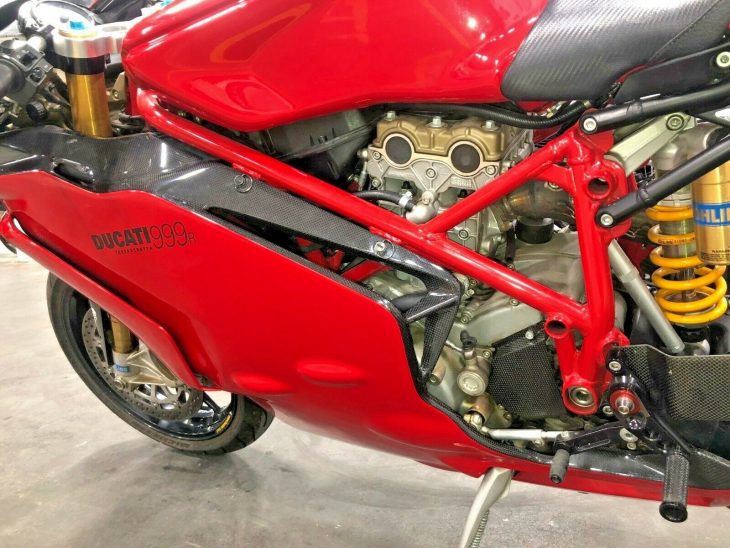 From the eBay listing:
You are purchasing a

DUCATI 2005 999R MOTORCYCLE

SOME SCRATCHES AND BLEMISHES GREAT CONDITION. ONLY HAS 1324 MILES. BUY AS IS.

ALSO HAVE MATCHING BIKE 2005 DUCATI 749

VIN# ZDM1UB5W15B013308

WE CAN HELP YOU ARRANGE FREIGHT TO ANY WHERE IN THE WORLD. (MUST ADHERE TO AND COMPLY WITH E BAY RULES)

WE HAVE HUNDREDS OF SHIPPING CONTACTS, SHIPPING CRATES AND PACKAGING MATERIALS TO PROPERLY PACK YOUR MOTORCYCLE FOR SAFE DELIVERY

BIKE IS BEING SOLD WITH RESPONSIBILITY FOR CUSTOMER TO PICK-UP. BUT FOR EXTRA CHARGE WE CAN HELP YOU SHIP IT ANYWHERE.

WE DO HAVE CRATES IN STOCK, CALL US TO GET A QUOTE. WE SHIP ALL OVER THE WORLD.

M. VANN'S COLLECTION
At $28,000, the price is tied for the highest ask I have seen for one of these with a zero-mile FILA Edition bike from  a few weeks back. Low-mileage non-special-editions have recently been changing hands in the high teens, but there's always exceptions.