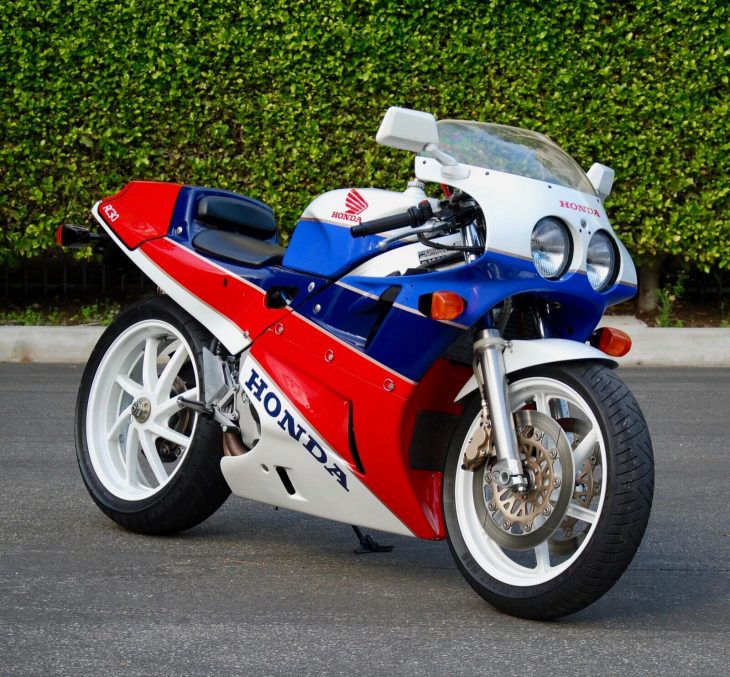 Trying to come up with something new and interesting to type about Honda's [insert superlative] RC30 is like trying to tell a budding car nut something they don't know about a Ferrari F40. The specs are available with a single Google query. The original and retrospective road tests drip with corn syrup-sweet praise for the torquey-but-temperamental V4, the obviously hand-made body panels, the wet weight that was 10 percent down on its rivals, the quick-but-forgiving handling and on and on and on.
On top of all that, the 1990 Honda RC30 is beautiful. The livery is perfect, the single-sided swingarm — a revolution at the time — distinctive, eye-catching and purposeful and the snow-white wheels subtly flashy and fully on display. Nothing about this bike says "take it easy today, fella." This hype is to thank for the bikes' recent and sharp uptick in value. In the last year, we've seen decent ones go for around $30k, but a couple of auction sales and more Internet forum gushing seem to have pushed that north.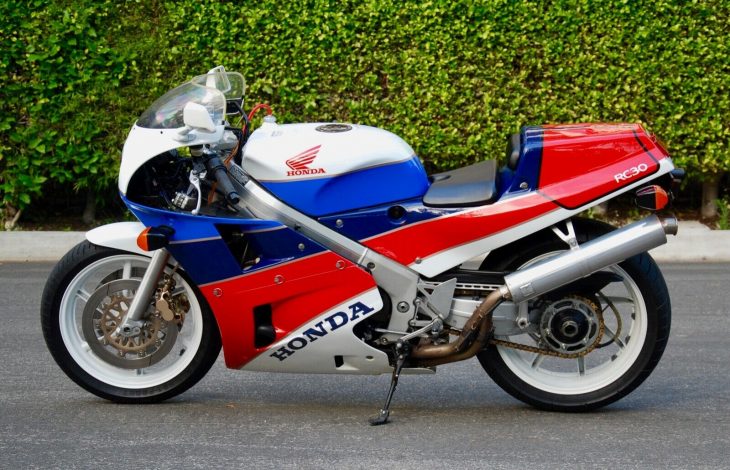 This 1990 Honda RC30 is a fantastic example of the breed, with a tick over 5,000 miles on its analog clock. The fairings appear to be the original pieces with some scratches and evidence of paintwork to show for their 29 years. There is also some dust and dirt here and there, but the bike appears to be devoid of any real dirt or corrosion. As the seller says, those old Metzelers will need to go if you plan to ride this thing. Mechanically, it appears mostly stock, with the exception of a ridiculously rad period HRC exhaust.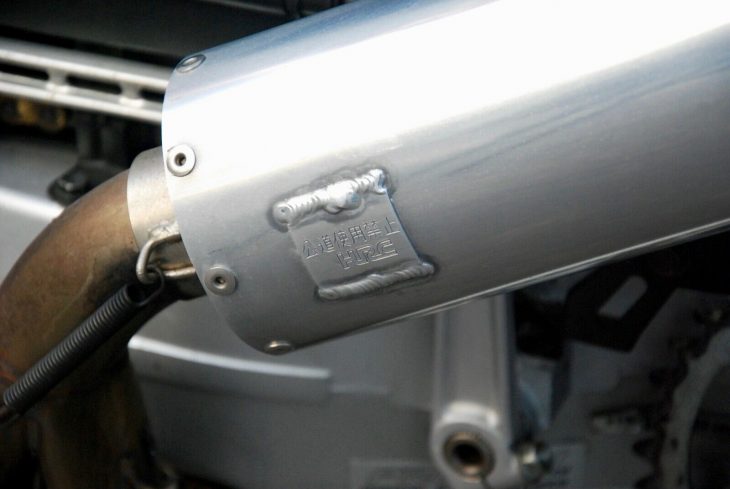 From the eBay listing:
Fewer than 5,300 miles and from long-term ownership

1990 Honda VFR750R RC30 

Frame no. JH2RC3000LM200087

Legendary 16-valve gear-driven DOHC 90-degree V4 engine
• Reportedly fewer than 3000 produced
• Long term ownership as part of a fantastic car and motorcycle collection
• Fewer than 5,300 miles from new

One of the modern era's few immediately collectible classics, the Honda VFR750R – better known as the 'RC30′ – was created for just one reason: to win the World Superbike Championship, a feat it achieved in the nascent series' first two seasons of 1988 and 1989. And while American Fred Merkel was bringing Honda its first two WSB crowns, Britain's Carl Fogarty used an RC30 to win the TT F1 World Championship in 1988 and 1989, and the equivalent FIM Cup in 1990.

No mere short circuit scratcher, the RC30 and its derivatives proved durable enough to win a hat-full of Endurance Classics too. That this latter requirement was also part of the design brief may be determined from the fact that a quick-release front fork and single-sided swinging arm – essential for speedy wheel changes – were part of an unrivalled specification that included a twin-spar alloy beam frame, 16-valve V4 engine with gear-driven cams, close-ratio six-speed gearbox and four-pot front brake calipers.

All of which did not come cheap: at the time of its launch in 1988 an RC30 cost near double that of other super-sports 750s. Despite the passage of time and progress of motorcycle technology, the RC30 remains a match for the latest generation of sports bikes but possesses an exclusivity that none of them can approach. 'No other bike from the late-Eighties is lusted after like the RC30', reckoned Bike, and few would disagree. And then there's the exhaust note – loud, of course, but soulful enough to bring a pit crew to tears.

This RC30 was only very recently liberated from long-term ownership as part of a very discerning collection of cars and motorcycles. Regularly maintained since new, the bike runs and rides exceptionally well.

This legendary machine is offered in excellent condition throughout. The engine starts readily, though a little cold-blooded, idles smoothly and has an abundance of power. AN ABUNDANCE! The clutch is silky-smooth and brakes and suspension are near perfect. I would opt for a new pair of tires before serious road use and am happy to negotiate your tire choice and installation in to the price.

There are a few scratches in the paint finish around the bike, and I suspect the bottom of the fairing was repainted, likely because of scratches – there are no dings. All body panels are original, and the tank is totally free of blemishes and scratches/dents. Seat is excellent as is the rest of the bike. The bike is accompanied by a clean, clear title, books, spare keys, books/manuals, original rear track stand, and a full set of completely untouched tools.

This is a rare opportunity to acquire a motorcycling icon of performance and a must-have for a discerning collection.

For additional information and photos, please visit ClassicAvenue.com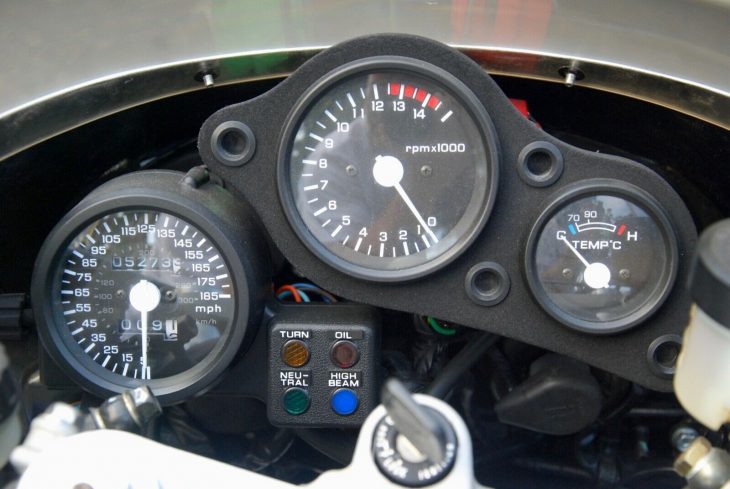 At almost $37,900, the asking price for this RC30 is about in line with the market. We have seen other low-mileage RC30s change hands for a few thousand dollars more, but with the bodywork and imperfections, this bike is a notch below the upper echelon.