Update 4.1.2022: This bike has SOLD! Congratulations to buyer and seller! -dc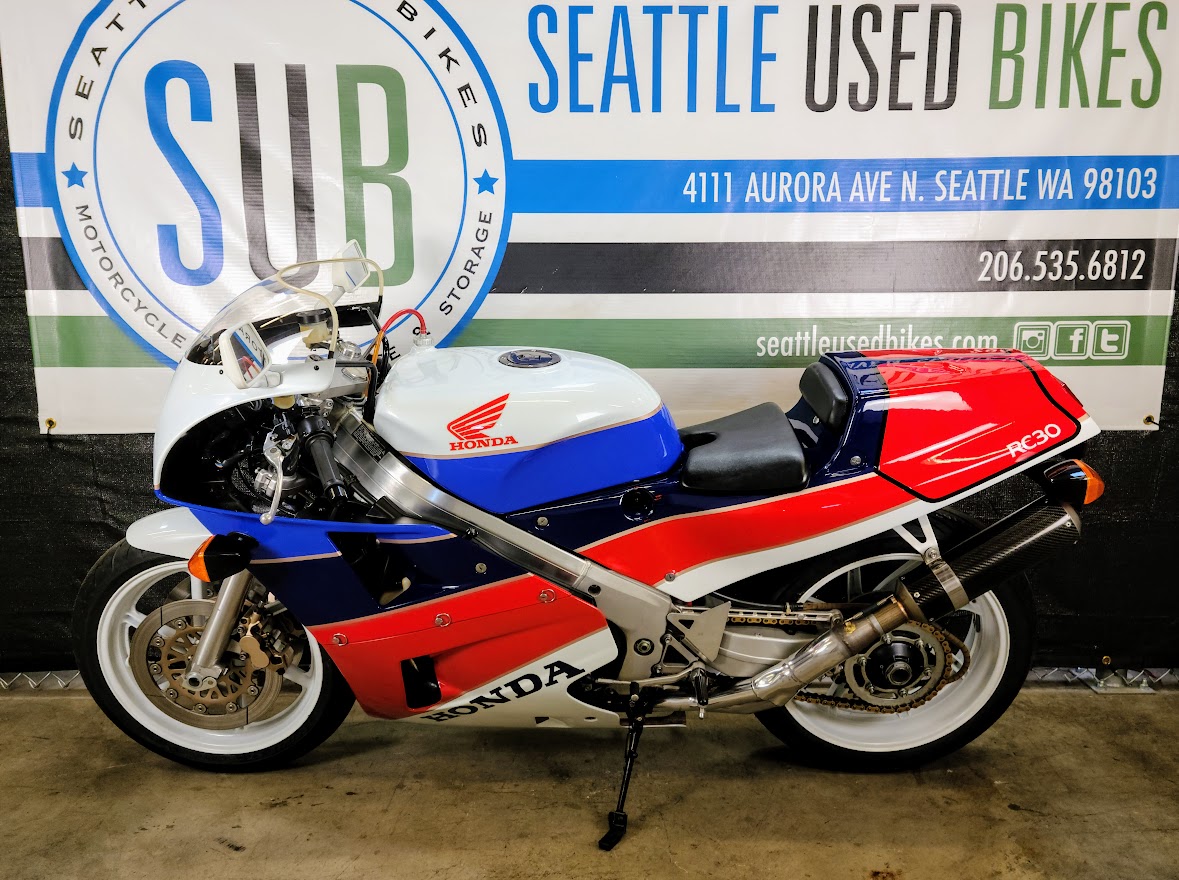 Location: Seattle, WA
Make: Honda
Model: VFR750R RC30
Mileage: 15,228
Price: $45,000
Contact: Dave at (206) 535-6812 or dave@SeattleUsedBikes.com
We always enjoy a solid homologation superbike and this one is no exception!
This one is being offered by our good friends at Seattle Used Bikes and comes with storied past.
Read on-
When the current owner, who is the third owner, first purchased it in January of 1999 with 13168 miles showing. We are told that it was eventually handed over to his friend, world famous Honda tuner Mike Velasco; who is a PNW resident. Mike went over it, jetted the carbs for the aftermarket (Tyga?) exhaust, performed a valve clearance check and other basics, there was no documentation provided but its clear it has been looked after.
Knowing Mike Velasco tuned this RC30 is something special and should help ease any concerns of prospective buyers. If you're not familiar with Mike Velasco, I suggest you allow some time for quick web search. You'll quickly find his name along side Pops Yoshimura, Two Brothers Racing, Freddie Spencer, Fred Merkel and Bubba Shobert.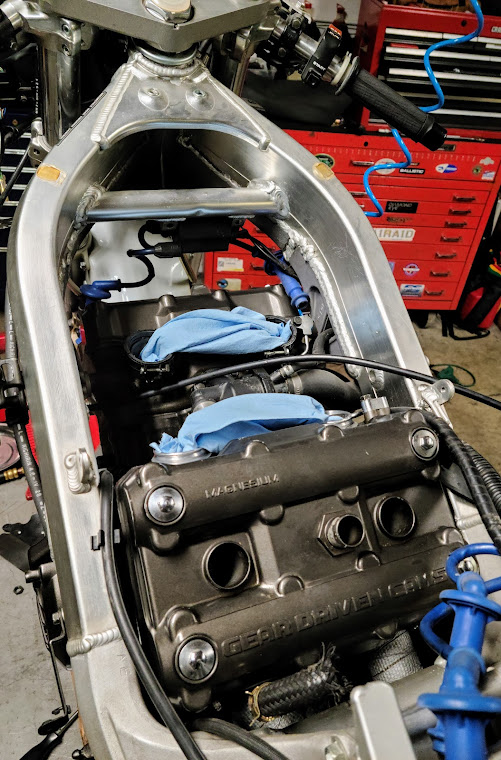 It has had roughly 2000 miles added since purchase, it did sit for the last few years in controlled environment. We needed to give the carbs a light clean, replace various rubber bits inside, new OEM carb bowl o-rings and intake manifolds were all sourced. We then moved on to the fluids, fresh oil and Honda filter, flushed/refilled coolant along with all the hydraulics, we use all Motul products. We took our time and looked for any other items needing attention, the small details. Last, we installed a set of new Avon Spirit ST tires in the proper OEM size and gave it a professional detail.
All of the bodywork is in good condition, we did spot some damage on the right side on the seat section from stress, fairly common on the RC30. The foam inside the upper fairing panels is in good condition but like most of these, the belly pan sustained heat damage at some point and was repaired. We are told it was not uncommon to spot a slight variance in the red color from upper to lower but the white paint is not original. We are finishing up lining the common hot spots with moose racing heat shields to protect it. We did notice the aftermarket exhaust vs stock, is not touching anywhere inside the belly pan. We also spotted a dent in the radiator on the right side, no leaks or fitment issues, no information on what or when it happened, mount on the frame sustained no damage. We have a included pictures of the blemishes found, everything lined up right upon reassembly after servicing.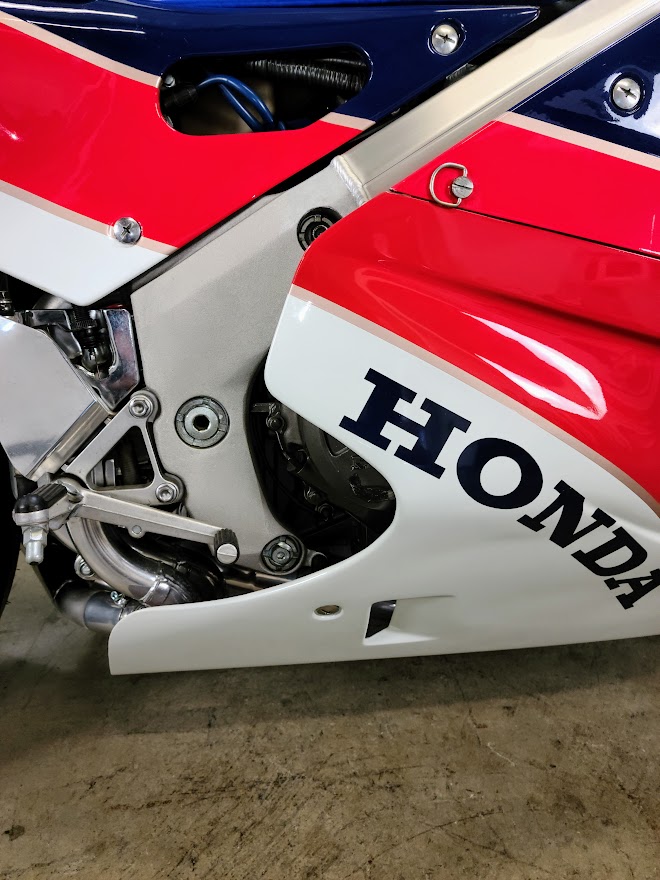 The original owner of this particular RC30 has made contact with SUB and offered a few stories along with some of his memories. My favorite? He used it as a "grocery getter"
Recently the original RC30 owner reached out to us! Check out the picture!! He is still an avid enthusiast and said he has always had his eye out for #236. While not in the cards to bring it back home he did share a few stories and more details along with some original photos. There were only a small handful of RC30's sold here in the PNW when new, this one was purchased brand new from our friends at Everett Powersports as a 3 year old non current in 1993, We were told the dealer had just moved it off the sales floor into an upstairs storage area. They allowed a young kinda broke moto dreamer to sit up there and fall in love, he found a way. He had the joy of putting the around 10,000 or so miles on it over the next few years,.it was often used as a daily commuter and occasional grocery getter! It was parked the final year of ownership in his dining room before deciding to move on. During the years of ownership he kept it in virtually bone stock condition, taking proper care along the way following the Honda recommendations, he told us he truly "babied it"
This is a really nice RC30 that has been enjoyed and taken care of along the way. It presents very well and has been tuned by one of the great tuners of the homologation era.
Enjoy the video and make sure you click the link below for the "Under the Skin" photos.
---
Give Dave a call at (206) 535-6812 or reach out via email at dave@SeattleUsedBikes.com if you'd like more information on this amazing Honda VFR750R RC30.