Going Moto Guzzi has always been a choice. These v-twins are an interesting alternative to the high-strung offerings of those other Italian marques. Character is plentiful, as is an abundance of low RPM torque. Quality is high, at both the component as well as the build level. Performance is adequate – but far more relaxed than your usual hypercycle. Think of modern Moto Guzzis as a BMW boxer with a funny engine configuration and Italian flair and you will get pretty close to the mark.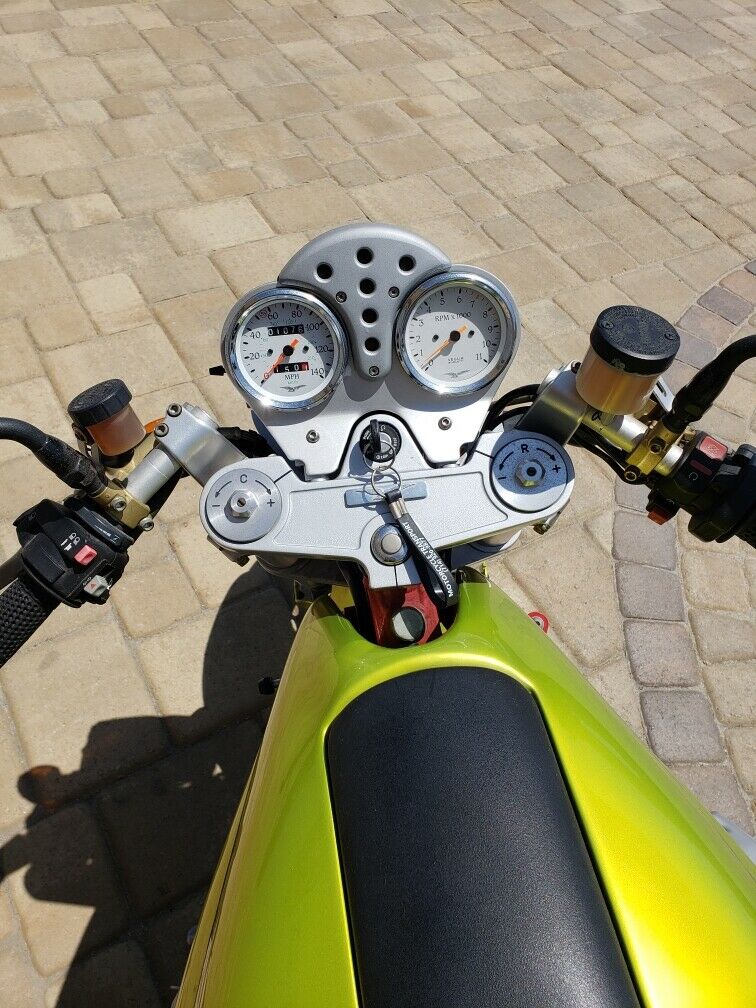 The V11 Sport model is dominated by the engine. A 90 degree twin with cylinders that sit across the bike, the nearly 1100cc mill is tuned for torque rather than outright horsepower. With an engine like this, who needs bodywork? And while the bike retains traditional (and low maintenance) air cooling, there have been several concessions to technology. Most likely these came about due to EPA regulations, but let's ignore that and simply enjoy how well the bike breathes throughout the rev range thanks to 4-valve heads, and let's revel in the cold start capabilities and decent mileage thanks to Magneti Marelli computerized fuel injection. These pieces almost seem wasted on something as arcane as this throw back, but they are well integrated pieces that actually improve what is already a great riding bike.
From the seller:
Pristine V11 Sport. Unless there's a new one in a crate in Italy then this is the lowest mileage V11 in existence – 1076!!. Taken out 2 to 3 times a year for shorts runs just to make sure everything is working perfectly. Absolutely perfect paint and mechanics – truly no scratches or imperfections.

Runs , stops and handles like the new bike it is. I bought it basically just to admire the fantastic Italian styling and colors but the motor is surprisingly strong with wonderful sounds. I'm slowly thinning my collection of high end low mileage collectable bikes. The one is truly the best. Buy with complete confidence.
These V11 Sports have gained in interest over the years. Moto Guzzi's fits and starts and changes of ownership placed the brand – and the history – under considerable pressure. But somehow the bikes retained key Guzzi trademarks, and the key Guzzi feel. These are solid machines that do most things well. There is no doubt that the earlier LeMans and V7 machines are the most sought after, but even De Tomaso and later era bikes are gaining in popularity. Pricing remains relatively low for the newer examples, but condition and mileage generally vary wildly.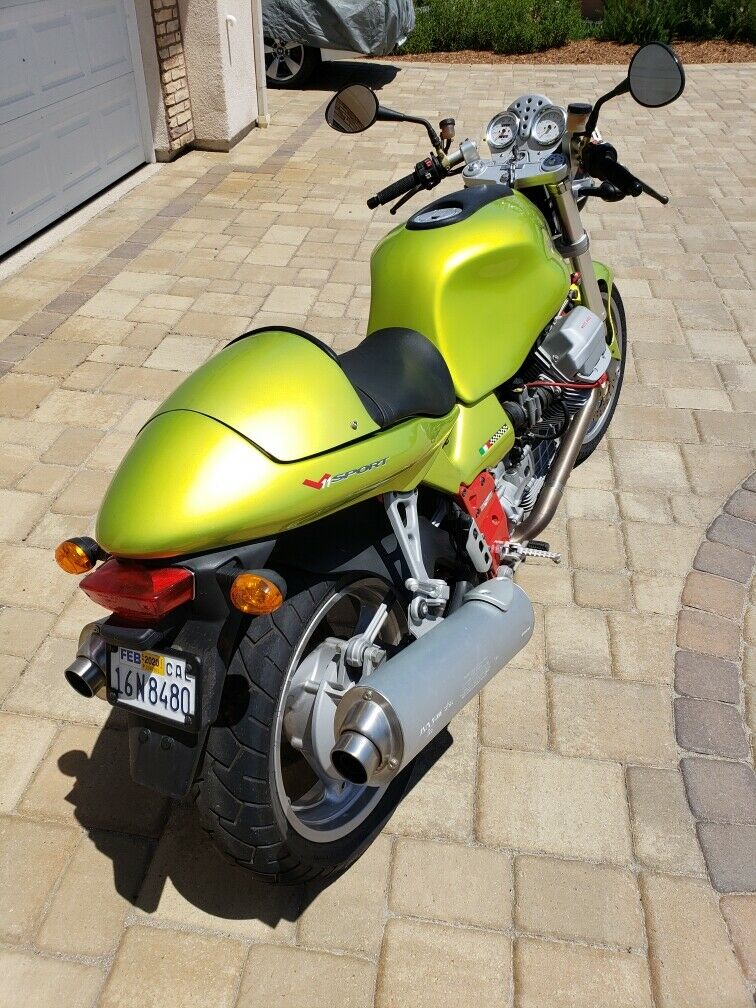 Many, many Guzzis are ridden to extreme; these bikes have an enviable reputation for longevity. Today's bike is the opposite; this one has a scant 1,000 miles and change on the clocks (!). Treated more like a ultra rare homologation racer, this V11 Sport has barely been ridden, and appears to be in good shape. It is located in sunny California, but looks to have spent most of its life indoors. If I'm to nitpick I spy a bit of what looks like corrosion in some of the pictures, which would be likely if the bike is in a beach community. Ridden or not, sea air can do a number on most metals. Unfortunately, that makes the appearance conflict a bit with the ultra low miles. Perhaps that is not an issue with someone looking to ride. We do see these bikes come through now and again – so they are not totally rare – but this is certainly the lowest mileage V11 Sport we have posted. Check it out here, and Good Luck!!
MI