It's a shame we'll probably never see a modern Moto Guzzi sportbike, since they've been nominated official "heritage brand" for the Piaggio Group. Especially disappointing, since Guzzi was active and successful in a variety of racing classes up into the 1970s. Guzzi even had a modern superbike in the works intended to compete head-to-head with the 916. This new superbike engine kept the longitudinal v-twin, but used a narrower angle between the cylinder heads for more cornering clearance, liquid-cooling, four valves, and even chain drive. Until things change, we're got  this roadster V11 Sport as the sportiest production Guzzi of the modern era.
Tractor jokes aside, bikes like this V11 Sport were a definite step in the right direction after the charming, but very agricultural Sport 1100 that dabbled in modernity after the very long-in-the-tooth Le Mans series and the retro 1000S. It still used the company's torquey, two-valve and air-cooled twin, here displacing 1064cc and producing a respectable 91hp. After years stuck with a clunky five-speed box, the V11 introduced a much more modern, smooth-shifting six-speed that, although hampered a bit by the intertia of the shaft drive, could even be upshifted clutchlessly.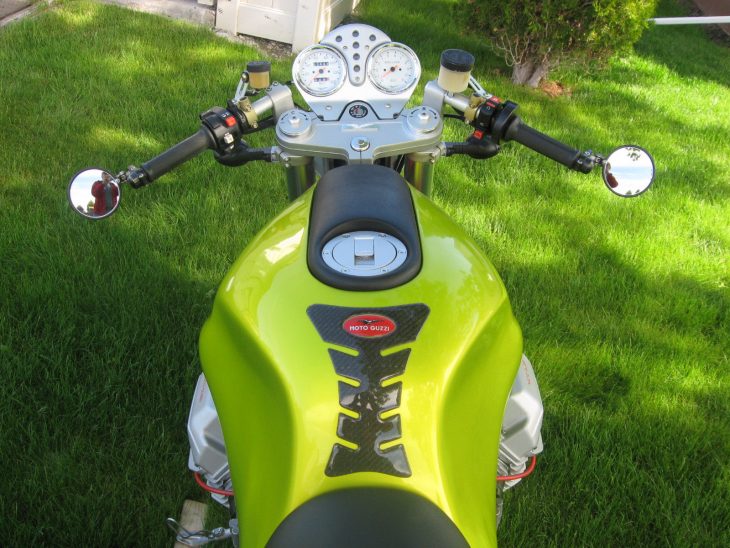 Handling and balance were good, although obviously it wasn't as light as naked offerings from Ducati. Considering that it's nearly 550lbs ready-to-roll with a full tank of fuel on board, the V11 Sport isn't a hard core sportbike and wasn't pretending to be. It was a sporty roadster meant to evoke Guzzi's history while simultaneously hinting at a future that would unfortunately never arrive.
From the original eBay listing: 2000 Moto Guzzi V11 Sport for Sale
Very fine V11 Sport dressed in the stunning green with red frame. I am the second owner. I purchased the bike from a older gentleman who had put very few miles (1600) on the bike. I haven't done much better as my riding miles are spread between a number of bikes. Machine is in stock form except for the carbon fiber mufflers (beautiful music), CRG barend mirrors, headlight protector, and Ventura tail pack. Tail pack is simply removed by two screws as is very handy for day trips. 

Headlight rim and front brake lever have small rash spots due to tip-over.
A friend of mine bought one of these off eBay, without ever having actually seen one in person.
After winning the auction, he asked me, "It's not really that green right? That's just the photos?"
"No man," I said. "It really is that green…"
It's a shockingly vivid color, but it suits the bike. Certainly kids seem to love it, and they always wave when he passes cars, and point excitedly. He still has it, and loves it. The V11 Sport was also available in a subtle silver or a sleek black, but this color combination, meant to evoke the original, extremely rare "teliao rosso" version of the early 70s V7 Sport, is the one I'd have, hands down. Think of it a safety feature. With prices of the older Sport 1100 and Daytona variants on the rise, the V11 is the only game in town if you want an affordable, collectible Guzzi. It's definitely a quirky machine, but if you're looking for something odd and charismatic that can also cut a rug and comes with the trademark Guzzi boom, this is worth a look.
-tad