The oldest European manufacturer in continuous production of motorcycles, Moto Guzzi has an impressive history, from their founding in 1921 by two Italian Air Force pilots and their mechanic, championship-winning 250, 350, and 500cc racing machines, to the present-day large displacement fuel-injected street bikes.  Long a technical innovator, the company developed a 500cc engine with one overhead and one side valve, a 500cc V-8 motorcycle, pioneered the rear swingarm, and was the first motorcycle manufacturer to build a wind tunnel.  The V11 Sport uses some of their most durable developments, the longitudinal V-twin and shaft drive.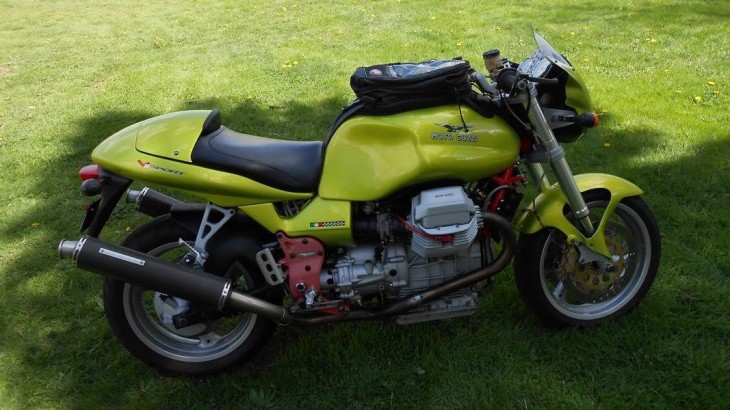 The booming twin displaces 1064cc and weighs almost 550 lbs. fueled, but a lightweight flywheel allows the air/oil-cooled pushrod twin to rev happily, though the wide torque band ensures some giddy-up is almost always available.  A revised 6-speed gearbox, fully adjustable suspension, and three big Brembo brakes make this a 21st century bike which hasn't forgotten its roots.  The V-twin and shaft drive have been part of the lineage since the 1967 V7, and the bikini fairing recalls the 1976 850 Lemans.
Treated to a few nice updates, this Moto Guzzi has carbon mufflers, a power commander ( making fuel injection 1.0 and Y2K emissions better to ride ), braided brake lines, and bar-end mirrors.  Honey-where's-our-bike paint with red frame and gussets.  Neat factory pillion cover.  Certainly a rider with 31,000 miles, the paint looks good and the bike appears mishap-free.  Forks and shock have been rebuilt.  Sporting a Moto Guzzi National Owner's Club sticker is some reassurance the oil changes and valve adjustments haven't been ignored.
This is a very strong running exotic Italian V-Twin with 31,xxx on the clock located near Akron, OH. 
Well cared for, this Moto Guzzi is a work of art for pleasure riding as well as track day adventures. Like the idea of having the rumble of a Harley with the ride of a sport bike? Moto Guzzi is the answer.
Over on the cafe racer side of the sportbike universe, the classic look and sound of a V11 Sport have the makings of a fine weekend afternoon.
-donn