Yamaha Exotica: 1995 Yamaha TZR250 SPR In CA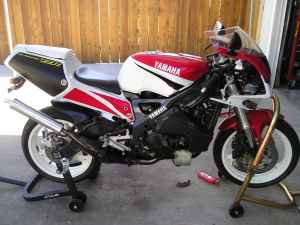 A rare bird indeed.  We've had more rare, VJ23  RGV250 SP's grace RSBFS than these rarely seen Yamaha TZR's.  This is as good as it gets unless you want a full race TZ250.  The SPR sports 36mm carbs, a dry clutch, fully adjustable suspension and a full power CDI to compliment the lights and turn signals.  What I'm not sure about is how many of these unplugged TZR SPR's were made.  I've seen production numbers as low as 100 (seems to low to me) and as the seller here claims, 500 (quite possible).  They had to make enough to  at least  satisfy all the weekend warrior racers in the home market.  I will admit, info is scarce on these bikes.
From the ad:
I have a 1995 Tzr 250 SPR it is in great shape. I hate sell it but it's time to let things go. It is a true spr 1 of 500.Serious inquires only comes with extra and Rair trick parts.Also availabe are other two strokes
After reading the ad I just have more questions.  Title?  What rare parts does it come with?  What other two strokes do you have available?  I'm sure any true Yamaha fan will be burning up the phone line to find out.  Depending on the mileage and the title status, the $9000 asking price isn't out of line considering the rarity and model of the bike.  For comparisons sake, a V model RGV250SP  recently sold for almost $15,000.
An interesting look at one kitted up and half naked.  Me like kit parts!

It's not the same model year but have a look at those pipes. Pure two stroke porn!
A few more pictures of the bike in question:
The phone number is waiting for you on Orange County Craigslist.  Give the man a call.
IK