Update 9.4.2016: I've received word that this bike is now sold. Congratulations to buyer and seller! -dc
This Featured Listing is part of a set from the sellers for a VFR400, TZR250, and an NSR250. They are available for purchase as a group or individually. The sellers are available this labor day weekend for personal inspections in Southern California. -dc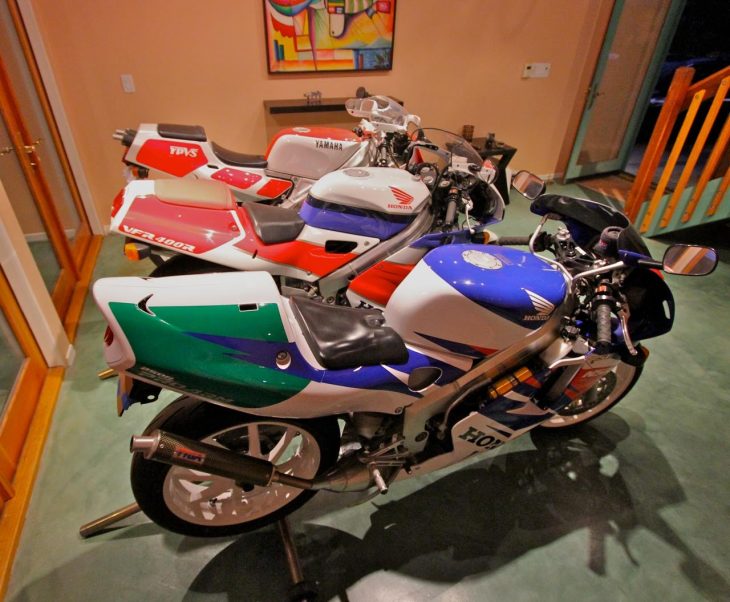 Here in the USA, the 80s and 90s saw intense competition between the Japanese Big Four in the 600cc and 750cc classes, with the bikes seeing almost yearly updates to the roadbikes and fierce rivalries on track. Oveseas, the same sort of knife-fight-in-a-phone-booth competition was happening in the quarter-liter sportbike class, with little two-strokes like this TZR250 looking for any performance advantage to edge out its rivals.
Earlier bikes in the class were mostly parallel-twins, although Honda, Suzuki, and Yamaha were all running v-twins by the late 90s, all in an effort to maximize the slim performance benefits available. All featured cutting-edge technology, with lightweight aluminum beam frames, top-spec brakes, power valves, "banana" swingarms designed to maximize cornering clearance, and bulging expansion chambers. Later bikes even featured some seriously cutting-edge electronics, with Honda's PGM-III creating a three-dimensional ignition map for each cylinder, based on throttle-position, revs, and gear. The bikes all made similar power and weighed in at around 300lbs, with narrow powerbands and razor-sharp handling.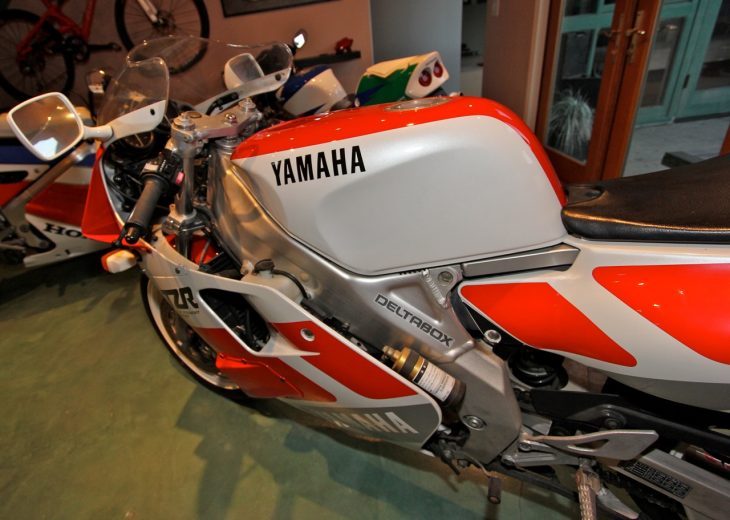 Before moving to a v-twin with the 3XV, Yamaha experimented with the 3MA version of their TZR250 that used a parallel-twin configuration with the cylinders reversed so the carburetors were up front and the exhausts faced to the rear. This mainly seems to have been a way to efficiently package the bike's exhausts: two-strokes rely on bulbous expansion chambers to make competitive power, and routing them under and around the engine and past the swingarm was challenging. Aside from some slightly bulging side-panels, the reverse-cylinder 3MA solved that problem, and the stinger tips poking through the tail look very trick.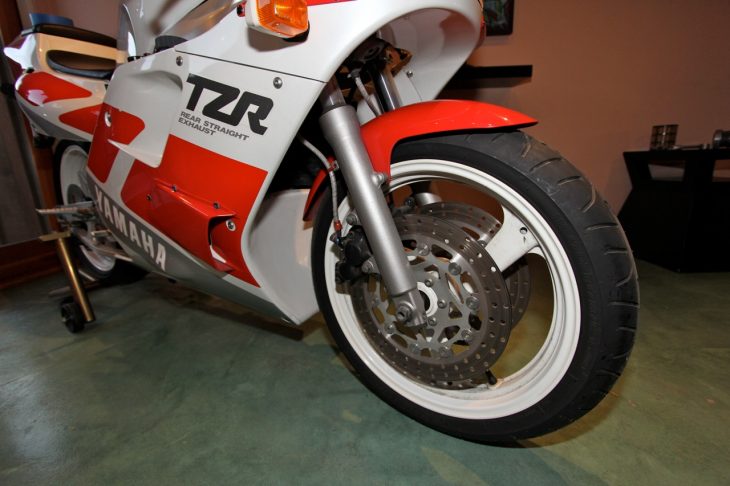 The 3MA is a pretty exotic little bike and pretty rare outside Japan. Reliability is claimed to be no worse than any other 250cc two-stroke, but parts availability for this Japanese-market-only bike can be tricky. Looking for performance parts for your NSR250? Tyga's got a whole website worth of exhausts, engine kits, rearsets, and bodywork. The 3MA? Better brush up on your Japanese and get ready for long waits as parts ship from the other side of the world.
From the seller: 1989 TZR250 3MA for Sale
7,614km Original owner, purchased new from EMI, CA titled & registration (currently on non-op), this TZR is basically stock except for custom ceramic coated expansion chambers with jetting to match, braided steel brake lines, rear fender eliminated, and has full tread Bridgestone Battlax BT014 tires. Oil injection intact. Rear lower corner of left side fairing damaged, not too visible, but needs repair. Has not been started in a while, but fuel system is dry, petcock recently rebuilt.

Spares & extras: Gearbox cassette, steering damper, & a few bits.

Comes with Pit Bull rear stand, fresh Yuasa battery and trickle charger, parts catalog, service manual, and more documentation. Pit Bull front stand is available.

$5900
In case you don't feel like doing math this morning, 7,614km works out to just 4,731 miles. The price is on the high side for a 3MA, but not by very much, and the bike's legal status and very low miles more than make up for it: I hear that it's possible to register these in California, but it can be expensive and difficult. This one saves you the trouble, and includes some spares to boot. It's not absolutely perfect cosmetically, but unless you're looking for a museum piece, this looks like a great example. I don't have the money or the space for another bike right now, but this one's making me wish I did.
-tad