Warning!
This post is in our archives. Links in this post have been updated to point to similar bikes available to bid on eBay.
Every post will be sent right to your inbox every morning when new posts are made. We will never sell our list or spam you. Plus you can click links to bid or buy right from the email and skip the site entirely. Subscribe to Rare SportBikes For Sale today!
One of the most collectible Ducatis of all time, the Supermono isn't even a v-twin. It is, as the name implies, powered by a single-cylinder engine. If you're a bit confused by this and thinking, "Hmmmm… I don't remember there being any Ducati singles in the 90s…" you're not actually crazy. There weren't any Supermono roadbikes and only about 65 Supermono racebikes ever built between 1993 and 1995.
Race bikes are built to race, but are generally designed to conform to a very specific set of series rules. In Supermono's case, it was the European Sound of Singles, a single-cylinder class designed to support World Superbike racing. It won just about everything it was eligible to race in.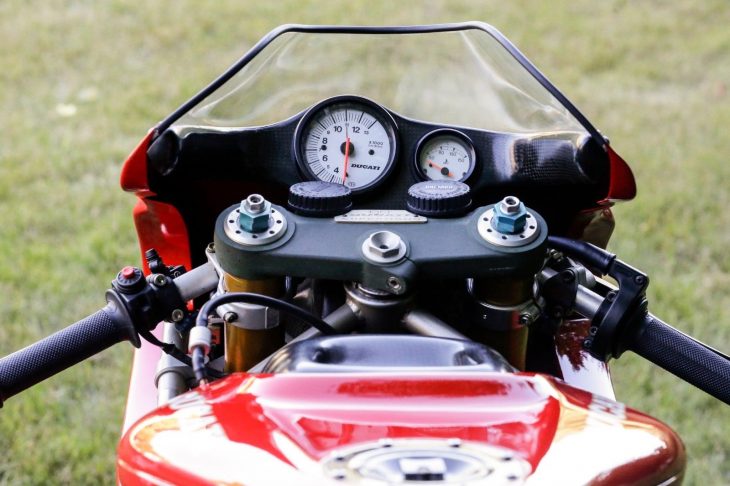 The reason is revs: where most big single-cylinder race bikes are derived from dirtbikes and hammering their riders to dust inside their leathers by 7,000rpm, the Supermono can happily spin up past 10,000. The Ducati's party trick? It's a single that thinks it's a twin.
Looking at the engine, it's pretty obvious that, in building their racing single, Ducati simply blanked off the rear cylinder on one of their liquid-cooled four valve v-twins, keeping the horizontal piston for a nice, low center of gravity. But they also used a dummy connecting rod that simulated the forces of the second piston, likely increasing friction and rotational mass compared to a normal single, but massively reducing vibration.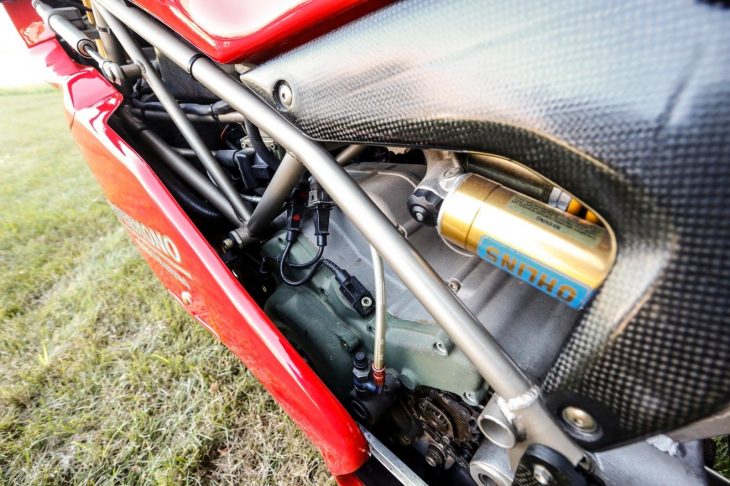 That ability to rev meant power as well, and the claimed 65hp at 10,500rpm from the 549cc engine gave the bike a serious advantage, compared to other bikes in the class. Later bikes had displacement increased slightly to 572cc for a bit more power. The rest of the bike was incredibly light weight, with liberal use of magnesium castings on the engine and a few other parts, so the complete Supermono tipped the scales at a featherweight 267lbs dry.
Brick-wall brakes from the much heavier 888 bring the bike to a very sudden stop when necessary, which probably wasn't all that often, considering the bike's cornering abilities. Interestingly, this one appears to have been upgraded with modern radial brake and clutch master cylinders, for improved braking and… clutching.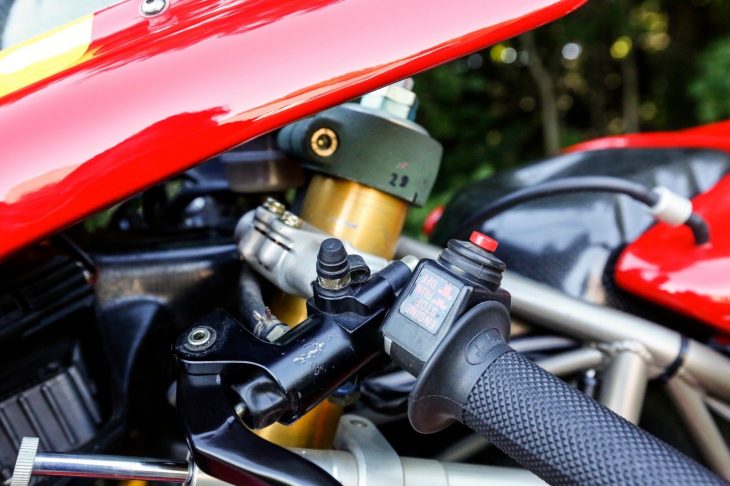 From the original eBay listing: 1993 Ducati Supermono for Sale
1993 Ducati Supermono. #16 of 65. Originally delivered to Sweden.  

Video of #16 running https://www.youtube.com/watch?v=Tii5G9mm4wI

A new timing belt was fit prior to the video.

The video represents the last time it was ran.  It was set up for long term storage immediately after. Retrospeed, of Belgium Wisconsin was commissioned to prove that the bike was mechanically sound, change fluids and to set up for long term storage in February of 2014.

New slicks would need to be fit prior to track use.

Any and all questions can be directed towards Brady at Retrospeed 262-483-5399 

The owner, an Italian collector, is thinning his motorcycle collection to make room for a car purchase.

The Supermono is not titled, none were as they were produced for the sole purpose of racing.

The factory 955 Corsa in the last picture will be coming for sale soon.
The Supermono was never an entry-level racer like KTM's RC390R and was pretty eye-wateringly expensive even when new: $30,000 or so in 1993. These days? You're looking at something like this bike's $125,000 starting bid, which seems to be in line with recent examples. This particular bike is in far away Belgium… Wisconsin! Happily, the seller includes a video of the bike running before it was packed up for storage, so those of us who merely have the means to debate the values of these bikes can actually get a sense of what one might be like in person.
-tad