Warning!
This post is in our archives. Links in this post have been updated to point to similar bikes available to bid on eBay.
Every post will be sent right to your inbox every morning when new posts are made. We will never sell our list or spam you. Plus you can click links to bid or buy right from the email and skip the site entirely. Subscribe to Rare SportBikes For Sale today!
A rare sight here in the US, the Aprilia RS50 was pretty common overseas, where strict licensing laws made these a must-have for aspiring sportbike pilots who didn't yet qualify for the overwhelming power of a 600 or even 400cc machine… Of course there are plenty of good reasons to ride an RS50, even if you've long-since graduated to a larger machine. Weight is the enemy of performance and, while the little Aprilia may not produce much power, at around 200lbs dry it also doesn't have much in the way of weight.
The tiny displacement meant that the RS50 was classified as a moped, although it really was more a small motorcycle, with 17″ wheels and a six-speed gearbox. The overall package was more sportbike than scooter as well, with a twin-spar aluminum beam frame, a monoshock rear, and disc brakes at the front and back. It was sold here in the USA from 1999-2003, although it continued to be built much later in other markets.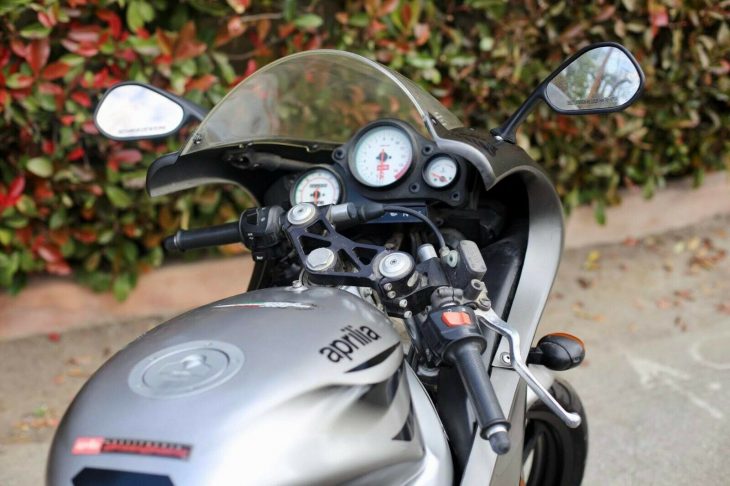 As usual, Aprilia didn't build the engine in-house, so the RS50 was powered by a liquid-cooled, two-stroke Minarelli AM6 engine displacing 49.7cc. All that snarling power could push the lightweight machine to 55mph, and this bike's 75cc big bore kit should pretty much double the engine's output… Keep in mind, these were raced in Europe, so plenty of tuning and suspension upgrades exist.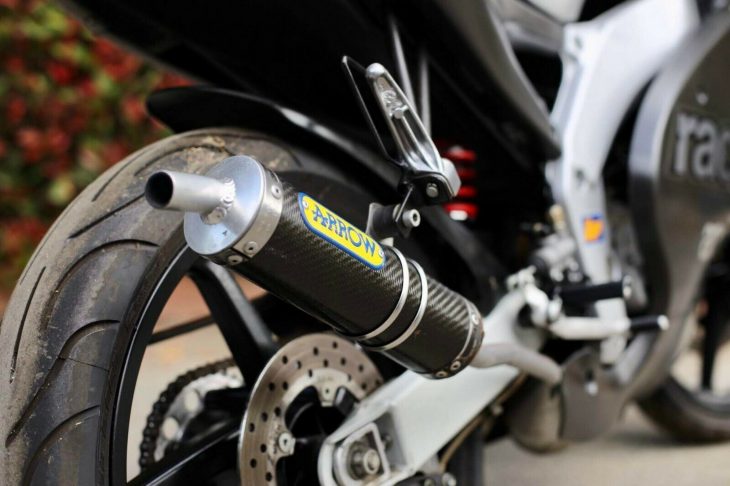 I haven't shopped for RS50 parts, but these were popular outside the US, so it shouldn't be too hard to track down a replacement fuel cell, or perhaps a professional repair might be possible?
From the original eBay listing: 2002 Aprilia RS50 for Sale

This owner of the bike modified and upgraded this Aprilia with the purpose of making it the best RS50 around. It has a 75cc top end with a moly coated piston. A 24mm flatslide Mikuni feeds water cooled cylinder and a silver ceramic coated Arrow exhaust has been added to round off all the performance enhancements.


It has AF1 triples and a custom backed instrument cluster. In addition to being a unique head turning motorcycle on it's own this model sports the nearly endangered Black Lion body and logos. You'll likely never see another one like it in the wild.

The bad: this is literally a "ran when parked" situation. The fuel cell cracked next to the the tap screws. It was fixed with a fuel tank epoxy and patch but that eventually started to leak. Ultimately it will need another tank. In mid-January the back tags for the registration in California came to $740. Fortunately we can arrange shipping to the other contiguous 47 states (or factor that into your bidding). I have a very reasonable and trusted shipper from whom I can get a quote and time. Just contact us before bidding to confirm the price and eta.

This is definitely a head turning joy to ride. When people hear it coming they don't expect to see this pull up. It was genuinely built by the owner with the long term purpose of being reliable, ride-able and fun.  
Well, the leaking fuel cell will obviously need some work, but the price does reflect that: just $1,750 for this little hot-rod two-stroke. Miles are pretty low, and the bike does have a few nice extras, like that big-bore motor, top triple, and the Arrow exhaust. All together, the package should be good for more than 9hp at the rear wheel and 75mph with favorable winds, a huge leap from stock power. If you're looking for a cool, low-cost project bike that shouldn't take too much to get rolling, assuming you live outside California, and can dodge those back registration fees…
-tad