Warning!
This post is in our archives. Links in this post have been updated to point to similar bikes available to bid on eBay.
Every post will be sent right to your inbox every morning when new posts are made. We will never sell our list or spam you. Plus you can click links to bid or buy right from the email and skip the site entirely. Subscribe to Rare SportBikes For Sale today!
This Mito sold while we were preparing the post, but might be a good warm-up for a Featured Listing next week !  -donn
If all you had was a 3/4 front view from across the street, it would be easy to mistake Cagiva's Mito for a lovely red 916.  Quite a bit rarer than it's full-sized inspiration, this 125 has had some serious attention, just a handful of miles, and boasts California reg.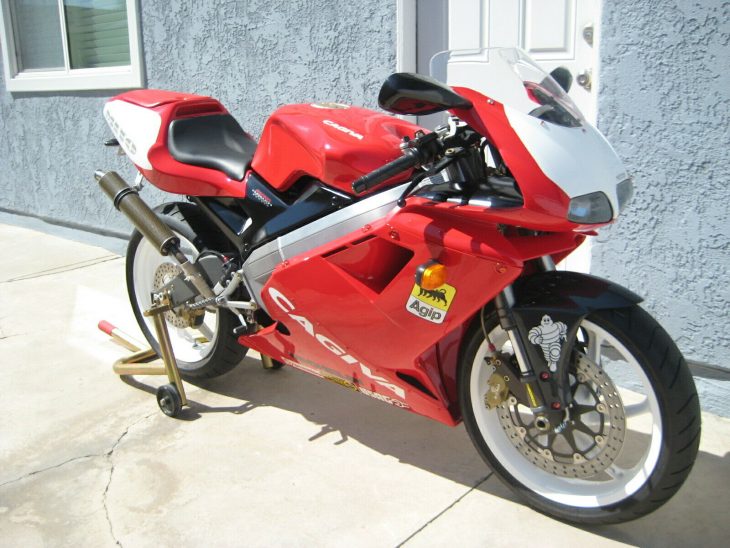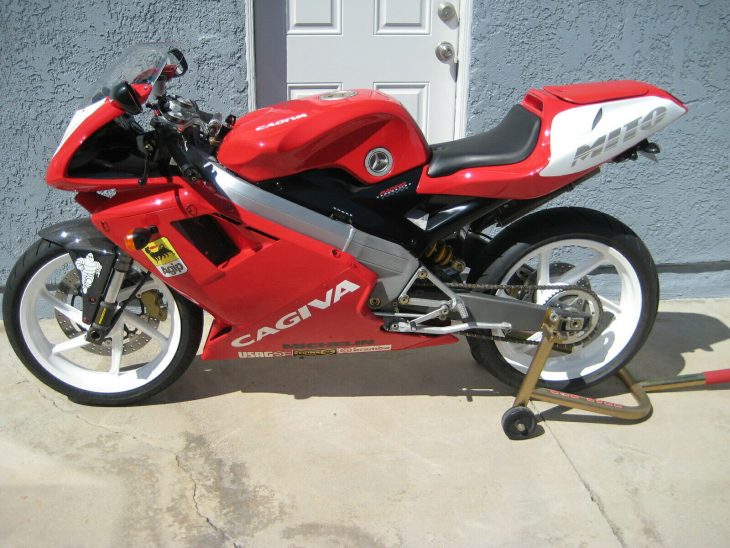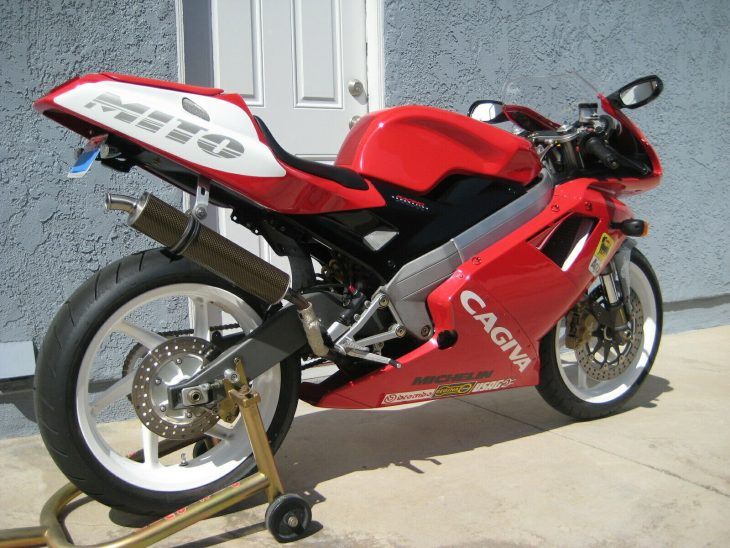 Introduced in 1989 for the European junior market, Cagiva had great competition success with the Mito, which had 34 hp on tap in the 2000 model year.  Legendary designer Massimo Tamburrini re-styled the bike in 1994, giving it a knife-edge fairing, winged tank and monoposto seat fairing reminiscent of the Ducati superbike.  Sales of the Evo II generation weren't hurt by the 6-speed transmission, 17-inch Marchesini lookalike wheels, asymmetrical alloy swingarm, and 40mm usd Marzocchi forks.  Even the brakes are adult-sized at 320mm, but just a single front disk.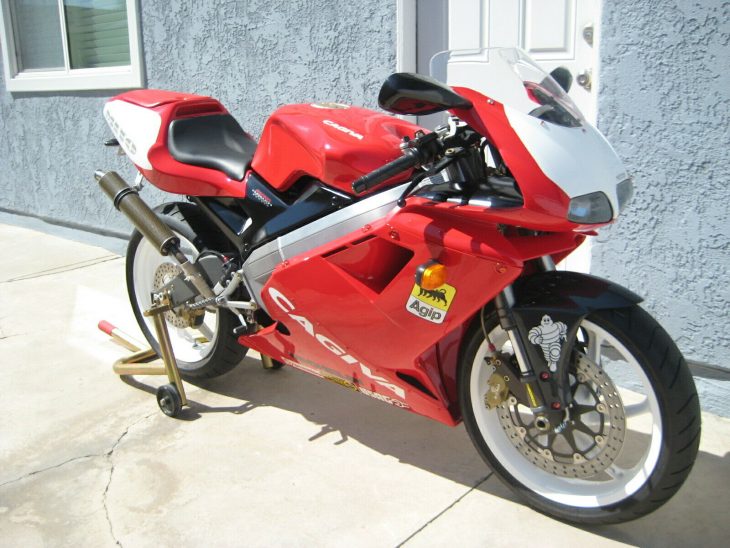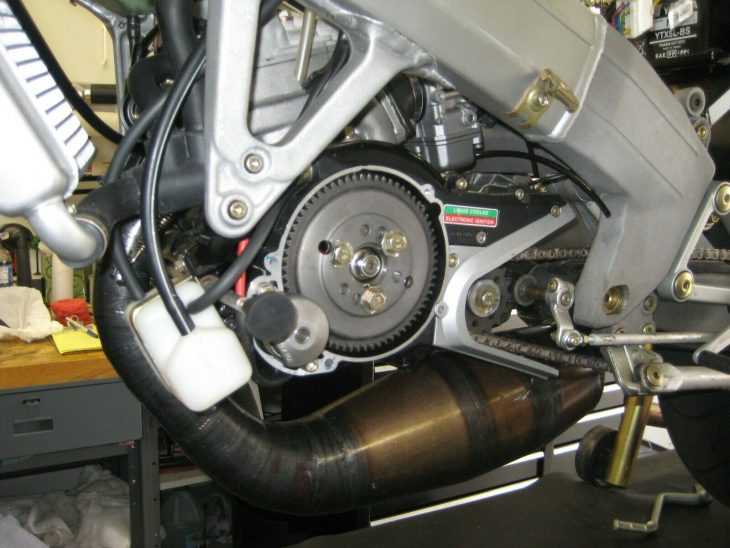 This collector bought his Mito new and didn't leave well enough alone, but made some significant upgrades to the powertrain.  Condition is immaculate and shows just over 1,200 miles.  A great explanation of the engine work from the eBay auction-
This 916 Ducati look alike is a Cagiva Mito 125 2-stroke, the same type of motorcycle that Valentino Rossi started his racing career on at a young age. Back in the day they had a 125cc class of highly modified 2 stroke street bikes for upstart racers in Europe. Cagiva was the bike. Cagiva even sold an entire massive hop up race kit to convert these little rockets into race bikes. I was able to obtain many of these upgrades and incorporate them into this bike and maintain its street legal style. First thing I did was update the cylinder. I purchased a Polini 160cc kit. Now the Italian company Polini is famous for their products, but there 160cc Cagiva kit lacked a little quality. I sent the cylinder to England to my old friend Stan Stephens. He stripped and re-plated the cylinder with a more quality ceramic plating using the proper tolerances that Polini seem to lack. He then lightly cleaned up all the porting and milled the head for the larger displacement. I added a larger manifold to install a 34mm Dellorto flat side carburetor with carbon reeds. Stock Carburetor was a 28mm. Installed the Cagiva racing kit pipe along with the fork conversion, racing kit clutch springs, Carbon carrier disk with Titanium bolts, 415 chain conversion, aluminum sprockets, racing wind screen, Steel braided brake lines, Tail Tidy, Carbon Front Fender, and kick starter. This bike came with electric starting but I removed it to save a massive amount of weight of the starter and the big metal gear attached to the flywheel. The race kit comes with a kick start shaft and gear with a removal kick starter. But to sell it I put the electric starter back on, but still have the backup kick starter installed. I then powder coated the rims white from their original ugly colour. Added Michelin pilot tires.

Performance wise the 160 Polini kit didn't really give it much more top end but a lot more torque. I've had it to around 115 mph with maybe a few RPM's to go. Depends on the gearing, weight of the rider, outside temperature, wind, etc.. It will get up to 100 mph remarkably fast for a bike its size, and corner like you're on a rail.

This bike only has 2,000 original kilometers or 1,200 miles on it and is 21 years old !  Maybe half of that since all the upgrades. The bodywork, cases and metal look like brand new. Bike never been in harsh weather. Stored in a climate controlled garage in sunny California. All the electrical such as lights, turn signals, horn, work without an issue. Oil injection is still intact. Just put in a new battery and did a fluid flush. Included with the bike is a new Polini 160cc top end, additional gearing and the stock exhaust.
Not many riders can keep the Mito on the boil to make the pace it's capable of, and less might be inclined to sink the slighty-used-superbike ask into a 125.  But it's a collector's joy, a total rarity, impeccably prepared and ready to rock.  If that collector is you, we'd like to hear about it.
-donn