A flawed motorcycle that nevertheless succeeded in its intended mission, BMW's radical K1 was tasked with changing public perception of the slightly stodgy brand and, although it didn't actually sell particularly well, it certainly managed to send the brand off in a new direction. A bit too futuristically-styled, and possibly a bit too ambitious in terms of technology, it certainly shook things up for BMW, and it also helped them prepare for stricter emissions requirements that were in the pipeline, something their airhead flat twin wouldn't be capable of meeting. The K100's liquid-cooled inline four and offshoot triple found in the K75 would make that much easier, and a sportier version for the four found its way into the K1.
While a liquid-cooled inline four sounds pretty conventional, BMW of course had to do it their own way, and the long-stroke, Bosch-injected, longitudinally-mounted engine was laid-over on its side to keep the center of gravity low. This generally has the disadvantage of a pretty long wheelbase and the de rigueur telelever shaft drive is pretty heavy, but this was intended as a sport-touring machine, not a pure sportbike: with 516lbs to pull around, that torquey motor made for a bike that was reasonably fast, but certainly no road-burner.
From the original eBay listing: 1993 BMW K1 for Sale
This bike came from the factory as pictured – special order Silk Blue with no K1 decals. This machine was professionally stored in a collectors climate controlled warehouse for over 20 years. I purchased the bike with 976 miles on it in January 2015. I have only put about 250 miles on the bike.

This machine is nearly perfect. One small V shape crack is shown on the pictures below. The ABS sensor also needs to be reset.

This is really a one of a kind motorcycle that is just about new in every sense.
Unable to compete in the changing landscape of Japanese supersports in the early 90s, the bike was discontinued in '93. It's a bit of an odd duck today: it doesn't offer much that appeals to traditional BMW enthusiasts with its inline four and very limited cargo capacity. The fairing panels are subject to cracking and the limited airflow means those bits of plastic can get very, very hot. And it's not really very sporty compared to Japanese or Italian bikes of the period.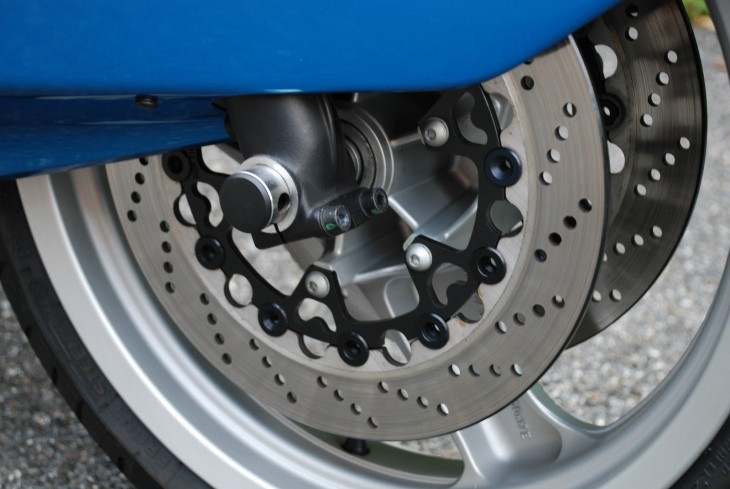 These certainly aren't display pieces and, with prices relatively low, a nice K1 could make a pretty neat alternative for riders obsessed with quirky. However, with under 1,200 miles on the clock and a starting bid of over $10,000 this example is for collectors only. Most of the bikes were painted up in some pretty lurid red/yellow paint schemes, but this particular example is a very restrained, traditional blue that will probably help it appeal to BMW enthusiasts looking to complete their collections.
-tad