Real life is often in the way when an exciting new bike hits the floor, and maybe that was you in 2003, when the signed Randy Mamola Boxer Cup Replica arrived.  Well you could still go there, courtesy of this BMW insider who parked his BCR with just 21 miles.
BMW owners wanted a real S-variant and got it with the Replika, the low bars and high seat were great on the track but some owners fitted bar risers for comfort.  The Laser exhaust allowed other riders to actually hear a BMW, and the optional 5.5″ rear wheel looked bad.  Power was the standard R1100S 98 hp, though the lack of bag racks and ABS brought the weight down a bit.  Beside Randy Mamola's signature, the BCR came with Öhlins dampers, braided brake lines, and carbon fiber lowers.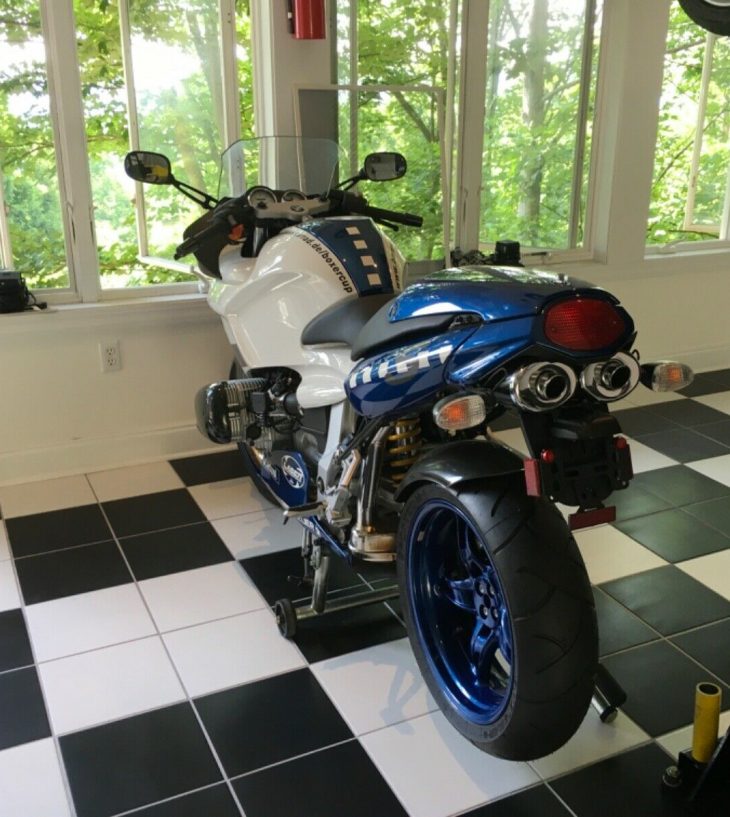 Though the long-range logic that would park a brand new race-replica is pretty opaque, it sure looks good in hindsight.  Any and all expendables will have to be replaced, but after that a failure would be surprising.  Comments from the eBay auction:
Special Edition Boxer Cup Randy Mamola Signature Series limited production bike with only 21 miles. The bike has not been started or run since 2003. The bike is as new condition as can be if it just came out of factory crating. Bike also comes with center support stand as seen in picture. It has been on display in my man cave and will need to be serviced prior to being ridden.
Randy Mamola was the winningest GP rider never to become champion, but was a great spokesperson and ambassador for the Boxer Cup series, which supported the GP races and came to Daytona for a few years.  The R1100S was BMW's long-awaited return to S-models, and the signature edition is a fine tribute and great milestone.  This NOS example could resume show duty, but might be looking forward to a riding owner.
-donn