During the 1997 model year Moto Guzzi progressed the 1100 Sport to fuel injection and upside-down forks, but along with the catalyst-delete Staintune exhaust, the conventional forks and 40mm Dell-Orto's help this earlier '97 silver goose look and act the classic part.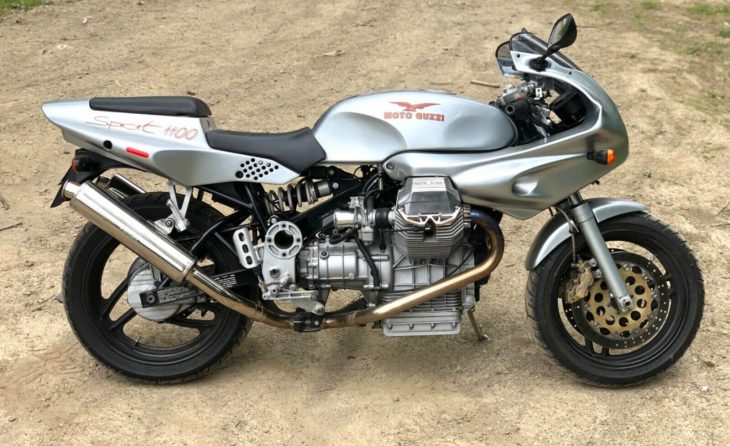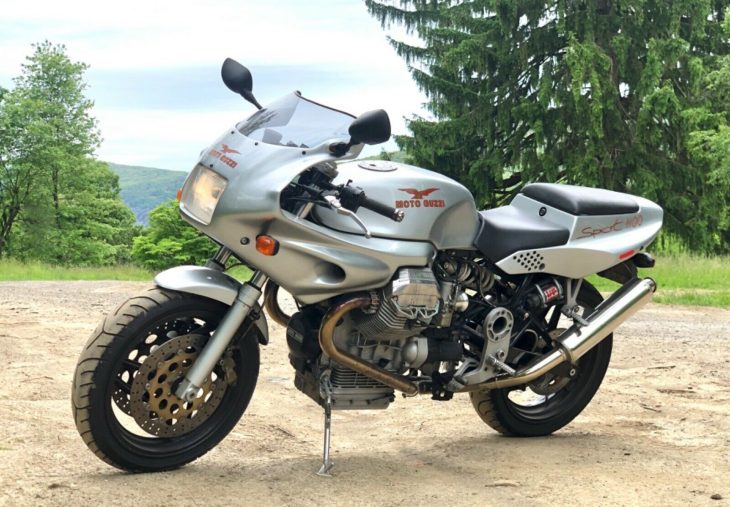 Toward the end of the DeTomaso era, Guzzi endeavored to embrace their sporting heritage, with the Daytona and 1100 Sport as the results.  Never abandoning their 90-degree axial V-twin or shaft drive, the Sport kept in touch with past models.  Most riders use the square-heads's 90 hp rarely, but the 5-speed regularly calls on the 70 ft.-lbs. torque – available at just 5,900 rpm.  Premium Showa dampers and Brembo brakes round out the components, with staggered 17-inch front / 18-inch rear wheels helping its 475 lbs. wet weight change direction.  Supersport fairing shows off the big block, which a stressed part of the chassis.
This suburban NY owner appears to be paring down their collection of nicer vintage and sport machines, and the Sport 1100 appears in excellent shape.  Miles are low at 12,992 and looks stock beside the head guards and exhaust.  Open venturis on the carbs so no dirt roads !  From the eBay auction:
Great running and beautiful 1100 Sport with Staintune exhaust and new battery. This bike is a blast to ride, handles amazing and pulls incredibly hard at speed.  It's in very good condition and needs nothing.  The design catches everyone's eye, this is an attention getting bike and wonderful Moto Guzzi.
Guzzi survived the turn of the century and reinvigorated their lineup, though the Sport appears today with just a cafe fairing.  In its GT form, the 1100 Sport pushes a lot of the right buttons for weekend riders, with plenty of stability and big torque.  Not quite enough miles to justify survivor status, this 1100 Sport seems to have been the nice day go-to bike for this collector, and might be for the next owner.
-donn