Despite its /S provenance and signed fairings, this R1100S hasn't been allowed out much.  The only thing between this BCR and a great day is some new fluids and tires, and a weekend detail.
BMW has had the R1100S in their catalog since 1998, and put the Replikas together to capitalize on their investment in the mostly European race series.  But the BCR wasn't just a cosmetic exercise – the later dual-spark engine made 98 hp available, and the stainless Laser exhaust is both lighter and flows better.  As nice as it is to have that flat twin low CG, the dual-adjustable suspension on the Replika works by raising the ride height to allow more lean angle on the track.  A whopping 5-1/2 inch rear wheel and braided brake lines help manage the 500-lb. ready-to-ride weight.  Carbon belly pan, front fender and head covers contrast with the factory white/blue racing livery.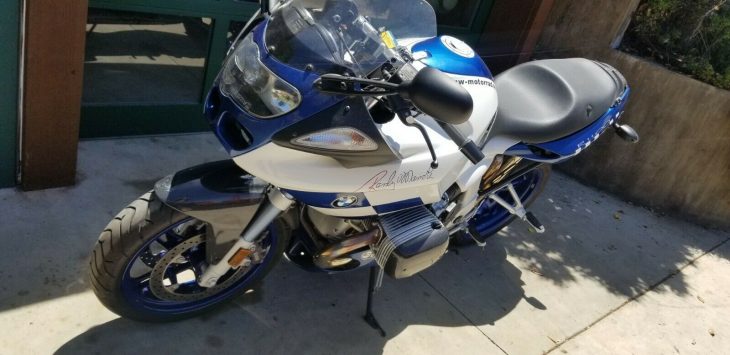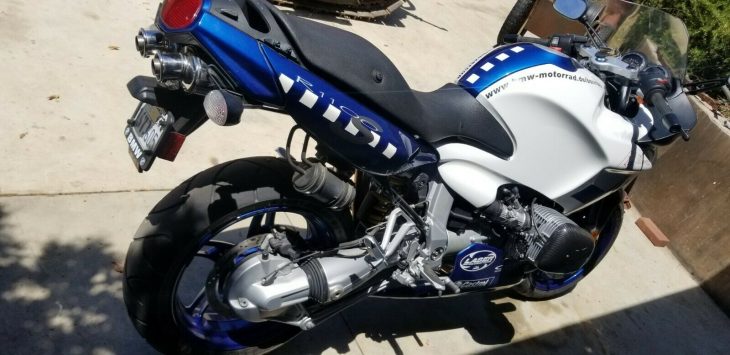 Seemingly a little young to be a barn find, this R1100S looks good especially compared with its homely storage mates.  Not seeing any mods or damage, though a detailed examination for garage rash can't be done with the pictures provided.  No belts or water system to worry over, not much to be done but all new expendables and hope the fuel injectors haven't been affected by their long nap.  The owner acknowledges possible rubs from storage in the eBay auction:
This bike has 569 Original Miles.

It has had only one owner, never track raced.

This has normal " Shelf Wear ".

It is a good running cycle.

This a very nice collectable especially at this low mileage.
Randy Mamola might be happier to see his signature on a concours contender or neo-café racer, as any AMA hall of fame inductee deserves.  Mamola started racing a generation before the Boxer Cup, but was in their "race of champions" field early in the series.  Without most of the user-friendly bag racks and heated grips this BMW is one for an afternoon blast and back.  The ask is a ways above recent sales, but a low or no-mile BMW is an oddity in its own right – usually they have tens of thousands of miles and look almost as good !
-donn