Warning!
This post is in our archives. Links in this post have been updated to point to similar bikes available to bid on eBay.

Update 9.20.2018: SOLD IN 2 DAYS! Congratulations to buyer and seller! Contact me if you have a Rare SportBike for sale in excellent condition that needs similar exposure! -dc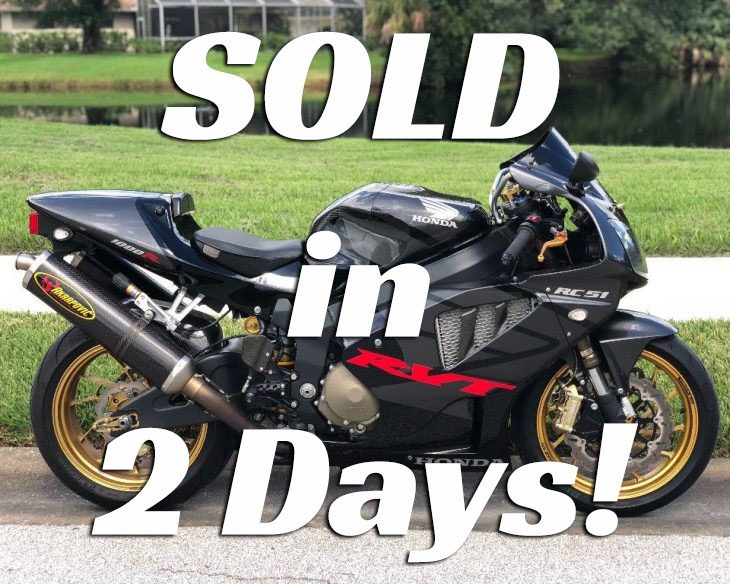 The RC30 and RC45 that preceded today's Featured Listing Honda RC51 were pure homologation specials, built in very limited quantities and designed primarily as the basis for Honda's production-based racing efforts. The RC51 represented a pretty big change for Honda in terms of philosophy, and was produced in much larger numbers, making it a great way for Honda fans to get a piece of their racing heritage for less money, especially on the used market.
Those previous bikes embodied Honda's belief in the virtues of the V4 powerplant, but World Superbike rules gave a significant displacement advantage to v-twins that helped them dominate the series during the mid-to-late 1990s. The RC45 had its own flaws and was never as successful as the stunning RC30, but Honda felt that the rules were biased and a shift to a v-twin platform was really the only way to compete against Ducati. Basically the RC51 was Honda proving a point: that, on a level playing field, they could beat Ducati at their own v-twin game.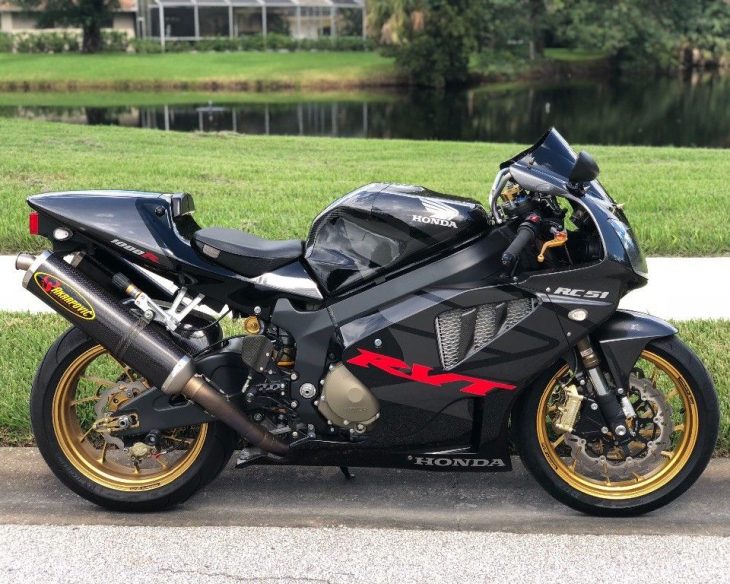 The original SP1 version of the bike that was introduced in 2000 had some teething problems: the low-rpm fueling was poor, tank range was very limited, and the bike had significant understeer, something that was addressed when the SP2 was released in 2002 with frame updates and tweaks to the front end. Most importantly, the bike was a winner on track right out of the gate, and took the WSB title in 2000 and again in 2002.
Transverse v-twins are generally very skinny, but the RC51's side-mounted radiators give the bike some visual bulk Ducatis lack and helped solve one of the problems the Bolognese bikes faced: a 90° twin is a very long design and if you want an appropriate length swingarm for optimal traction, you end up with no space to fit a radiator. The side-mounted parts look trick, but I do wonder how well an RC51 crashes…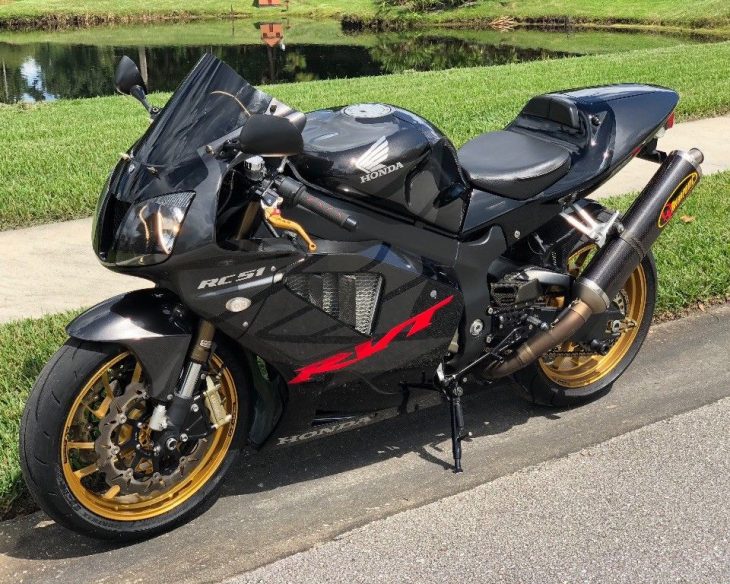 Personally, I think the RC51 is a little bit too nondescript and functional-looking in the more common silver, red, and black graphics, but the darker color scheme seen here on this SP2 looks very sleek and sinister and it should be a great bike on road or track, since it includes the updates to the handling mentioned above. You're still stuck with some snatchy low-rev throttle response, a result of the gaping throttle bodies designed for max power at high revs, and the small fuel tank, but that seems a pretty small price to pay. How small? The seller is asking $10,000 for this clean, low-mile example.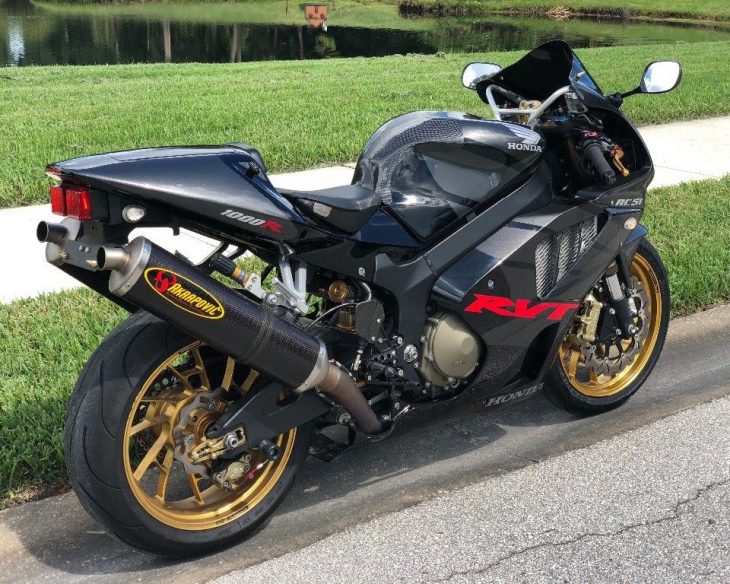 From the original eBay listing: 2006 Honda RC51 for Sale
2006 Honda RC51 (MINT)

12,000 miles, show room condition OZ wheels, Brembo brakes, Galfer wave rotors, Akrapovic full titanium carbon fiber exhaust, Power Commander USB, Gilles rear sets, carbon tank protector, rear carbon tire hugger Magical Racing, Ohlins rear shock, Race Tech internals forks, Pro Tech suspension adjusters, Pazo shorty levers, and so much more 
Honda's largely deserved reputation for reliability and build quality means many RC51s rack up pretty high mileage, so the 12,000 miles seen here are relatively low, and the bike comes with some tasteful extras. Up until recently, the RC51 has, along with the Suzuki TL-R, languished in the sportbike bargain basement: actual racing success aside, it wasn't quite the Ducati-killer Honda hoped for and that seems to have kept prices relatively low. Of course it couldn't last: the bike may only have two cylinders, but this is a genuine piece of HRC history that looks great in this darker color scheme.
-tad