Warning!
This post is in our archives. Links in this post have been updated to point to similar bikes available to bid on eBay.
The Honda RVF750R/RC45 is always an interesting topic of discussion on RSBFS and with good reason. Part of Honda's technological onslaught of the 1990's (which included the RC30 and NR750), the RC45 was a true homolgation bike that came with lots of top level components including a 749cc V4 powerplant containing titanium rods and ceramic-lined cylinder walls, a new fuel injection system, and a track ready single-sided rear swingarm.   Add to this a ultra light weight achieved via a new aluminium twin-spar chassis and cast magnesium components and the result was something that, on paper at least, looked ready to compete at the highest level.
But despite all of this techno goodness the RC45 didn't achieve the same level of track or sales success as doesn't seem to be as prized as its predecessor, the RC30.   Part of this was due to the breakthrough nature of the RC30, part was due to the competition on the track being much closer and part was due to what the RC45 was like to ride on the street.  The street version was tuned with a very tall 1st gear and only producing around 110/118 horses for the US/Euro version, which meant the RC45 didn't offer street riders a huge jump in performance from what other much cheaper 750 sportbikes were offering at the time.  Simply put, for a lot of non-track oriented buyers the RVF750R/RC45 performance didn't match the price.
Now this doesn't mean the RC45 wasn't a great sportbike- far from it.  While it may have been a bit of a let down on the street, things were quite different when it was taken to the track and tuned up.  In peak race form the bike was transformed to having nearly 190 bhp and was a capable enough machine to deliver championships over a span of years, including Miguel Duhamel's 1996 Daytona 200, John Kocinski's 1997 WSBK championship and Ben Bostrom's 1998 AMA Superbike Championship.
As for this particular RC45, it looks to be mostly OEM and the seller indicates that the parts which are not OEM are still with the bike.  Based on the pics provided the seller seems to be a big fan of 1990's sportbikes (although not their mirrors apparently) so there is a good chance this one has been taken care of properly.
Here is a summary of the info the seller gives in the ebay listing:
2200 miles
Has a (Honda CBR) F3 front wheel, HRC carbon fiber front fender, HRC rear-sets.
Previous owner installed the Yoshimura bolt on muffler but have since found a brand new, in the box, stock muffler.  
Was going to remove the turn signals and trim the rear fender, so I bought an extra OEM rear fender to turn it back stock.
Will come with all the stock parts that were removed.
Bike still has its original tool kits, swing arm stand, and even the original helmet lock.
Documentation includes the service manual, parts manual, owners manual, pages from the Honda Red Book, a sales brochure, copies of the previous title and some Honda service updates.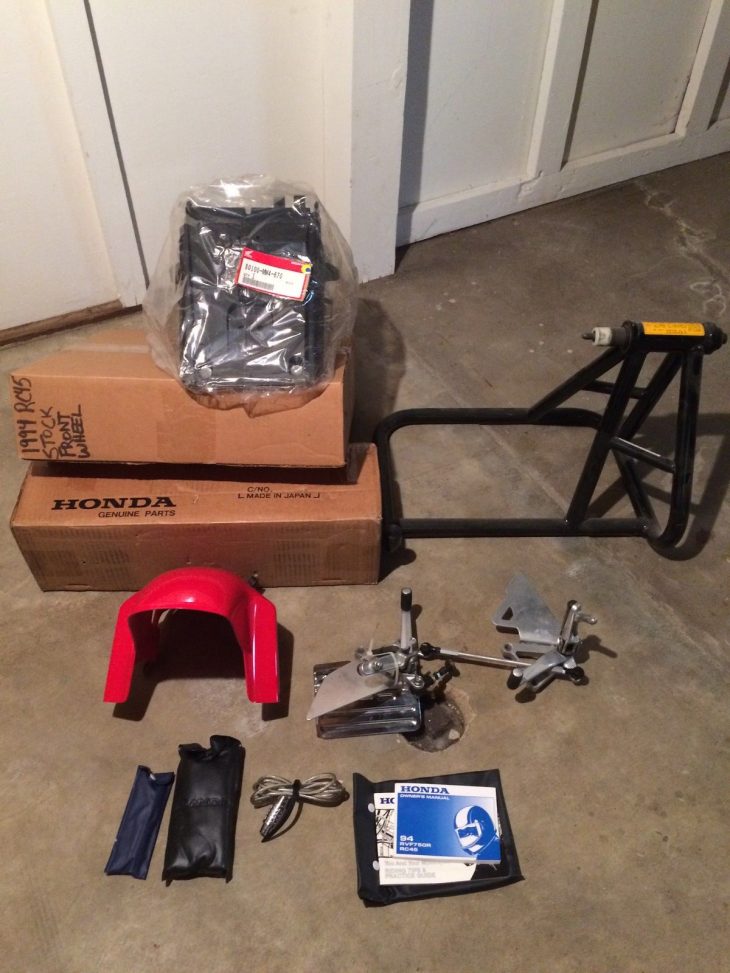 So what is this pretty much pristine bit of homologation Honda technology worth?  Well current bid is up to about $30,000 USD with reserve not met.  That isn't surprising given the last one of these we saw on RSBFS hit $40,000 USD.  While that one was an ultra low mileage (<1000) example, I would still expect the reserve on this one to be in the mid $30,000 area if not higher.
From a collector standpoint, the major appreciation in value has probably already happened.  That isn't to say the value will go down, it just won't be jumping up dramatically.   I think this one will probably be best suited for someone who is similar to the current owner – a fan of mid 1990's homologation bikes.
-Marty/Dallaslavowner