Warning!
This post is in our archives. Links in this post have been updated to point to similar bikes available to bid on eBay.
Every post will be sent right to your inbox every morning when new posts are made. We will never sell our list or spam you. Plus you can click links to bid or buy right from the email and skip the site entirely. Subscribe to Rare SportBikes For Sale today!
Update 9.29.2017: SOLD! Congratulations to buyer and seller! -dc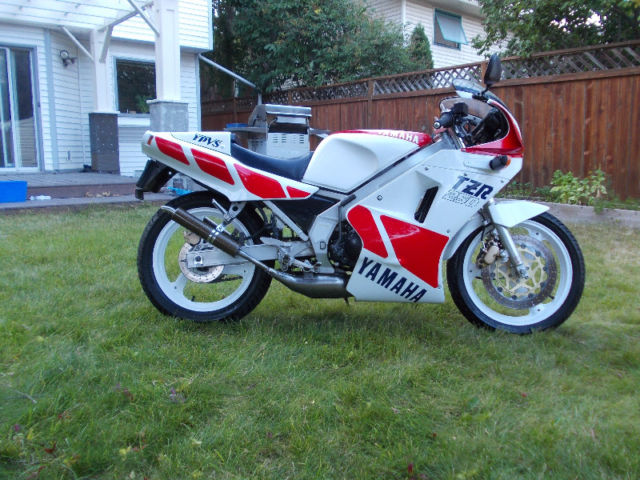 Today's Featured Listing Yamaha TZR250 comes to us from our neighbors to the north in Canada. This 1KT/2MA/2ME was the very first iteration of Yamaha's little sportbike, and helped to define the 250cc class. If you're not familiar, these little quarter-liter sportbikes were packed with big-bike technology. In the US market, a 250 was an economical commuter, a learner bike, or a dirt bike. But overseas,  tiered licensing and heavy taxes on larger displacements meant many young and enthusiastic riders were simply unable to buy "big" bikes. You know, like a 600cc supersport… So the class that included the NSR, RGV, KR, and today's TZR have all the development and even better handling than many of their bigger-engined counterparts.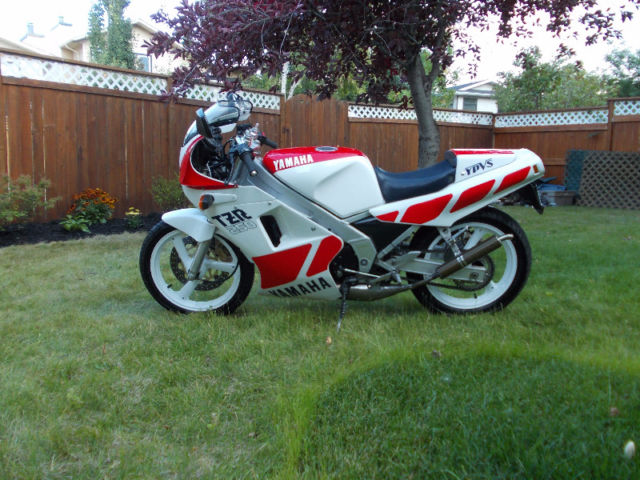 The TZR was the follow up to Yamaha's RD line of two-stroke sporting motorcycles, but added liquid-cooling to the 250cc parallel twin and an extra gear in the gearbox for a total of six speeds. Yamaha's YPVS power valve added midrange to help plump up the compact engine's claimed 50hp. The beam frame was made from lightweight aluminum and 17″ wheels were fitted at both ends meant impressive handling. A single disc brake up front may seem low-tech for a sportbike, but the bike stops just fine with this set up, considering the 282lb dry weight and I'm sure things would be improved with some modern compound pads.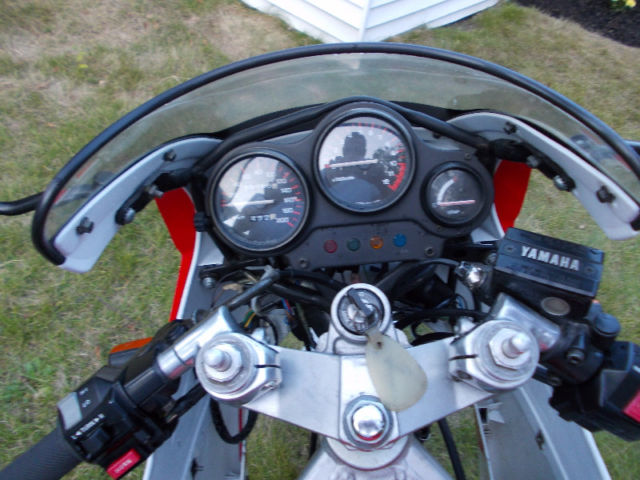 From the Seller: 1987 Yamaha TZR250 for Sale
1987 Yamaha TZR250 2ME Canadian Bike.

One of very few originally from the Canadian Market. Very clean and well running bike. Motor rebuilt less than a thousand KMs ago along with fresh paint and powder coated wheels. Alberta registered 2017. Bike is well sorted and in excellent condition. Does not suffer from corrosion issues seen on Japanese imports. Will continue to be ridden. This came to me as a mostly complete motorcycle that appeared well cared for and is NOT a parts bin special.

The TZR is essentially a 2/3 size RZ350 with a proper modern aluminum spar frame. It handles incredibly well and is a ton of fun to ride. Light, nimble and quick. The most fun motorcycle I have ridden which includes RZs, RDs, Kawasaki Triples and NS400Rs.

Completed around 35,000km:

-New paint and reproduction decals (clear coated decals)
-Powder coated rims (more modern white compared to original red)
-Tires in good shape
-Rebuilt motor
-JDM taillights
-Aftermarket pipes with Aprilia RS250 carbon silencers
-Sintered front brake pads and stainless brake line
-Stock oil pump running as it should
-Everything works and rides better than new
-Runs excellent, pulls to 10k
-Ti rear sprocket nuts
-Rare solo cowl. All fairings OEM plastic (not Chinese)

Motor
-Replacement cases (original 2ME cases had hole in bottom case due to piston failure, cases are repairable and are included in sale)
-Cylinder barrels on stock bore
-New pistons/rings

-Crank rebuilt, new bearings and rod

-New seals/gaskets throughout (inc. power valves and crank) and bearings inspected or replaced
-Uprated (F3) clutch springs and new plates

Comes with:
-Original engine cases
-Stock radiator (currently running RZ350 radiator, no mods to frame or other)
-Stock tail lights

-Stock pipes in great shape
-clip on riser spacer (currently removed)
-Original brake pads and brake line (running braided with sintered pads)

This is well sorted and rare Canadian TZR250. This is not an import from Japan on the UK.

THE BIKE COMES WITH STOCK PIPES INSTALLED AND DOES NOT COME WITH THE AFTERMARKET PIPES ON THE MOTORCYCLE.

For anyone out of the city or province, I have 60 pictures I can send over for more details. Happy to take a video if requested.

Willing to help with shipping within reason.
This bike is currently in Calgary, Alberta and the seller claims that it is an original Canadian-market bike, not a grey-market Japanese import. Asking price is $5,200 USD, which is a very nice price, considering how desirable these small displacement two-strokes are at the moment. Miles are on the high side, but the motor has been recently rebuilt, and the bike appears to otherwise have been well-maintained. Assuming it's been carefully stored, that should mean less of the surface corrosion and general fading that seems to be common on examples that have been recently imported from Japan. The paint isn't completely original, but OEM plastics were used and, unless you're a stickler for a perfectly-preserved, factory-fresh collectible, I'd bet you'd be hard-pressed to find a nicer example to actually ride in North America.
-tad