It's a shame that the second incarnation of Laverda was gone by the end of the 1990s, before the recent interest in classic styles and older nameplates. I can imagine that a modern take on their big, burly triples would have gone over pretty well if they'd survived into the present. Apparently, a new triple was developed for Laverda, but it was ultimately used to power Benelli's Tornado and TNT instead. The new triple never happened for them, so Laverda's "Zane era" really culminated with this Laverda 750 Formula.
Saved from the ashes of their 1980s collapse, Laverda needed a new sportbike to draw attention to the reborn company. As always, the small Italian factory was working with a severely limited development budget, and that meant they couldn't design a brand new engine to compete against the class benchmark, Ducati's 748. The air-cooled, 668cc parallel-twin intially used in the new machines was actually an evolution of the old, 500cc unit from the 1970s Alpino, but Laverda injected new life by fitting… fuel injection, bigger pistons, and eventually a radiator, although you can still see the engine's cooling fins leftover from its earlier incarnation. Or you would be able to see them, if the seller had included any decent pics of the bike with the fairing off…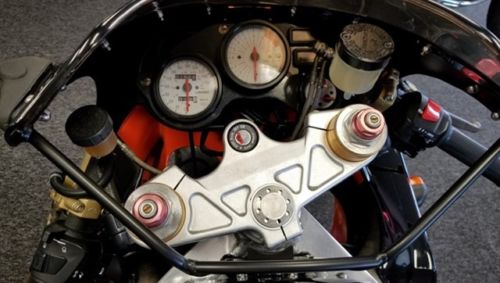 It may have been intended as a competitor for the Ducati 748 but the engine was less refined and the bike was not as fast in a straight line. Where it really excelled was in the handling department, and the Formula took the already superlative Nico Bakker-designed aluminum beam frame and added excellent Paioli suspension and lightweight wheels to the package. You'll notice that the "gas tank" is no such thing, as there's no fuel filler there. The fuel door is actually a hinged panel on top of the tail, and the cell itself is more centrally-mounted for better balance. The result was a bike period reviewers found frustrating, as the bike would have been truly world-class but for that agricultural powerplant.
I'm not really that big on the regular 750S in solid red, yellow, or black but somehow I love it in the Formula's garish, Halloween-looking combination. Yeah, that dual headlamp makes it look like an Italian take on a late 1980s GSX-R, but I'm a huge fan anyway. I'd prefer some higher-resolution images of this particular bike, since it's really hard to see what kind of cosmetic condition we're really dealing with, but it looks pretty good from what you can tell from the included photos.
From the original eBay listing: 1999 Laverda Formula 750 for Sale
Laverda built this bike as direct competition to Ducati. In doing so, it built it with the highest quality components it could find. For starters, it went to Nico Bakker to design the twin spar aluminum frame. Laverda increased the displacement of the 668cc engine to 750, added water cooling in addition to oil and tune it to develop 93HP. To handle all that power, Laverda added Paioli fully adjustable upside-down forks, rear shock, Marchesini wheels, and Brembo brakes. All wrapped in FRP bodywork to keep it as lightweight as possible. The result is a machine that can handle with the best of them.

Not many of these were imported into the US and fewer still are available for sale. Here is one with 1,668 kilometers (about 1000 miles). This bike is in an amazing condition and it is ready for it's new custodian. The motorcycle can be seen at our dealership in Bellevue, WA
As much as I like Laverda's 750 Formula, there's really no question that the Ducati 748 is a better-looking, more iconic machine. Of course, rarity counts in the collector bike world and, while you can still pick up a good 748 for relative peanuts, these have gotten steadily more expensive. Is the Formula a good bike? Well the handling is exceptional, power is adequate for the class, reliability is decent, and looks are… subjective. Is it a better bike than the 748 it was pitched against? No, but if you're a Laverda fan and want something reasonably modern to ride, or have an aversion to trellis frames, a 750S or Formula are basically your only choices! Or I guess you could buy one of those aforementioned Benellis and just stick some Laverda badges on it.
-tad