Warning!
This post is in our archives. Links in this post have been updated to point to similar bikes available to bid on eBay.

Update 5.11.2018: Based on his latest eBay listing, the 1989 is still available. Our original write up from November is shown below. Good luck to buyers and seller! -dc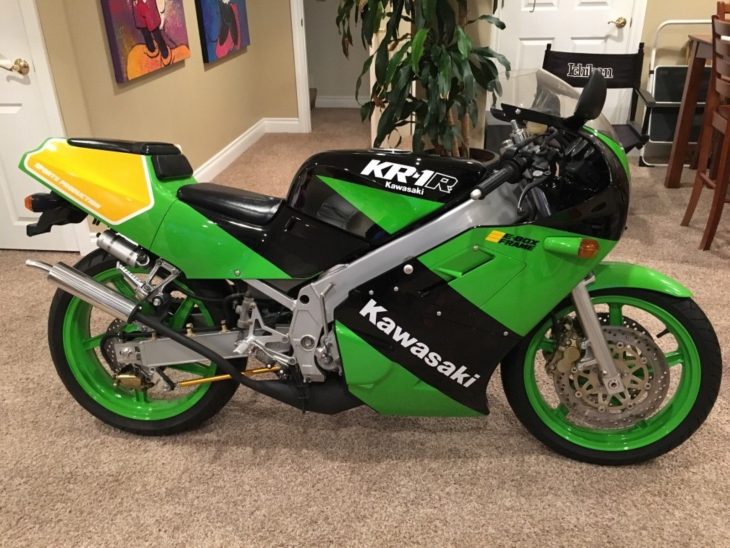 ---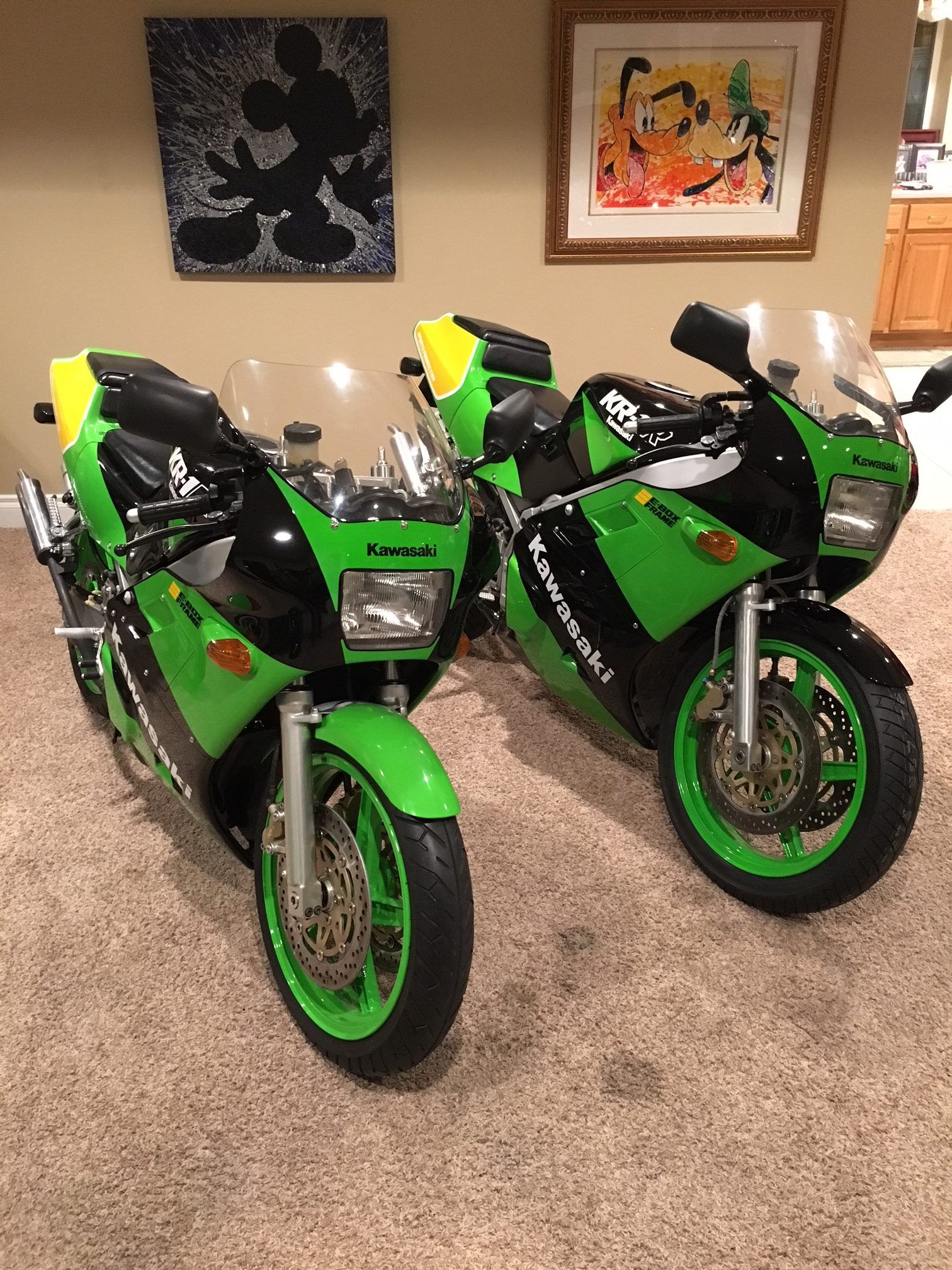 When RSBFS last listed this 1989 Kawasaki KR-1R on our pages, we considered it to be a bit of a world exclusive. That should tell you the rarity of what we are talking about. But how do you describe TWO KR-1Rs in the same collection? Unicorn doesn't quite cut it. You are looking at two examples of what has to be the rarest of the 250cc two stroke set, both in amazing condition. Utah collector Gary has certainly amassed himself a magnificent cadre of bikes – and RSBFS has been honored to help him list many of those bikes on these pages. But this particular event takes the cake: pony up $20,000 USD and take your pick of either one of the amazing R bikes listed here.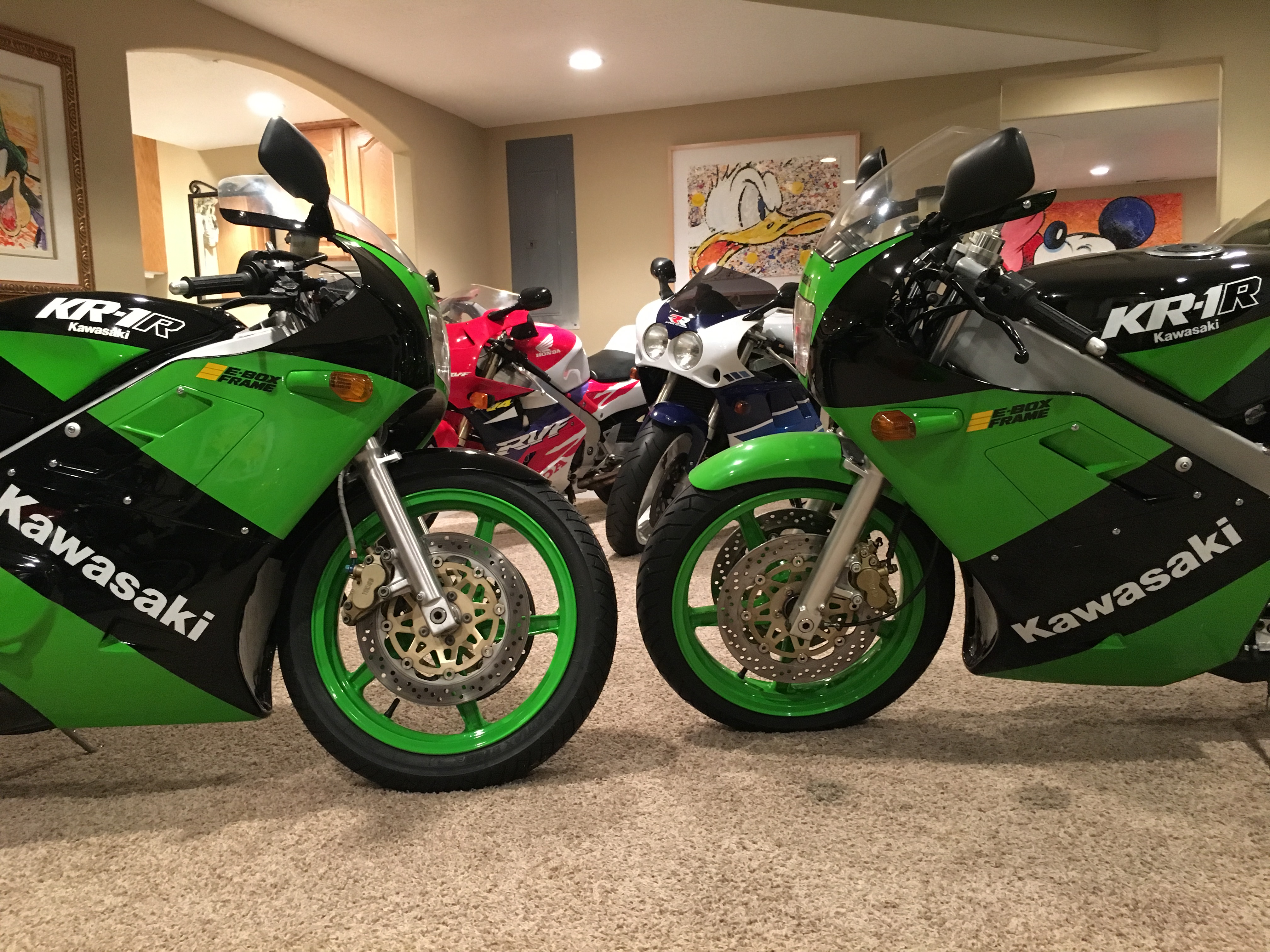 The KR lineup is a bit of a dark horse in the quarter liter sport bike world. Never as popular as the NSR/RG/TZR set, the Kawasaki offering provided a solid chassis and a very powerful parallel twin. In fact, a KR series bike held the 250cc land speed record at Bonneville thanks to that Kawasaki power. Outside of Japan, the KR is relatively unknown, although it was exported to the UK and AUS/NZ in limited numbers. Even the aficionados who are aware of the KR-1/KR-1S/KR-1R family have likely never seen one in person. And while some will be quick to point out that the KR-1R model is really just a 1S with slightly bigger carbs and more power, the value of the model has evolved well beyond the cost of the parts. These are rare, coveted machines and will remain at the sharp end of the collector scale for the foreseeable future.
---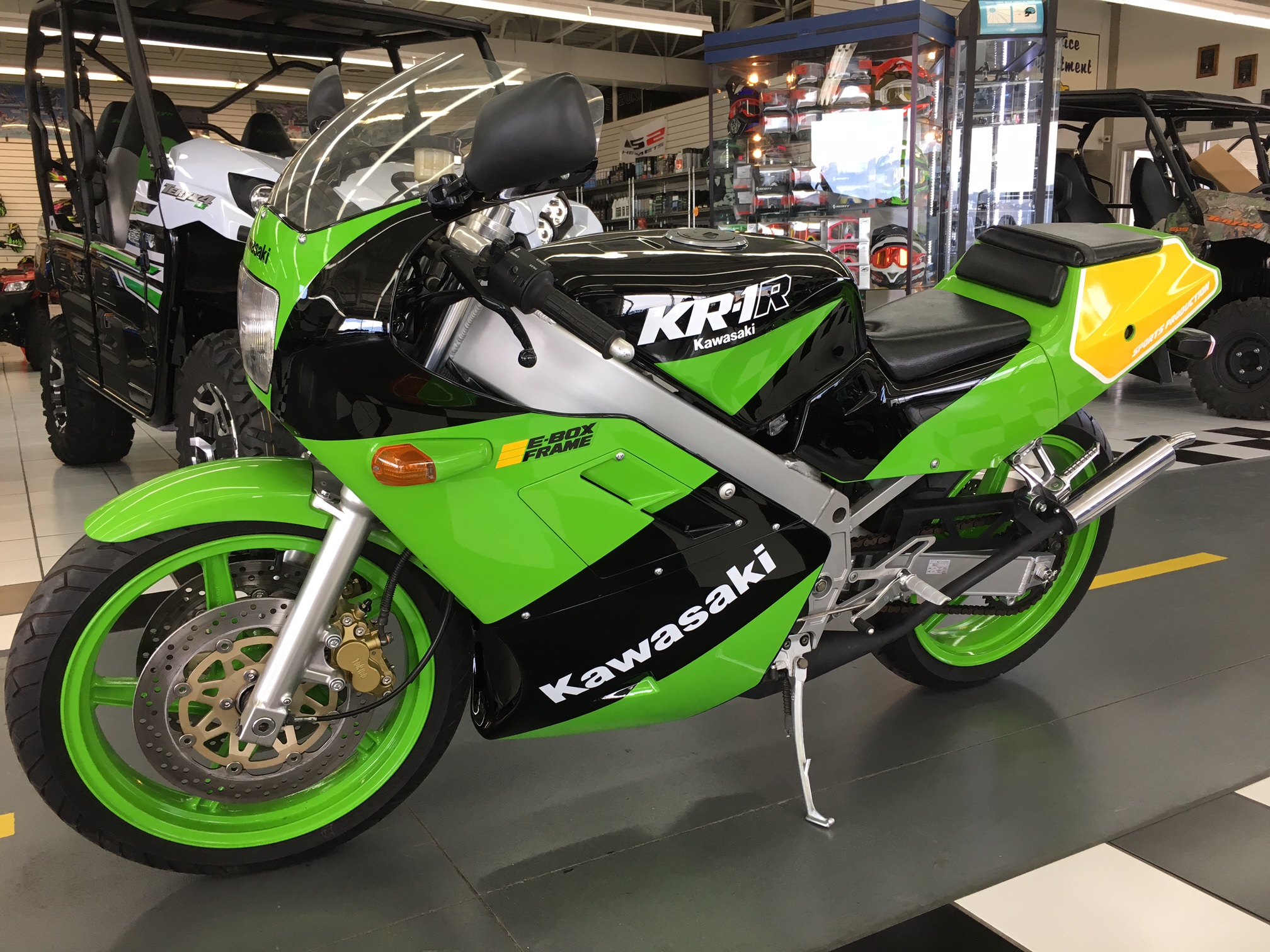 From the seller:
The bike came from a Kawasaki collector in Japan. Motor is all stock. Stock carbs,
stock airbox, stock heads, ect all confirmed OEM Kawasaki. Fairings 100% OEM.
Windshield appears to be OEM. Two Keys.

Previous collector has cosmetically customized this KR-1R with Kawasaki OEM green
front fender, Beet rear sets and Beet exhaust and mufflers. Some suspension
components have been polished.
---
1990 Kawasaki KR-1R D2 SOLD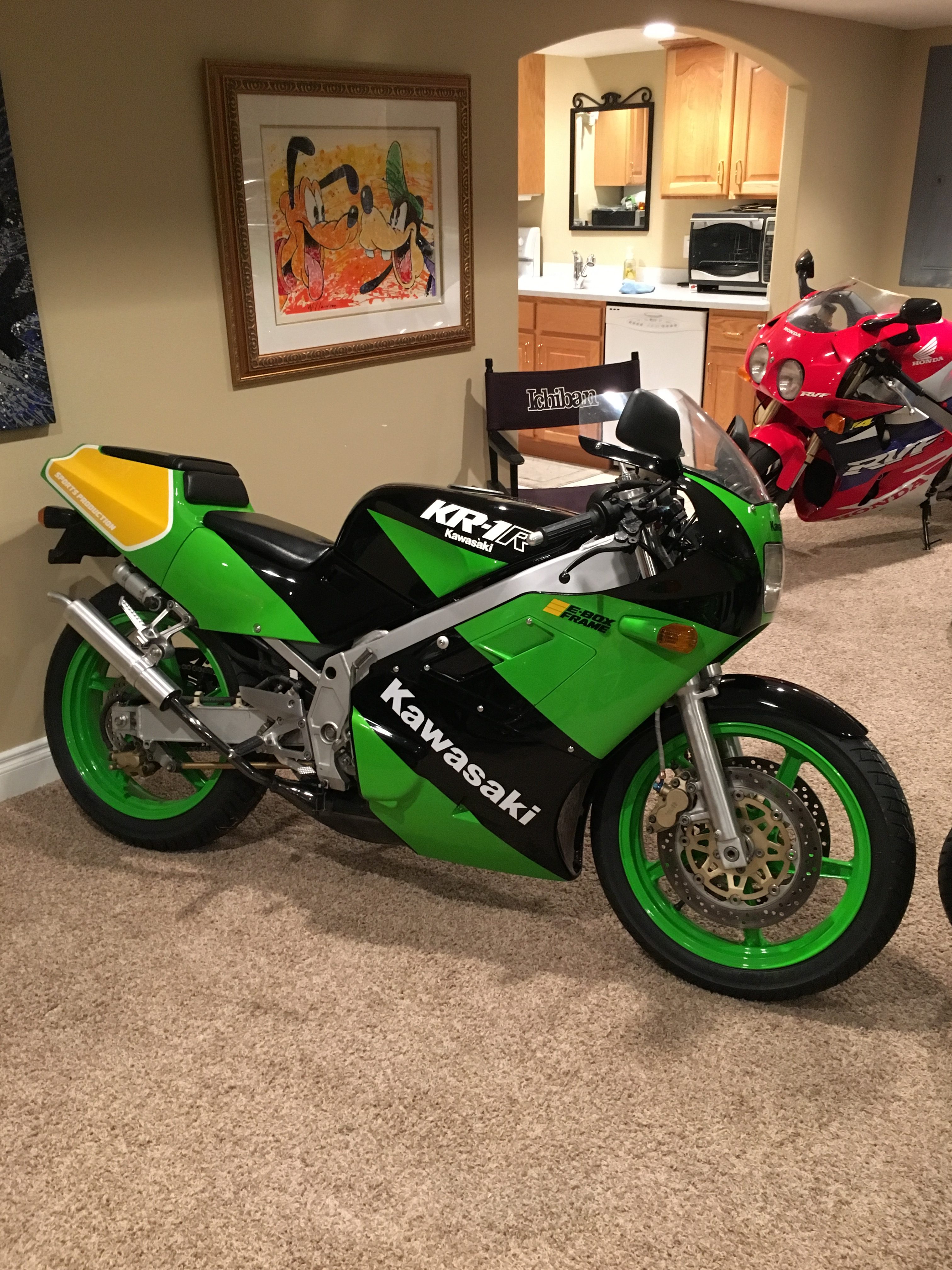 From the seller:
This 1990 KR250-D2 is completely stock and has the black front fender. It has had the rear cowling and the lower cowling professionally re-sprayed. The upper and the tank and all other components are original. New tires, fork seals, braided front brake lines and chain complete the refresh. Comes with Utah title. Runs and idles like new. Bike has been tuned and has new engine fluids. 25,290km's on the odometer. Bike came from a Kawasaki bike collector in Japan. It is very solid and runs surprisingly well for the mileage.
---
More details:

Price: $20,000 gives you the choice of one bike

Contact: rmurangemasters@aol.com

---
In case you have not noticed, it is not 1989/1990 anymore. The KR-1R – already rare when it was first introduced – has become a very exclusive tile in the two stroke collector mosaic. These were built by Kawasaki as sports production racers, and as such many (most?) were thrashed and cast aside. Those that survived often fell victim to sea air and corrosion common to the Japanese home market. In short, a clean and loved KR-1R is a rare survivor of a rare species. Here at RSBFS we always recommend that if you are in the market you should seek out the best example of a collector model that you can find – but how often can you find more than one example to compare? Today you can find TWO of these remarkable KR-1R models in pristine condition in one place – all you need to do is pick the one you want. Kawasaki isn't building any more of these, and the world's supply is low and getting lower. Resto mods and parts bikes may be available sporadically in the future, but you are not going to find bikes in this condition often. If a KR-1R is on your bucket list, you might want to act before these jewels appreciate even more. Contact Gary at rmurangemasters@aol.com to seal the deal. Good Luck!!
MI