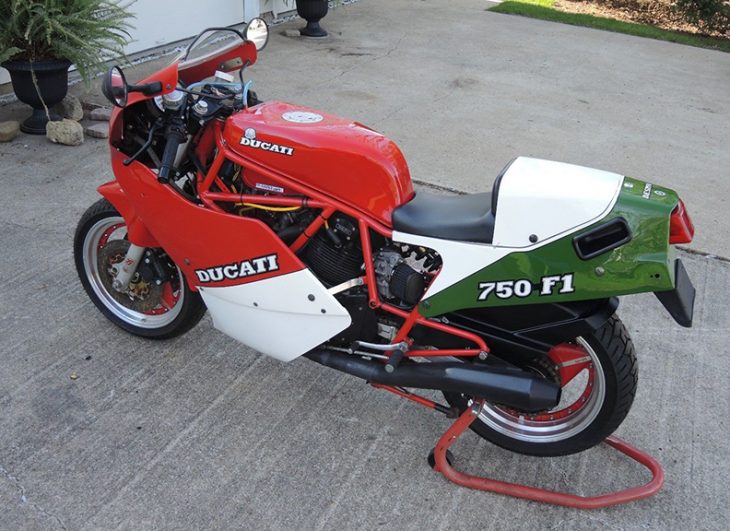 Designed to resemble their race-winning TT1 machines and the very last bike built before a buyout by Cagiva, the Ducati F1 was a bit rough around the edges but, in spite of a kit-bike feel and build quality, was a true thoroughbred. The F1 and its variants languished in obscurity for a while, since it wasn't quite a classic and didn't offer a more modern Ducati's refinement or parts availability.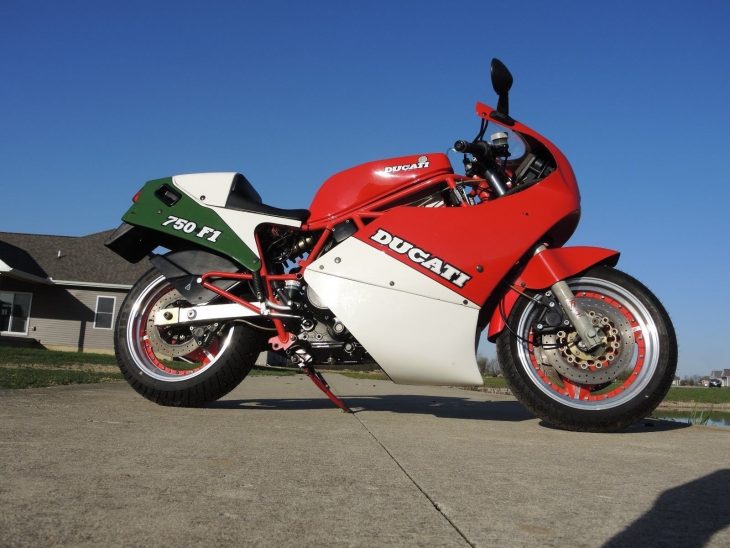 The F1 used a version 749cc Ducati's air and oil-cooled two-valve Pantah motor, tuned to produce 76hp. With just over 400lbs to push around, performance wouldn't give the inline fours from Japan much trouble in a straight line, but it could handle with the best of them.
The two-valve engine was caged by a trellis frame by Verlicchi and wrapped in bodywork that was decidedly old-school, compared to more modern machines like Suzuki's "Slingshot" GSX-R. Ergonomics were clearly an afterthought, with even the air-cleaners sticking out from the bodywork, waiting  to foul the rider's knees.
It's not the most collectible version of the F1, but comes with some very nice extras. F1s had a 16″ front and 18″ rear wheel combination, but the Oscam parts fitted to this example both appear to be 16″. They definitely look trick, with the polished rim and modular construction. The seller includes plenty of information about this bike, as you can see below, and it looks like the bike is ready to go.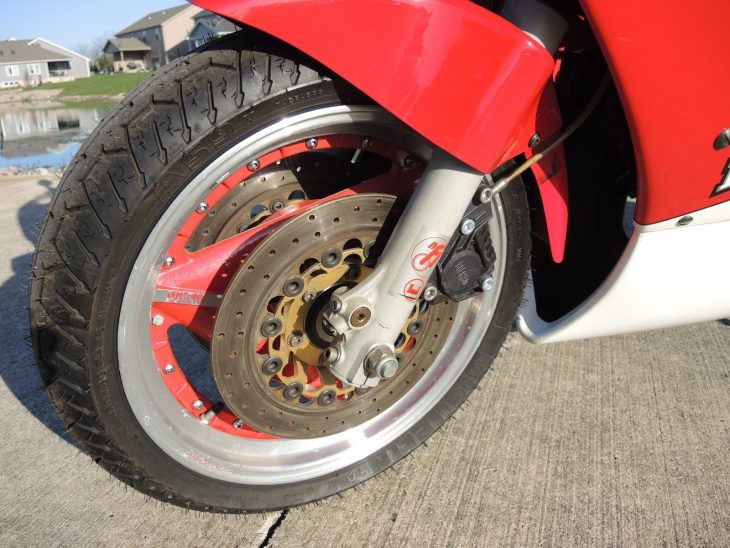 From the original eBay listing: 1988 Ducati 750 F1 for Sale
1988 Ducati 750 F1, only 19,411 miles, many Monjuich upgrades, great condition

Details:

1988 Ducati 750 F1 (ZDM750R/2)
only 19,411 miles, Monjuich upgrades
very rare in this condition
selling for senior friend who is second owner
never raced but has taken part in a few track days
V2, 4-stroke, 70HP, Desmo
air cooled, 5-speed, chain drive
dual front disc brakes, single rear disc
only 416 lbs, very quick, not a beginner bike!
one key, factory owners manual and 750 Montjuich shop manual
fully street legal once you remount the turn signals (all wiring there)

Upgrades and extras:

2-into one Ducati Montjuich pipe
Second Ducati Montjuich tailpiece with seat reworked by Sargent
Montjuich fender
Oscam wheels (very rare)
Throttlemeister-style throttle lock
rear paddock stand

OEM parts included:

Stock front and rear wheels
Factory F1 pipes, very solid with minor surface ticking, great candidate for blasting and repainting
Factory centerstand and OEM swingarm
Factory chainguard
four turn signals and pigtails, all need new stalks

Cosmetic:

Overall cosmetics are very nice, paint glossy, no rash on panels
small garf in belly pan, top edge of fairing, and spot where tailpiece meets seat
few rubs on rear subfender
few jacket scratches on tank 
seat in very good shape
no dents in tank
few oxidized spots on Oscam wheels but nice shape overall

Mechanical:

tires have zero miles: Michelin A59X and M59X
tires are 2004 and 2005 build date but were properly stored in heated shop so still soft
bike starts easily, runs, rides and brakes well
fresh oil and K&N filter, brake fluid flush, clutch fluid flush
front calipers and master cylinder put thru ultrasonic and rebuilt
carbs ultrasonic treated and rebuilt with kits installed
new brake pads
new timing belts
valves set
new fuel taps (Bevel Heaven) and fuel lines
new engine cover seals
repacked steering head bearings
lubed cables
horn feeble at times and not working others
turn signal circuits all there and work but no signals mounted
tripmeter reset works but not hard mounted
sidestand has been shortened
Well, 19,000 miles on a well-maintained Ducati Pantah isn't anything to be scared of, but sure isn't museum-piece low or anything to brag about… But it does appear to have been sympathetically owned, very well maintained, and sensibly updated. The seller also includes a short clip of the bike idling and revving, along with plenty of additional pics. Bidding is very active and up to $9,000 with a few days left on the auction. Folks are asking for north of $20,000 for Laguna Secas and Montjuichs, although basic F1s seem to be much more modestly valued. Given the upgrades and the amount of time left on the auction, I expect this one to go a good bit higher before the auction ends.
-tad