Cagiva re-badged the Pantah for 1985 and tried on their own badging and design features.  The Alazzurra had toned down its testosterone content a bit, but was improved in some good ways.  This 1987 example has been a labor of love for its present owner, who has made some long term investments in the bike's future.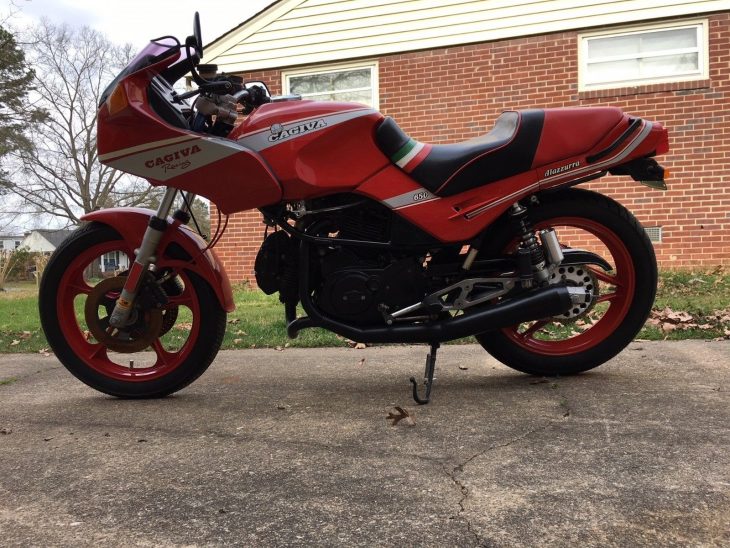 The belt driven cams of the desmodue help the Alazzurra push 55 hp and 36 ft.-lbs. torque.  Right side-up 35mm forks and dual Marzocchi shocks are appropriately light weight, as are the 260mm dual disk brakes.  The supersport fairing flows sweetly and it looks like there is beaucoup ground clearance.
The Virginia owner has  made several improvements to the Alazzurra, without indulging in any sort of bling – well, maybe the red brake lines.  Here is his rundown from the eBay auction:
Since I've owned it, I've done the following:

1- fixed a leaking base gasket ($100 + labor)
2- adjusted the valves to the perfect spec. ($150 + My Labor)
3- replaced the belts ($40 + My Labor)
4- new chain and custom rear sprocket ($80 + My Labor)
5- upgraded stainless steel brake & clutch lines and hardware with speed bleeders ($180 + My Labor)
6- rebuilt the ignition sensor wires ($30 + My Labor)
7- powder coated the exhaust ($100 + My Labor)
8- brand new battery ($65 + My Labor)
9- rebuilt the carbs ($60 + My Labor)
10- rebuilt the key ignition switch. ( + My Labor)
11- replaced the leaking petcock and fuel hoses. ($130 + My Labor)

I've REALLY enjoyed working on and riding a true Italian cult bike. I don't have to sell it, but it's time to move on. 
There is also a cold start video – here –.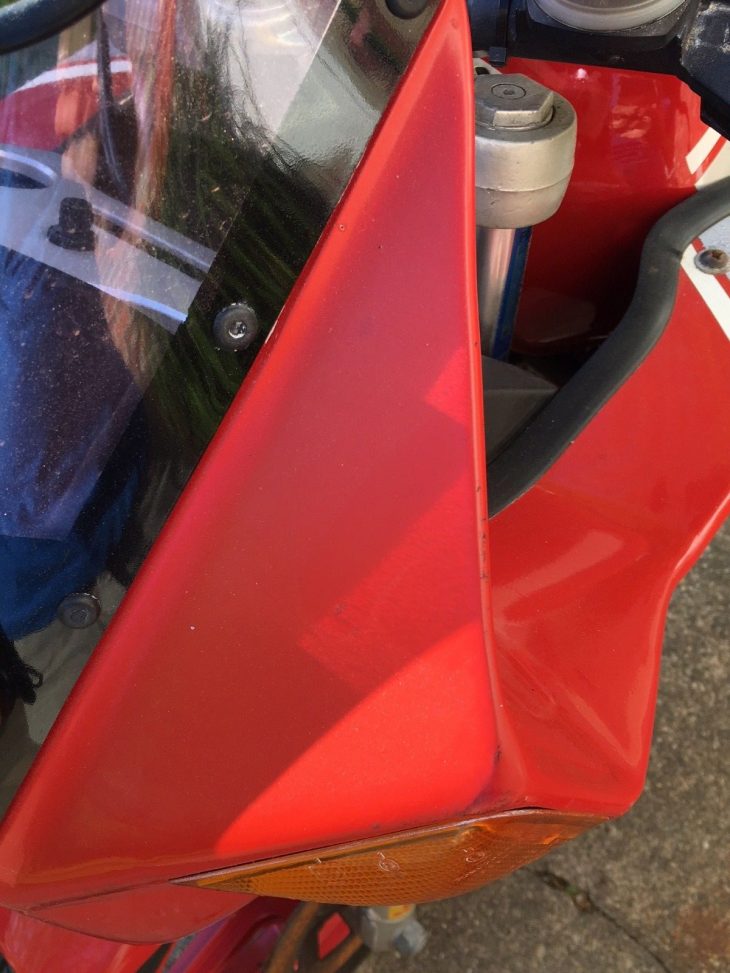 Cagiva soon realized that tossing out a well-known name and competition history was folly, leaving the friendly Elefant in a tough position.  Luckily this Alazzurra has weathered that storm and looks ready for a long weekend on the Blue Ridge Parkway, perhaps as the new owner takes her north or south and home again…
-donn