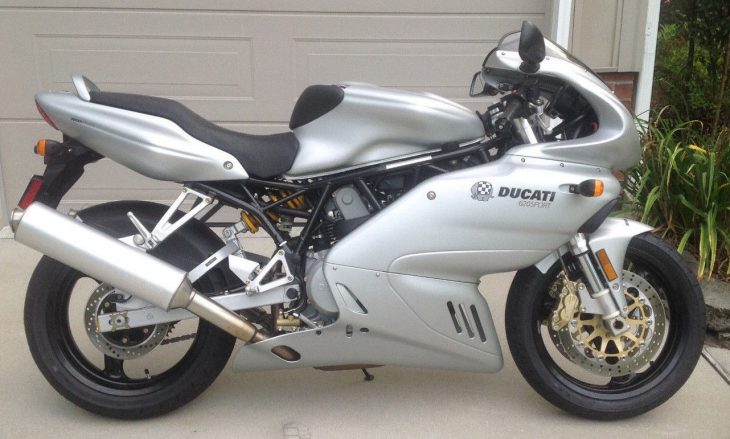 Made for just two years between 2002 and 2003, the Ducati 620 Sport was intended as an affordable way into Ducati ownership for riders more interested in the Ducati brand than in actual speed. But Ducati being Ducati, they were unable to build a sporty bike that actually handled badly, and they managed to create an entry-level machine that encapsulated the best and worst of the brand. Of course, that means that it may not be ideal for the newer riders it was obviously targeting: the riding position is extremely aggressive for a bike with such modest ability, typical Ducati steering lock means an inconveniently large turning circle, and the suspension is harsh.
The silver and black on the 620 recalls the style of the original 1980s Pantah, which is closely related to the 620 Sport in more ways than one. The Pantah was the very first Ducati to be powered by their then-new 500cc L-twin that had the single overhead-cams driven by toothed rubber belts, instead of a complex arrangement of tower shafts and bevel gears. This change to belts meant the engines were simpler to produce, but at the cost of maintenance, since the rubber belts require regular replacement, a service that's ignored at the owner's peril: second-hand two-valve Ducatis are currently very cheap, but a wrecked engine can quickly turn your affordable exotic into a pricey proposition...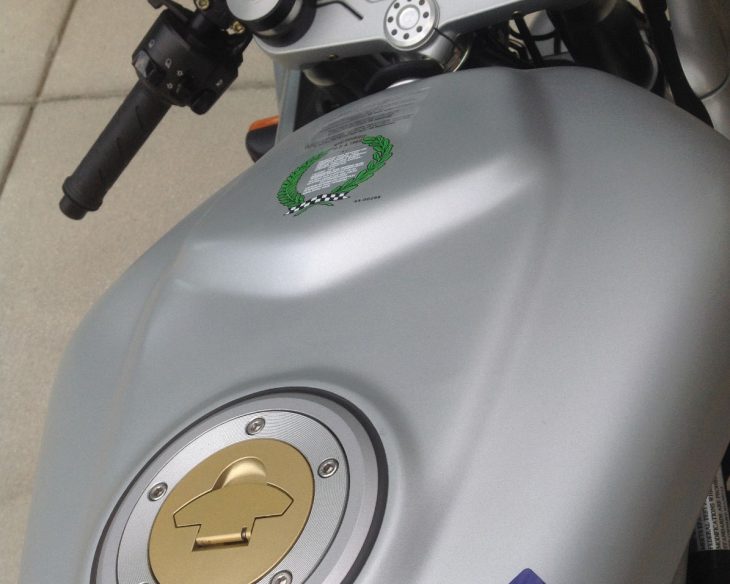 The 620 uses the crank from the 750 for a slight increase in displacement to 618cc and a bump in torque, compared to the earlier 583cc 600SS, while the addition of Marelli fuel-injection means a broader spread of power with fewer hiccups, compared to the original's carburetors. Like the Pantah, the 620 uses a five-speed gearbox and a wet clutch, instead of the 900's six-speed and dry clutch arrangement. A gearbox with fewer cogs in a smaller-engined bike might sound like a retrograde step, but the torquey, flexible v-twin works well with the wider ratios of the five-speed and the wet clutch means it will take more abuse, which is ideal for the newer riders and commuters dealing with traffic.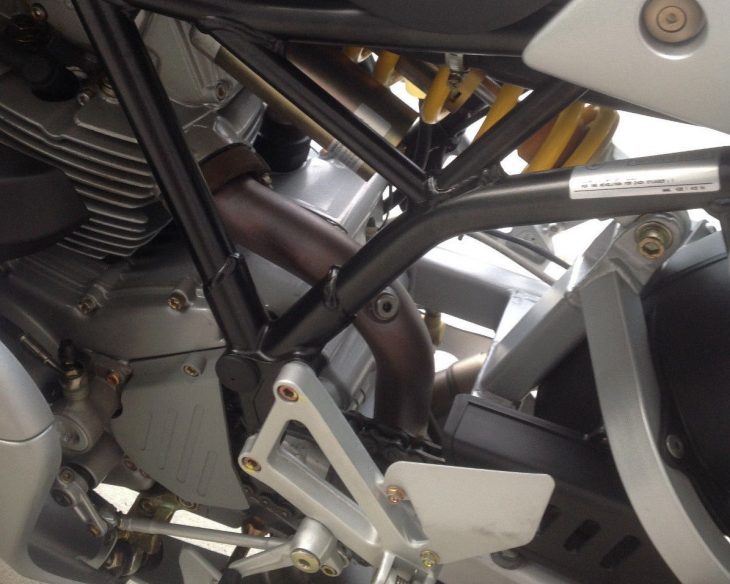 Although the bike is down on power compared to its bigger siblings and pretty much anything in the 600cc class, the 60 claimed horses and 29 lb-ft of torque mean the bike is responsive, if not particularly fast when you're hustling the 400lb machine through a set of curves, which is really where the Ducati shows its breeding. The fork and shock are relatively primitive and non-adjustable, but the bike shares its frame and basic geometry with the 900SS so handling is very good, even if the ride quality is a bit harsh, while a pair of Brembo calipers and discs up front mean stopping power on par with much more powerful machines.
Interestingly, these rare bikes seemed to get snapped up by racers looking for an affordable v-twin platform to modify into a production race bike when they come up for sale. You may be thinking, "Why the hell would you do that when there are loads of liquid-cooled, four-valve Suzuki SV650s lying around?" Apparently, the Ducati's sporty frame geometry makes for a better-handling foundation, and I'm sure there are also some weight penalties imposed on the more sophisticated SV to keep racing close.The air and oil-cooled, two-valve twin responds very well to tuning and is supposedly much more reliable than the Suzuki unit as well, especially when used in racing applications.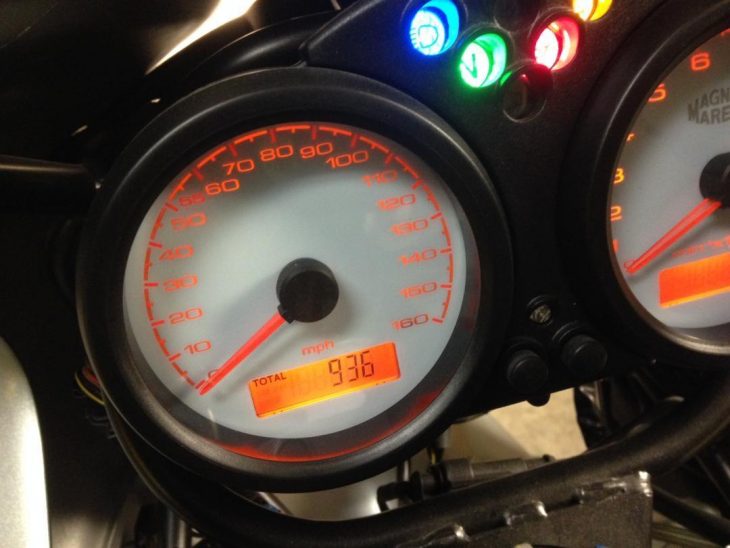 From the original eBay listing: 2003 Ducati 620 Sport for Sale
Collectors dream! 2003 Ducati 620 SuperSport with 936 original miles!

I purchased the bike from the original owner with 580 miles on it who had it stored in a climate controlled garage.

No wreck or "tip over" damage, stock original except for some tasteful decals the original owner added on, I just left them on.

Clear NC title in my name.

Owned by mature 55 year old, I'm needing to change to a different riding position so selling my sporting motorcycles.

No wheelies, no gearbox abuse, no track use, just country roads near my house.

No smoking or weird engine noises. Starts, idles, shifts gears and runs as new.

No leaks of any kind, oil, fuel, forks, brakes.

Stock motorcycle, no intake, fuel, exhaust or electrical modifications, no aftermarket computers, no headers, none of that stuff

Recent maintenance performed:

Oil and filter change
Timing Belts
Spark plugs
Brake fluid change (with new Ducati caps and seals on reservoirs)
Internal rubber fuel lines (OEM Ducati)
Fuel filter (Mahle)
Tires (Shinko 009 Radials)
Yuasa MF battery
Kaoka cruise control

Chain and sprockets still as new, no rips or tears on seat, windshield nice and clear.

Mufflers have no dings or scratches.

Inside fuel tank perfectly clean, no rust, no sealant. Some very small scratches on top of tank near filler, hard to see but if you look closely at the photo of right side of tank you can make them out.

Still has a full set of original keys, owners manuals,tool kit, owners card,etc. as shown in photo. Also still have the original key fobs from the factory with ID numbers.

Sale also includes Factory Service manual and a Haynes manual.

It is ready to ride, collect or display, a beautiful time capsule Ducati.

Runs great, just had it out last week for a ride in nice weather. The motorcycle rides great, nice and smooth, gears change effortlessly. It is ready to ride and needs nothing... No disappointments here!

Motorcycle is located near the coast of NC, if you would like to see in person let me know.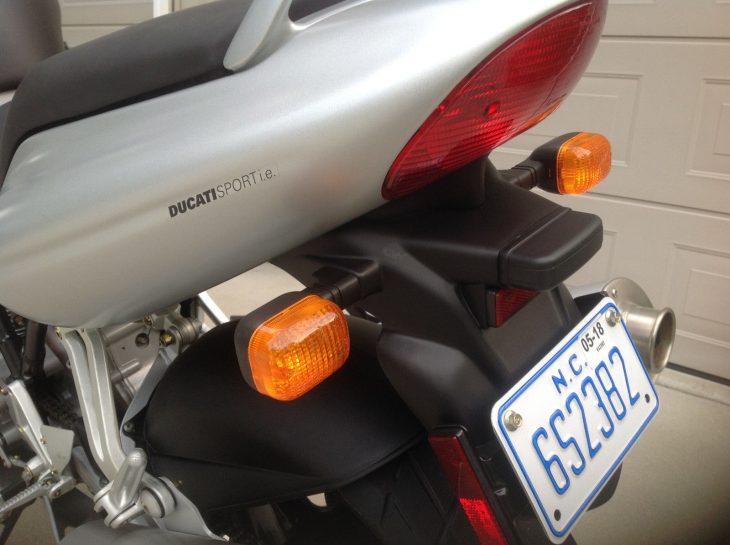 This thing is pretty immaculate, as you'd expect from a bike with just 936 miles on the odometer. I'm not sure the matte silver really flatters the lines of the Terblanche-styled SuperSport, but it's certainly more subtle than the usual red or yellow. Bidding hasn't even reached $2,500 yet with the reserve met and time left on the auction. So whether you plan to buy this nearly museum-quality Super Sport as a rider, an odd footnote to complete your air-cooled Ducati collection, or as the raw material for forging a class-dominating v-twin race bike, this looks like a pretty good place to start. Although it would be a shame to chop it up... Power will never really be much to write home about, but a quick stop on eBay will turn up some nice, used suspension bits from a 900 or 1000 SuperSport that should bolt up easily and improve the bike's handling further.
-tad