The Wonderful World of Honda in the 1980s pretty much consisted of every possible engine arrangement, frame type, suspension system, across multiple models in the same segment. It was like Honda decided to shotgun the sporting world with as many options as possible. In truth, Honda was looking for an edge – both at the racetrack as well as the showroom. What transpired was a significant number of hits… and misses. The wonderfully weird NS400R is an example the falls right in the middle of the pile; it was not a monumental failure, but neither was it a runaway success. Today these remain very unique motorcycles.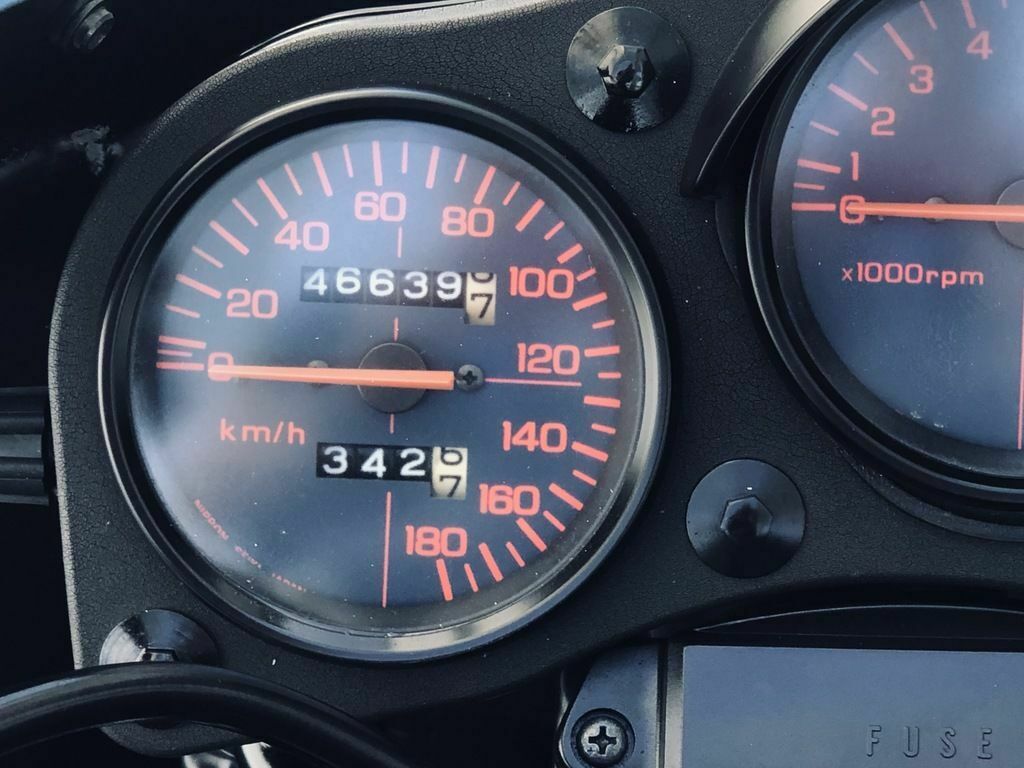 While the rest of the two stroke world was playing with parallel twins, v-fours or square fours in 250cc or 500cc capacities, Honda threw that all out the window by marketing a 400cc v-three. Hondas ATAC exhast power valves were used on two of the three cylinders to aid in lower RPM torque. Tight and compact, the 400cc motor breathed through reed valves with carbs that were nestled inside of the vee. The configuration was for two cylinders to point forward with one upward, allowing for a very low and forward placement in the aluminum perimeter cradle chassis. The NS400R came equipped with a 16″ front wheel to lower gyroscopic steering effects, which was GP-level technology at the time. With 72 HP pushing 359 lbs of bike, performance was spirited.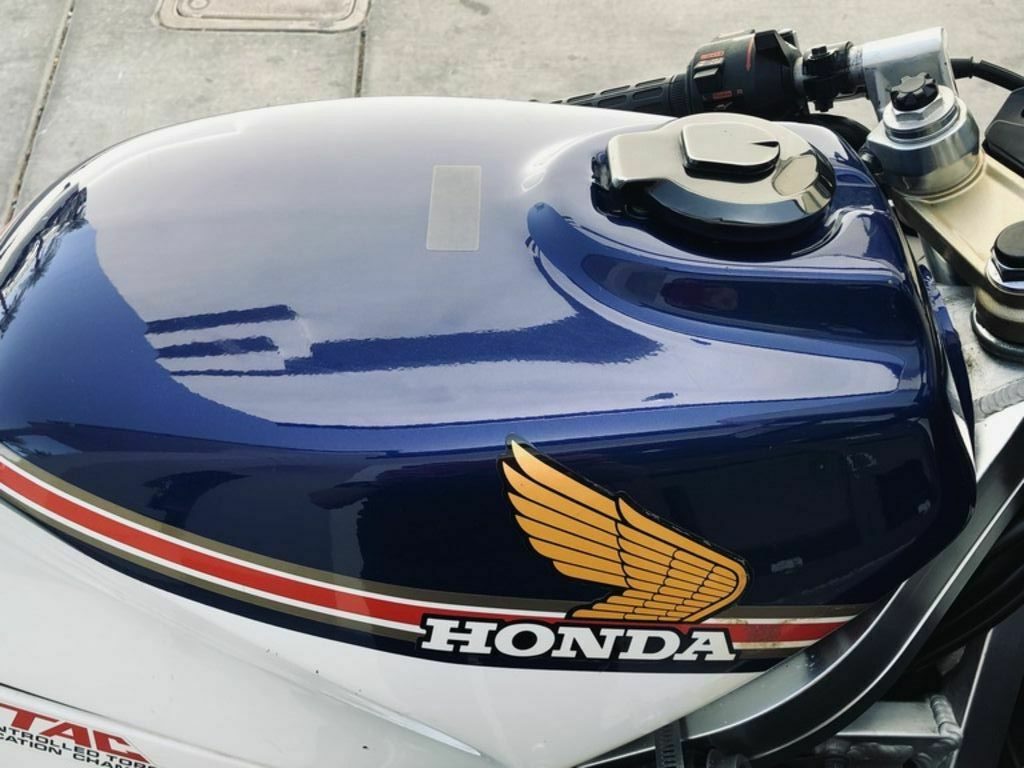 From the seller:
PLEASE NOTE! THIS VEHICLE SHIPS OUT OF LAS VEGAS, NV. SHIPPING NATIONWIDE DIRECT TO PURCHASER'S RESIDENCE AVAILABLE. MILEAGE IS IN KILOMETERS, CONVERSION TO MILES WOULD EQUAL 28,980 MILES.

Wearing its factory-issue blue and white Rothmans livery, the replica racer is the largest-displacement, street-legal two-stroke road bike that Honda produced. The limited-production NS400R was only sold from 1985 to 1988, and this first-year model traces its lineage back to 1979. Honda was cleaning up in 500cc class motocross racing with two-stroke engines, but its four-stroke-powered World Grand Prix road bikes were lagging behind the competition. After internal deliberation over its four-stroke racing heritage, Honda pushed forward into two-stroke development and created an engine that was literally three times as good as its single-cylinder motocross performers. The water-cooled NS500 fused the power of three two-stroke motocross engines into a compact and lightweight V-3 configuration that produced 120 HP at 11,000 RPM. Freddie Spencer grabbed Honda's first 500cc class win in 15 years on an NS500 in 1982, and then rode a lighter and more powerful NS500 to a 1983 500cc World Championship. The following year, Honda manufactured a limited-production version of the championship racer for privateers called the RS500 that was a near duplicate of the works machine without the specialized exhaust. Yamaha and Suzuki had already released street-legal replica racers, and Honda answered the challenge with the NS400R in 1985. The 387cc liquid-cooled two-stroke V-3 cranked out 72 HP at 9,500 RPM with triple flat-slide carburetors, and a 6-speed transmission wet clutch combination got the power to the ground. TRAC anti-dive front forks and a Pro-Link rear suspension joined a box section alloy frame and triple disc brakes with dual-piston calipers. The road-going replica racer was a street-legal facsimile of the NS500 V-3 that Fast Freddie rode past his 4-cylinder competition to become the youngest ever world champion at 21 years old. Honda discontinued the NS400R in 1988, and this two-stroke V-3 is a collectible waiting for a rider.
Although odd in design, perhaps the worst that can be said about the NS400R is that Honda didn't make it a full-blown 500cc machine. With decent suspension (including cutting edge anti-dive front fork), full racer bodywork and typical Honda build quality, the NS-R was a formidable machine. But much like the RZ350 that lived in a world of middleweights, the Honda was always just a little bit less than the competition. It stands on its own as a smoking sports bike, handles sublimely well thanks to that low center of gravity and stiff chassis, and was generally regarded as a two stroke that you could live with even when you weren't wringing it to redline with every gear change.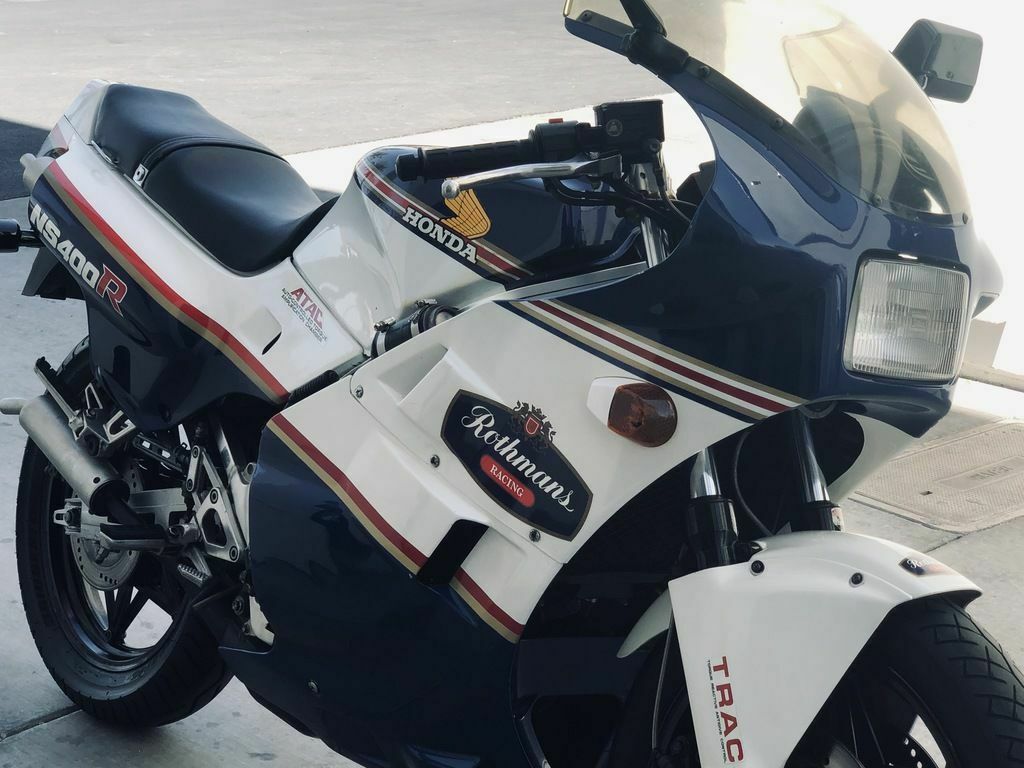 Today's example is a very clean NS400R in the Rothman's racing livery. It has seen a considerable amount of use (reread that statement about this being a two stroke you can live with, above), and that mileage might scare some buyers off. The seller doesn't say anything about the history of this particular specimen, whether it has gone through a top end rebuild at any time, or when the crank seals were last changed. Aside from that, $13,995 will send you home with this beautiful bike. Check out all of the details here, and Good Luck!!
MI