Location: Kent, United Kingdom
Kilometers: 4,876
Price: 3,995 GBP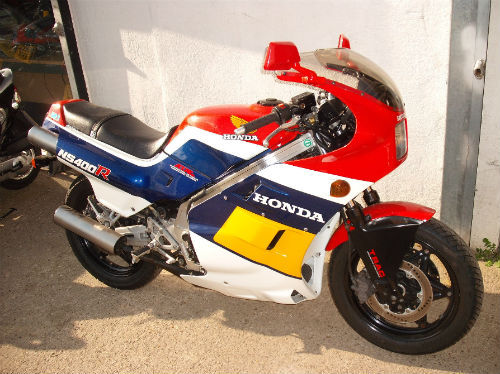 The year was 1983 and Freddie Spenser had just become the youngest 500cc champion ever. Fast forward a couple years, and Honda had released what it claimed to be a replica for the road of Spencer's machine. Okay, it may be 100cc smaller than the original, and way more refined for the daily use. However it does share in common the compact V3 engine configuration that Honda used to take the title. This light weight (359lbs) and powerful little package had enough gusto to make 1000cc 4-strokes of the day sit up and take notice. Being praised all around in handling, steering, and braking, the NS400R sure was a force to be reckoned with.
The bike up for grabs here, unfortunately for those of us here in the U.S., is located in Kent UK. But, this NS400R has very low mileage with only 3,026miles (4,876 Kms) and looks to be in very good condition for a 25-year-old two-smoke. I does look like it has some flush mount turn signals, as all the stock photos I have seen indicate that the stock ones are black.
Info from the seller:
"Honda NS400R V3 2 Stroke Triple
Only 4876km amazingly clean time capsule bike
imported in October 2009
Fresh Battery and MOT when sold
1986 model
Genuine Workshop manual included
Sounds amazing
Rare in this conditon
(Not immaculate concours condition but very clean for age)"
The NS400R is definitely rarer than its RG500/RZ500 competition from back in the day. Couple that with the fact that it was never imported to the States, and you have a recipe for a bike that is difficult to come across. The price translates to about $6,300 USD, and seems reasonable compared to other examples we have seen on RSBFS. If you got to have the two-stroke classic and feel like shipping it to the U.S., then take a look at the for sale ad here!
-JS