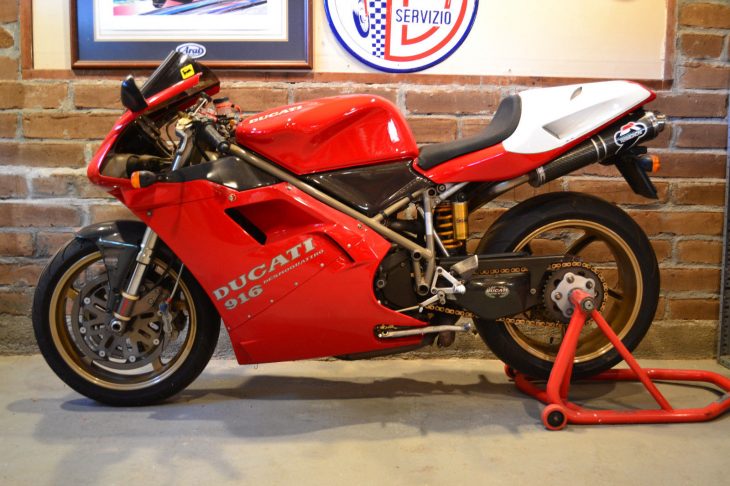 Well, it's finally starting to happen: the days of dirt cheap Tamburini Ducati superbikes are coming to an end. Yeah, 748s and 996s still offer some pretty great bang for your buck but, if you were planning to pick up a first-generation 916 like this nicely-upgraded bike for peanuts, you'd better get cracking. What, you thought it'd be possible to find low-mile examples of the most iconic motorcycle of the modern era would last forever?
Under the skin, it was just an evolution of Ducati's four-valve, liquid-cooled 851/888. But that skin… It made the bike a star whose appeal reached far beyond the hard-core biking community, and the 916 appeared as an aspirational object in film and print media, in music videos, and on posters that adorned the walls of a million teenagers who didn't own a bike, maybe never ended up owning a bike. Even if you're not into motorcycles at all, you'll probably recognize the 916.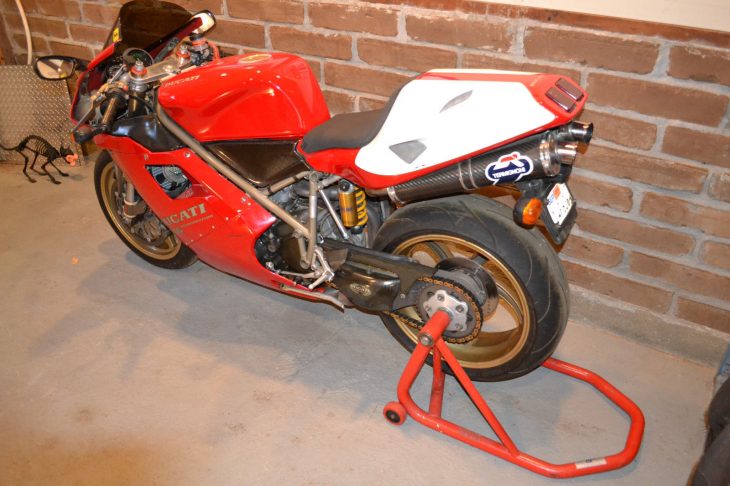 The original 916's 114 claimed horses sounds pretty paltry, compared to today's superbikes, or even today's supersports. But while its performance has been surpassed by modern sportbikes, the 916 still handles beautifully, sounds amazing, and parts are still available to keep them on the road. There are also a wealth of parts to upgrade them, and there is pretty good parts-interchangeability between the different models. Make all the snarky comments you like about Latin reliability, but at least the 916 was designed to be serviced: every bike will need to come apart at some point, and those quarter-turn Dzus fasteners make removing the bodywork a five-minute affair.
From the original eBay listing: 1995 Ducati 916 for Sale
AP Racing full race 6-pot titanium brakes, titanium hardware, and master cylinder. These were race team-only in '95. Marchesini magnesium wheels, the race wheel (RARE). Carbon fiber air box, air tubes, in-box filer, under tray, swingarm cover, chain cover, chin lower, fender front with air vents. Nichols billet clutch basket. Ferracci stator/starter/ EPROM chip/Öhlins damper. Termignoni carbon ovals. Bike has been well cared for from the time I got it in '98 bike still draws crowds. It's a great ride: runs strong, starts every time. You won't find a better '95 916. Will meet shipper at the curb. Payment to be sent next day mail, you will have 3 days to pay in full by check. As soon as funds clear the bank, bike will ship. No BS.
The seller is asking $16,000 for this bike and that's pretty high for a 916, but we all know they're headed that way. Miles aren't especially low, but the bike has, as the seller indicates, had some very nice parts thrown at it, especially those trick front brakes. And with Ducatis, a bit of mileage is a good thing: it means the bike's been used and likely maintained. Which is great if you plan to ride, instead of display it. I'd normally consider a claim like "you won't find a better '95 916" to be hyperbole but, unless you're looking for a display bike with single-digit miles, I don't think he's wrong.
-tad