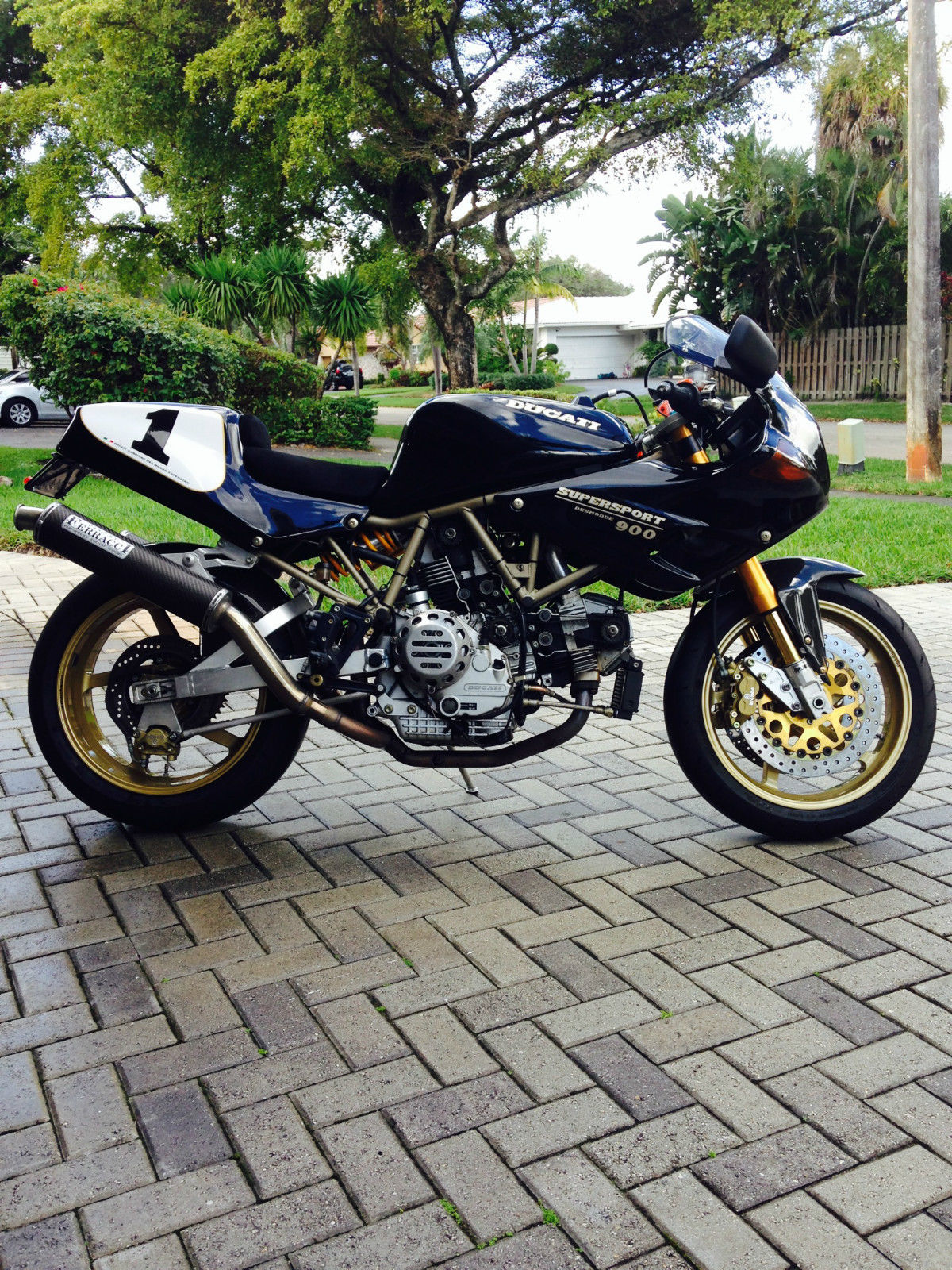 We don't generally post modified bikes on RSBFS (April 1st posts notwithstanding). The general rule is that for truly rare and limited edition bikes, stock condition rules the roost. An original bike by and large is worth more and holds value better over time. As is often the case, however, there are exceptions. And one clear exception is when the execution of the overall modifications present an entirely new and complete machine – not just a JC Whitney approach to tacking bits on.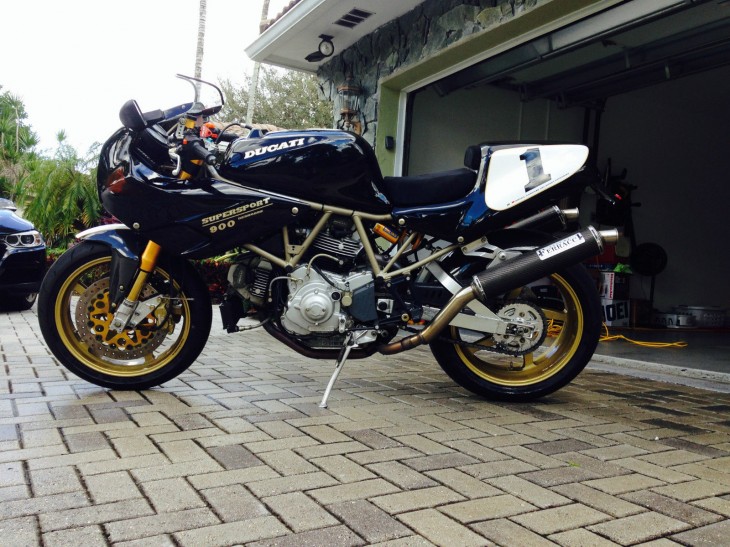 From the seller:
For sale is a pristine 1996 Ducati 900 SS SP. No expense was spared while building this bike. It started out as a bone stock, well cared for 900 SS and was re-built using only the best parts available. The bike runs flawlessly and is likely one of the cleanest 900's you'll come across. It has 5,633 original miles (may be slightly higher depending on the weather) and looks brand new. The belts and valves have been done, along with all new starter wires, fluids, and new Dunlop Q3's. Now let's start with the upgrades.. I have removed the full fairing and replaced it with a single piece CR fairing and then had the bike painted Jet black. The vintage Ducati black and gold combo has always been my favorite. The bike comes with Ohlins forks and shock, and magnesium Marchesinis. The seat is custom made out of carbon fiber, and features a seat pad that has been freshly re-upholstered in black suede, as well as a set of super bright LED taillights. The front fender is a 1098 shift-tech carbon fiber fender that has been custom painted and clear coated, and the rear hugger has also been re-clear coated to look like new. The front turn signals have also been tinted slightly for a more aggressive look. A Yoyodyne slave cylinder was fitted so you will never have to worry about leaks, and let's not forget the Fast By Ferracci pipes. I will include stock wheels and body work with the bike. I am in no hurry to sell so please keep the offers reasonable. The next owner of this bike will not be disappointed. Feel free to ask any questions, and I have no problem sending more pictures upon request. I also have pictures of the bike in its original condition should you desire to see them.
The seller has also included a video of the bike in question. This thing is eye candy for sure. I won't even start to comment on the sound this beauty makes…
This bike is located in Florida, and this BIN auction is on right now. The price: $11,500, with the seller open to reasonable offers. While the price is definitely up there for a 900 SS model, I can't see building it for a whole lot less. It feels like it is in the ballpark to me – what do YOU think? Check it out and then share some comments.
MI